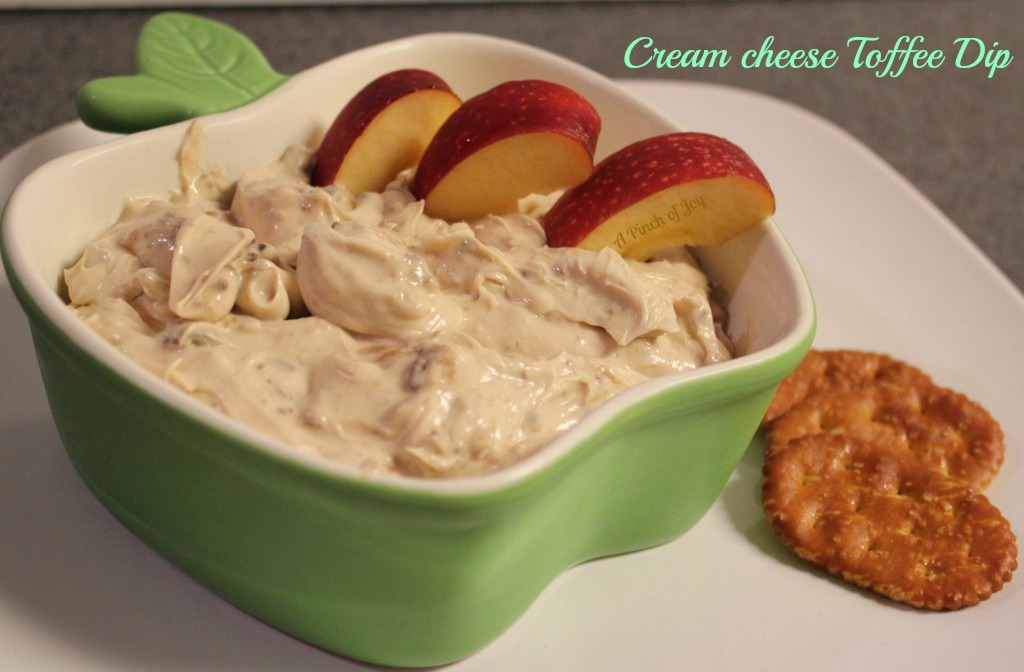 Cream Cheese Toffee Dip — a "published" recipe.  For my birthday this year,  I received a brand new community cookbook from my sister in law.  When I opened it up the very first recipe in the book was one I had given her a couple of years ago. An honor to be the first recipe!  Never mind that "A is for apple dip" and comes in the alphabet before "B is for Bacon Wrapped Water Chestnuts"!
Community cookbooks are treasures!   You know when you look through them that contributors offered their very best, the recipes that have been savored repeatedly. I have three or four special books to which my family have contributed their "keepers" that are stained and well worn and used frequently!   My birthday cookbook celebrates the quasquicentennial of a small town  and contains 164 pages of yummy goodness.  I love that they used "quasquicentennial" instead of  "125th anniversary of our founding"!  And that I was gifted  the centennial cookbook from that same town, too!   Here is the best apple dip anywhere and you can customize it by the amount of Heath toffee bits you use.  (Hint — go for the bigger amount!)


Cream Cheese Toffee Dip
Quick and easy, very simple and totally scrumptious with apples or pretzel crackers.
Ingredients
8 oz Cream Cheese, softened
⅓ cup brown sugar
⅓ – ½ package of Heath toffee bits
Instructions
Beat together cream cheese and brown sugar until light and fluffy. The secret is to beat until the volume of the cream cheese is almost doubled.
Add toffee bits.
Refrigerate for at least two hours, overnight is even better.
Serve with apple slices, pretzels, pretzel crackers or other sturdy dippers.
Notes
From A Pinch of Joy
Please Pin! 
I'm so glad you stopped by today!   Follow A Pinch of Joy using the icons on the teal bar at the top of the page so you don't miss a thing!   I'd love to have your company on this venture!!  Share: if you found this helpful or inspiring please click one of the sharing buttons below!  Your support of A Pinch of Joy is appreciated!
Shared with these awesome link parties here