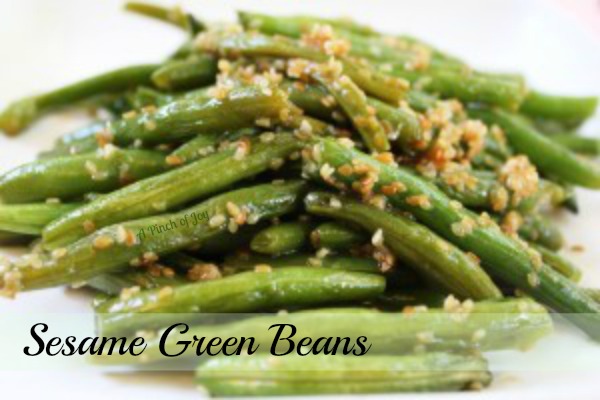 A Chinese place nearby has Sesame Green Beans as a staple on the buffet table  and I make a beeline for them every time we eat there.  Along with the Crab Rangoons!  I raved over them one time to my sister Vee in one of our weekly phone calls.  Oh, I make Sesame Green Beans every once in a while, she says, they are really good.  Shocked silence on my end.  How did she know about Sesame Beans?   And why was she keeping them secret?  Then she spilled the beans and gave me her recipe.   (sorry – that just slipped out!)
Of course,  I didn't get to it right away.  After all, the Chinese place is down the street.  Then we were invited to a get-together – a wonderful evening Thanksgiving feast on the patio in August.  The hostess said it was easier to put a turkey in the oven than to cook hamburgers and hotdogs and asked everyone to bring something that went with the turkey.  My assignment was beans.  Nothing like trying a new recipe for a group of newly met friends!  I took the plunge, made Vee's Sesame Beans and brought home an  empty dish.  Recommended by unsuspecting party goers!
I actually made two double batches.  One in a flat skillet, which cooked more quickly and one in a wok that caught the seeds as they popped.  I'll try both again and decide which works best for a single batch.  By the way, don't drop the container of sesame seeds over an open kitchen drawer. Millions of little tiny seeds everywhere!  You might find yourself loading the entire contents of the drawer in the dishwasher and making a trip to the grocery store for more sesame seeds.  Just sayin' . . . .

Sesame Green Beans
Sauted green beans with sesame seeds.
Author:
Charlene - A pinch of Joy
Ingredients
1 pound fresh green beans, tipped (cleaned and ends snapped or cut off)
1 Tbsp olive oil
1 Tbsp sesame seeds
¼ cup chicken broth
Salt and pepper to taste
Instructions
Heat oil in large skillet or wok over medium heat.
Add sesame seeds. (Warning: may pop when hot.)
When seeds darken, stir in green beans.
Stir gently until bean turn bright green.
Pour in chicken broth and add salt and pepper.
Cover and cook until beans are tender / crisp, about 10 minutes.
Uncover and cook until liquid evaporates.
Please Pin! 
I'm so glad you stopped by today!   Follow A Pinch of Joy using the icons on the teal bar at the top of the page so you don't miss a thing!   I'd love to have your company on this venture!!  Share: if you found this helpful or inspiring please click one of the sharing buttons below!  Your support of A Pinch of Joy is appreciated!
Shared with these awesome link parties here  
Save