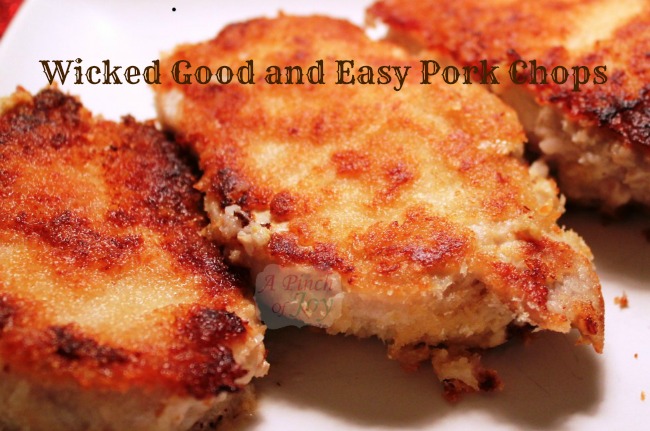 These pork chops are wicked good!  My sister in law, Deb, is from New England and was the first person I ever heard say something was wicked good.  We tease  about her accent – being from the Midwest and all, WE speak with the correct accent.  When Wheels and I visited,  Deb told us that they would be taking us to a  seafood restaurant called Newick's.  I kept looking for Newark's – compensating for her accent.  Guess what?  It really did say N E W I C K on the sign.  Maybe part of the accent is in the hearer's ear!
These pork chops were a surprise,  too.  Surprise that I ever tried them because I do not like mustard.  Not as in I hate it and it would never cross my lips, but I won't go out of my way to eat something with mustard in it.  Not only did I voluntarily make this – but it has become a frequent flier recipe for pork chops cut half inch or thinner.    (Thicker chops don't let the mustard shine  — do you know how badly I wanted to say "don't cut the mustard"! —  and I have another recipe for them.)   I'm not sure where the recipe originally came from, as the clipping I have is missing any identifying marks.
Measurements are somewhat approximate.  I use whatever pork chops are on sale and adjust accordingly.  I usually squirt the mustard (about a teaspoonful)  on the chop and then spread it in a thin layer on one side.  If there are bare spots I add another squirt.  I lay that chop, mustard side down,  in the plate of bread crumbs and put mustard on the other side, then roll it in bread crumbs before putting it into the already heated skillet.  Brown over medium low heat to dark golden color on both sides in olive oil that barely covers the bottom of the pan.  Sometimes the olive oil is absorbed and it will be necessary to add more to finish the browning.   About 6-8 minutes per side is all that is required for medium chops.  Use a sharp knife to open the center and visually inspect for doneness or use your thermometer to be sure the center is 140 degrees (a new guideline).   About 20 minutes from start to finish.
Bread crumbs can be Italian seasoned or plain with your own seasoning added.  I prefer the Italian.  Start with ½ cup of crumbs for four hand sized chops.  Since crumbs shouldn't be saved if they have been used to coat meats, it is better to shake out more as needed than to have a lot left. I have used Dijon mustard and the classic French's yellow mustard, but my favorite is honey mustard.  Cooking for your family is part creativity and part using what is at hand.  Don't be afraid to experiment.
This recipe was featured at The Shady Porch , The Frugal Girls

Wicked Good and Easy Pork Chops
Lightly flavored with honey mustard and browned to a crisp, these Pork Chops are Wicked Good!
Author:
Charlene - A Pinch of Joy
Ingredients
4 pork chops, about half inch thick
2 Tablespoons of honey mustard
½ to ¾ cup of Italian bread crumbs
Cooking oil to cover bottom of fry pan
Salt and pepper to taste
Instructions
Pour oil in large skillet to just cover bottom, preheat.
Squirt a teaspoon of mustard on chop, spread to cover and put mustard side down in bread crumbs. Squirt and spread mustard on other side of chop, turn to cover with bread crumbs.
Place coated chop in preheated skillet.
Repeat for remaining chops.
Cook tightly covered for 5-8 minutes on low to medium heat until golden brown.
Turn chops and cook for another 5-8 minutes until golden brown.
Please Pin! 
Welcome to A Pinch of Joy!  I hope you'll take a minute or two to look around.   Be sure to follow A Pinch of Joy so you don't miss a thing!  Follow  using the icons on the teal bar at the top of the page.  I'd love to have your company on this venture!!  Share: if you found this helpful or inspiring please click one of the sharing buttons below!  Your support of A Pinch of Joy is appreciated!
Shared with these awesome link parties here  
Save