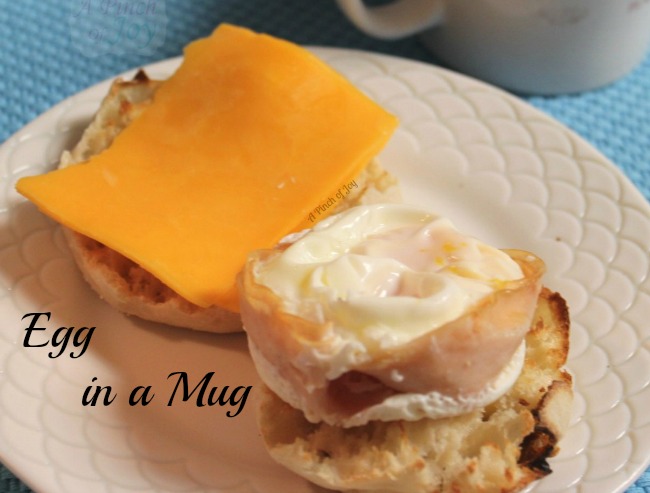 Have you seen this nifty little way to fix a quick scrambled egg breakfast for one?     Grab a mug or ramekin.  Spray it with cooking oil and line with a piece or two of deli meat.  Break an egg into the middle of the deli meat "dish".  Poke the egg yolk with a fork.  This is important!  Repeat:  poke the egg yolk with a fork twice to be sure it has a hole in it!   Microwave for 90 seconds.   I like to break it in to two segments – 45 seconds on 50% power and 45 seconds on full power – exact timing will depend on your microwave.  Check to see if the egg yolk is done to the firmness you like.  If not add 10 seconds as often as needed to get it there.  Make a mental note of how long you cooked the egg for future reference.  Because you will want to do this again and again!
In the meantime:  Load your toaster with an English muffin or two slices of your favorite bread.  Put away the lunchmeat and eggs, get out the butter and a slice of cheese, your choice.  When the toast pops, butter it lightly.  Or you can skip that step.  Place the cheese on one of the breads.  When the egg is done to your liking, upend the cup over the cheese.  Egg and meat slide right out.  Cap with the other slice of bread. Slide the bread, butter and cheese packet into their storage place.  Grab a cup of your favorite drink and you are ready to go.  Literally.  Or set down at the table and enjoy.
Excuse me.  I'm taking mine and a cup of spiced chai, along with the fat  newspaper, back upstairs.  Fluff the pillows just right, add serene music for a luxurious breakfast.  A pinch of joy for a couple of hours on a snowy Sunday morning.
This recipe was featured at Petite Hermine

Ode to Joy – and egg in a mug
Quick and easy breakfast in a mug!
Author:
Charlene - A Pinch of Joy
Ingredients
One egg
One slice of deli meat, as ham or turkey breast
One slice of cheese, as cheddar or colby jack
One English muffin
Instructions
Spray straight sided mug with cooking spray
Line mug with deli meat
Break egg into center of deli meat.
Pierce egg yolk twice with fork
Microwave 45 seconds on 50% power and 45 seconds on full power. Check to see if egg is done to your liking. Add 10 second bursts of power repeatedly until desired firmness is reached
Toast bread while egg is microwaving
Make sandwich by layering: bread, cheese, egg/meat and bread.
Enjoy leisurely or on the go!
One serving. Repeat as needed for additional persons.

Welcome to A Pinch of Joy!  I'm so glad you stopped by today!   Follow A Pinch of Joy using the icons on the teal bar at the top of the page so you don't miss a thing!   I'd love to have your company on this venture!!  Share: if you found this helpful or inspiring please click one of the buttons below!  Your support of A Pinch of Joy is appreciated!
Shared with these awesome link parties here  
Save