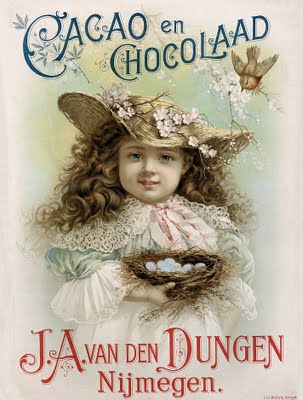 Several years ago, for Valentine's Day Wheels gave me two bags of Dove Dark chocolate and a magazine article about the health benefits of dark chocolate.  He's a keeper!  Gave me chocolate and a reason for eating it!  If you need a reason to eat your Valentine chocolate, you've come to the right place!
Surprisingly, chocolate is much better for health than Americans recently believed.  In fact, the earliest use for chocolate was medicinal. Chocolate is plant based, as are the fruits and vegetables recommended for good health.    Used by the Aztecs to keep public officials healthy and give their warriors strength and endurance, the beans of the cacao tree were made into a frothy bitter brew.  The Spanish explorer Cortes took cacao beans back to Europe where it was used medicinally and also became a popular drink. Later, it was given its scientific name, theobromo cacao, or "Food of the gods". But then people began adding milk and sugar and chocolate's health benefits were forgotten.  If you wrap it around quantities of caramel, nuts, marshmallow cream fillings, not only does the calorie meter go through the roof, but the real benefits of chocolate are cancelled out.   Just the  chocolate, ma'am – just the chocolate.
Many of the  processes used in processing cacao beans around the turn of the century were designed to remove the bitterness – but also removed health benefits associated with chocolate.  Dark chocolate maintains more of the original flavor and the flavenoids that make it healthy.  In general, the darker the chocolate the more health benefits.  However, several manufacturers have recently developed new processes that preserve up to 95% of the flavenoids (including the makers of Dove).   According to all chocolate. com, some of the specific health benefits of eating dark chocolate include:
improves cardiovascular health thanks to high amounts of  flavenols, plant based antioxidants similar to those found in green tea and blueberries
Anti-aging properties, also due to the antioxidants
Reduces moderately high blood pressure and improves blood flow
Helps prevent the build up of plaque in arteries from cholesterol
Maintains an even level blood sugar level because of its low glycemic index
For people at risk for diabetes, flavanols help restore more normal function between  cells and insulin to better control blood sugar.
Source of significant amounts of  copper, potassium and magnesium, minerals that are crucial in cardiovascular health and prevention of type 2 diabetes.
Improves mood
Studies  point to 1 ounce of dark chocolate daily as the optimum for health.  Dark chocolate is lower in calories than its milk  chocolate cousin, but unfortunately still is higher in calories than other plant based sources of heart healthiness.  Enjoy your daily square of chocolate – but don't overdo!!
And the story of the case of tuna is for another Valentine's Day!
I'm so glad you stopped by today!   Follow A Pinch of Joy using the icons on the teal bar at the top of the page so you don't miss a thing!   I'd love to have your company on this venture!!  Share: if you found this helpful or inspiring please click one of the buttons below!  Your support of A Pinch of Joy is appreciated!