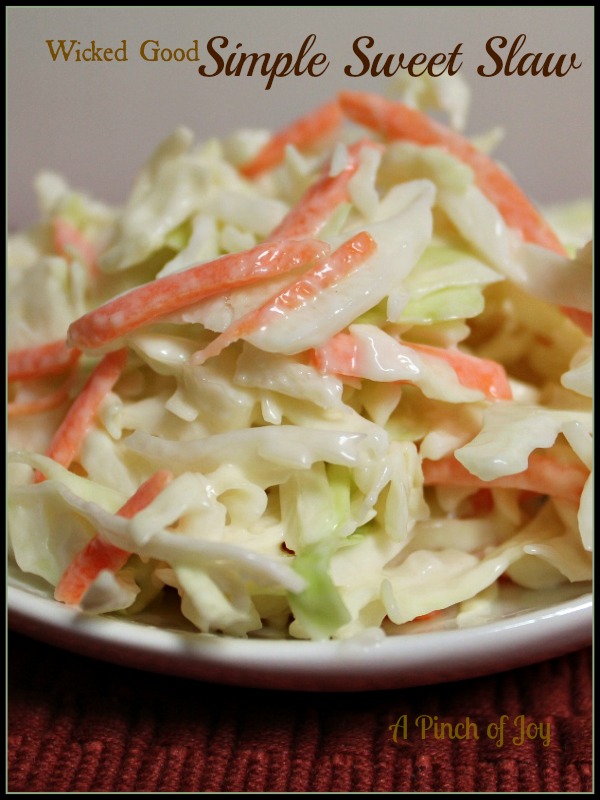 My mother's Sweet Coleslaw recipe. I could eat it twice a day at least four days a week.  Crunchy, creamy and the perfect accompaniment for anything.   I've never seen another recipe for coleslaw this simple – and no vinegar.   I don't consider myself a picky eater by any means – just please, please, please don't give me coleslaw with vinegar in it.  Who wants vinegar when we can have sweet and creamy, I say!
I'm sure Mom's recipe started out with one medium head of cabbage, sliced very thin to make approximately four cups.  You can do that.  You can also shred cabbage very nicely with the food processor.  I prefer packaged shredded cabbage – at least until garden season with our own fresh cabbage.  Mom was also a flexible cook (where do you think I got that???) so she would adapt.  Slightly bigger head of cabbage?  Add a tablespoon more mayonnaise and/or milk because creaminess is important to this dish.   The creaminess also develops a bit as the slaw matures a couple of hours in the refrigerator before serving.  (Although I have stirred it together and set it on the table as the diners were coming in the door.)
This is one of those basic recipes.  Know the proportions and you can do just about anything with it. Dress it up with a quarter cup of diced apple and/or shredded carrots with an additional bit of mayonnaise.   Other and/ or options are quarter cup of drained crushed pineapple and/or golden raisins.  Or you can go the other way and add a quarter cup of diced onion and half a teaspoon of celery seed and sprinkle with black pepper.
Sweet and simple as written makes it  a perfect accompaniment  because it lets the flavor of the main dish shine.  Serve it with  any chicken dish.  Cabbage is a traditional side with pork, like Wicked Good and Easy Pork Chops or fish or just about anything.  It is picnic worthy to accompany grilled meats, including hamburgers, sausage and hot dogs.  Tonight I served it with a savory roast beef and mashed potatoes. Love the light flavor and the crunchiness!
This recipe featured at Taste This Thursday

Wicked Simple Sweet Slaw
Creamy sweet coleslaw is a perfect crunchy complement to almost any meal!
Author:
Charlene - A Pinch of Joy
Ingredients
Cabbage, shredded 16 ounce package with or without carrots
½ cup mayonnaise
2 Tablespoons milk
2 tablespoons sugar or equivalent sugar substitute
Instructions
Mix mayonnaise, milk and sugar together
Stir in cabbage
Refrigerate one – two hours
Four servings at 10 carbs each if made with sugar
Notes
Charlene Vance @ A Pinch of Joy
Please Pin! 
Welcome to A Pinch of Joy.  I'm so glad you stopped by today!  Take some time to look around.   Follow A Pinch of Joy using the icons on the teal bar at the top of the page so you don't miss a thing!   I'd love to have your company on this venture!!  Share: if you found this helpful or inspiring please click one of the sharing buttons below!  Your support of A Pinch of Joy is appreciated!
Shared with these awesome link parties here