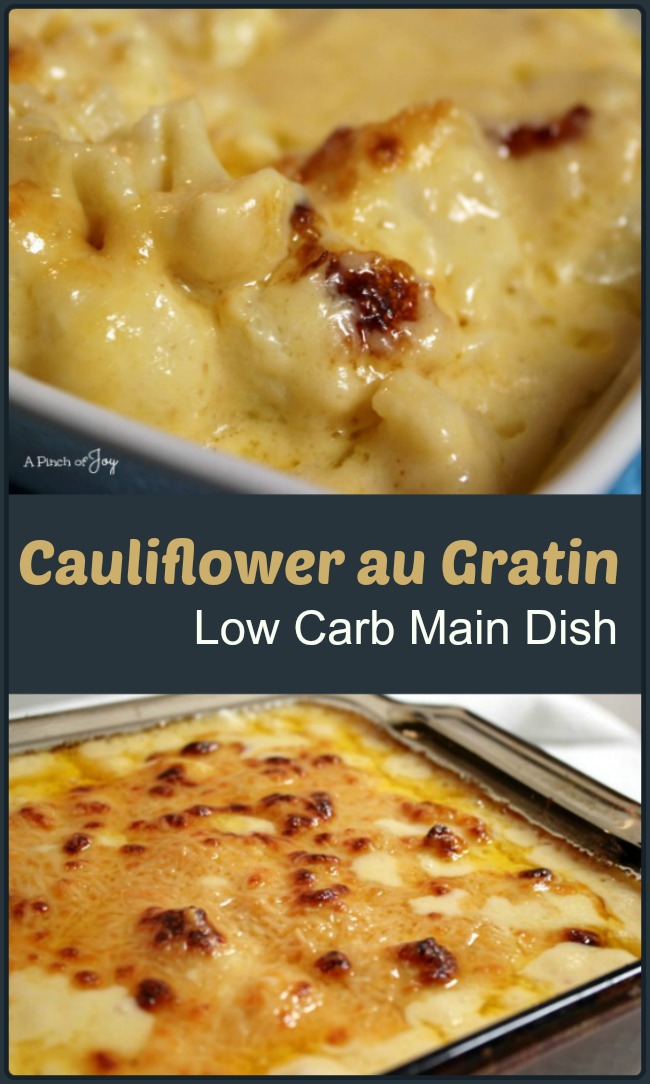 Cauliflower au Gratin — cheesy goodness as a main dish or a side dish.  Cauliflower, Mark Twain once sniffed, was nothing but cabbage with a college education. Boiled and buttered, the way grandma used to do it, cauliflower was nothing to write home about.  Now it is everywhere.  Cauliflower first appeared on vegetable trays, in snack packs and anywhere a crunch was needed. Then low carb dining became important.   Cauliflower is only 5 carbs per serving and it's somewhat bland flavor and good texture makes it an acceptable substitute for potatoes, pasta and rice.   This classic au gratin recipe makes a substitute for Mac n Cheese.  Mock N Cheese!  My sister, Vee, told me it was not a good name if I had to explain it.  First she hinted ever so diplomatically with a laugh and a hmmmm — or maybe it was a snort like a hmmmm.
Precook the cauliflower in the microwave, covered, just enough to make it crispy soft – you can  put a fork in it, but it retains some of its crispness.  While it is microwaving,  begin to make the roux in a large pan.  The onion and garlic aren't enough to jump out, but they give a depth to the dish.  Same with the nutmeg – although you can smell it during baking, you can't really taste it.  The cheese does play a part in the flavor, but you can adjust to what you have on hand and what your tastes are. The milk and cream can vary, as well.  If you have only whole milk on hand, use 2 cups.  Two cups of half and half work or if you want a richer flavor use all cream. You can leave the cauliflower in sections, just as you placed them in the baking dish and pour the cheese sauce over it.   You will have a proper cauliflower au gratin then –especially  if you also sprinkle a couple tablespoons of seasoned bread crumbs over the top before baking. To make it a substitute for macaroni and cheese,  run a sharp knife through the partially cooked cauliflower in the pan until the texture is somewhat reminiscent of large elbow macaroni.  Pour on the cheese sauce and bake for Faux Roni?  Mock N Cheese?  Good stuff!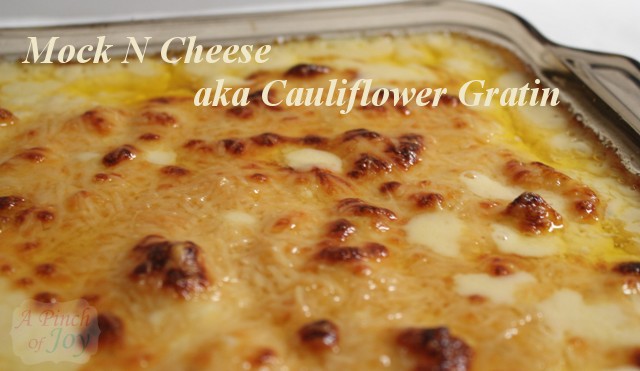 I'm so glad you stopped by today!   Follow A Pinch of Joy using the icons on the teal bar at the top of the page so you don't miss a thing!   I'd love to have your company on this venture!!  Share: if you found this helpful or inspiring please click one of the buttons below!  Your support of A Pinch of Joy is appreciated!
Shared with these awesome link parties here  
Save
Save
Save
Save