Welcome to A Pinch of Joy!  This post is part 4 in a series on using tax documents to organize your financial life.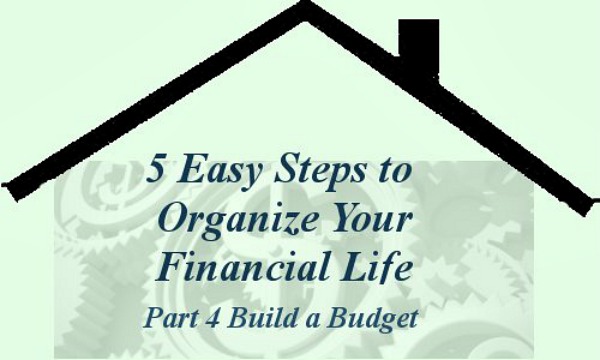 We began this series by gathering  documents  for tax preparation in Part 1 and each week  added a bit more information.  In Part 2, the papers helped prepare for emergencies.  In part 3, you developed financial goals to live the life you want and to make sure you and your family have adequate protection through savings and insurance, a debt repayment plan.  We also took a snapshot of where you stand financially.  In Part 4,  refer again to that tidy little pile of tax papers that started this financial adventure – plus a little more information.  An easy way to  develop a spending plan to help you achieve the financial goals and live the life you want to live.
A budget is a spending plan that takes in the big picture but can be adapted to specific changing circumstances. A good plan takes into account priorities and hopes and dreams as well as cold reality. Budget is a positive thing – not a restriction, but a guide to making choices.  Your spending plan is designed for success because you can keep tweaking to suit changing circumstances. Take a look and make adjustments as often as needed.  That could be monthly if you are working toward debt repayment, adding to your income or the unexpected happens.  If things are moving on an even keel, recheck every six months or again next tax season.  Whatever your circumstances, time spent developing a spending plan is empowering and gives you freedom to choose and direct your life.  No more just rolling along reacting to situations, wondering where the money went and why you can't do the things that are really important to you.
To develop a budget you must know
1)      What your income is going to be
2)      What your expenses will be
With this information YOU can decide:
3)      How you can adjust income and expense to live within your means
4)       how you can adjust income and expenses to achieve your goals and live the life you want to live
You will need:
Printable Spending Plan  forms.  OR  Spending Plan  in Excel to plan month by month.   Instructions for both are found here.
From tax documents:  Use W2's and 1099s to determine income, property taxes, medical expenses, health insurance premiums and other information as applicable.
Current copy of utility bills, bank and credit card statements to determine spending.  Use this information to consider what areas needs more resources, what areas can be reduced.  Be creative in allocating funds and finding different ways to accomplish your goals.  Increase income, invest time and energy instead of cash, look at alternatives to determine what is realistic and fits your lifestyle.
The Plan Ahead – Assets and Plan Ahead – Debts worksheets completed in Part 3 Financial Planning.  Also the completed Financial Goals worksheet from Part 3.
Hopes and dreams for the future.
Looking ahead —  add those current bills and statements to your resource pile of papers for now.  We will use those in the next installment.
Don't miss a thing!  Subscribe to A Pinch of Joy by email, RSS, follow on facebook or twitter.