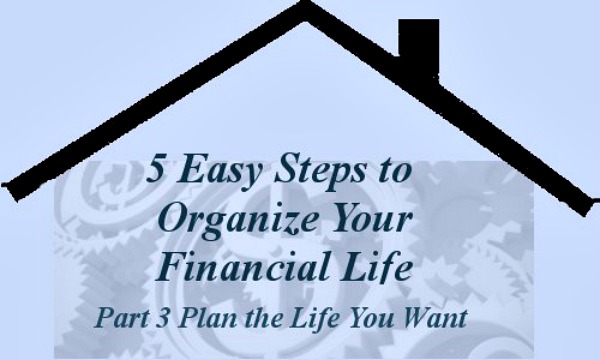 Part 3  Plan the Life You Want: Getting Started by Setting Financial Goals
How to lead the life you want to have.  It only takes a bit of financial planning to shape things so that our life is lived proactively and we can have more of the things we want.  We all get thrown a curve ball now and then, but if we've thought ahead it will be easier to respond to the unexpected.  Planning helps us get the most for our money on a day to day basis, even if we are currently living pay check to pay check.  When we look at the overall financial picture, it is easy to see how each financial decision affects other areas.  We are better prepared to make intelligent decisions, adapt to changes as we enter different stages of life and to set regularly updated priorities for our finances.  It is the road map for our life's journey.  An interactive map that lets us build new and exciting roads when we choose!
You can complete the first step quickly.  Begin by determining what assets you own.  Print and complete the Plan Ahead Assets form (directions are included).   Secondly, determine the debts you owe by using the Plan Ahead Debt form.  This is new information that you will find on the last statements you've received in each area or other records.  When both forms have been competed, subtract the Debts owed from the total Assets.  This is your net worth —  the departure point on the map.
What you do with that figure depends on your life stage.  Fresh graduate with a new job or just married, your goal is likely "To grow net worth" to pay student loans, to save for a home, to start your family.  If you have children, your goal is likely "To maintain balance" in providing the life you want for your family while saving for experiences, education and retirement.  Empty nesters may have "To facilitate a lifestyle change" either through retirement, a second career, or travel as their goal.  Goals are not carved in granite.  They will change with circumstances.  And to make the best decisions, you'll need to have adequate up to date information.
The good news – you already have most of the information you need!
Remember the Insurance Manager Form  and Legal Information Manager you used to create an In Case of Emergency file?   They get a new use.  Pull them out and make a copy to use in this process.  (You've already used the Financial Information Manager in determining your net worth.}  Don't forget to replace the originals in your personal I.C.E. file!  Use the copies to complete the Financial Goals Worksheet.  Directions are included.
And just like that you have direction for the coming year!   Now that you have the basic information gathered it will be very easy to keep it updated so that you can tweak the goals you've set.  And you can live the life you want to live,  instead of drifting aimlessly!
Next week we'll take a look at another use for the information you've gathered and discover ways to help achieve those goals.

This post is Part 3 in a series on 5 Easy Steps to Organize Your Financial Life.
Part 1 –  Preparing for  Tax Time
If you want to explore this topic in further depth, there are tons of books, websites and other information specifically on financial planning.  At some point, depending on your situation, you may choose to work with a professional financial planner.  They will ask you to bring with you much of the information we have already gathered, including the goals you've just developed and the budget built in Part 4.