July flew by at Chez Charlene — almost literally, at times!  We added dorecho to our vocabulary as strong straight line winds took down trees and power lines for miles, while in other parts of the country people were coping with wildfires.       Here are Nine Checklists to Help Evacuate Your Home as many had to do.  Experiments  led to these recipes for Breakfast to Go and Mushroom Swiss Burgers , Friday nights gave us a family  favorite known as Chili Cups and our love of carrots led to this decadent, moist Spiced Pineapple Carrot Cake with its perfect complement of Cream Cheese Frosting.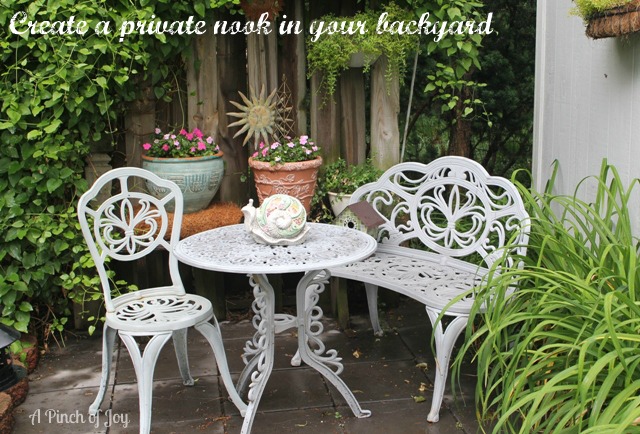 A while back, Wheels built a garden shed in the very northeast corner of the backyard.  It looked forlorn and lonely.  In short order, lilies that were taking over elsewhere were planted around the base to help tie it into the green landscape.  That did not  block the view from the house, clear across the back neighbor to whom the dog controlling fence belongs, their cul de sac, another  house in direct line and the street behind it.    Then one of our daily walks that spring showed we weren't the only ones making changes.  A neighbor down the block had installed a new hot tub on the deck and removed a part of the privacy wall and its attached bench.  I asked if we could have it, the neighbor said sure and Wheels looked doubtful!   He and Bytes brought it home, though, and set it beside the shed, at right angles to the back.
Of course, the next step was to pave the area.  From the shed,  the ground sloped up gently to make an elongated mound along the back property line.  I leveled the area I intended to pave and installed a small retaining wall along the edge of the new patio area.  A layer of sand over the leveled earth and I began laying twelve inch square pavers.    In such a small area, it was fairly quick work.  I used a level on each paver to make sure it would set evenly, adding and removing sand as needed  The new patio extended from the bed of lilies to the new retaining wall, about five feet wide.  It's about 10 feet long, the entire length of the shed.  That summer, we had half round planters fastened to the privacy wall and the shed wall.  A couple of suns from the sun face collection tied the area to the big deck where the rest of the collection hangs.
I planted autumn lace clematis that fall.  It is a fast growing vine, up to 25-30 feet a year and has small, sweet smelling blooms in early fall.   Every spring it needs to be trimmed back or it  takes over everything!  It insures a rich, lush green backdrop for the little patio.   From the kitchen window,   it gives us privacy the open fence does not.   Although, it has had a succession of furniture and accessories, the little patio was never really used.  Until this spring.
A tag sale advertised this beautiful bistro set and I claimed it (for way less than $100 — shhh!)!  The picture above was taken after a rain shower earlier this spring.  I threw a plastic cloth over the table and used it for a potting bench, a paint project elevator, and more.  Then we walked out one morning, breakfast in hand and decided it was a shady spot for breakfast.  It was!  And so peaceful.  Behind us was the splash of the neighbor's fountain flowing into their koi pond and around was greenery and a seldom seen  view of our house with all the  plantings.  True, the chairs don't invite a long lingering over coffee, but it is a cozy way to start days off!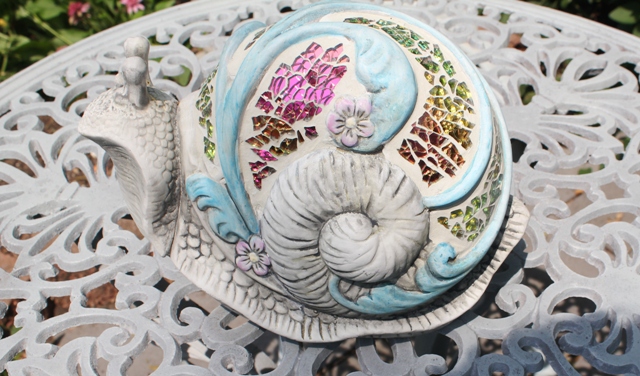 Wheels and I spent our first year of marriage in Germany, living in a tiny apartment  near the Army base where he was stationed.   Coming from the Great Plains, snails were a novelty to us.  He plucked one off the gatepost one rainy day and brought it in.  We named him Egbert.  Egbert lived for a couple of months in the houseplant on the sill of our only window, moving  up or down the stem.  Until we spent a weekend in Paris.  The landlady removed Egbert (probably before we cleared the gate!) and delivered a stern scolding upon our return!   Alas — poor Egbert!  When I saw this figure in a local garden department, it called a name.  No, not mine.  Egberta,  Egbert's blinged up sister!   And now you know the story of die schnecke who lives in the middle of our little bistro table!
Is there a corner of your garden where you can create a cozy spot?  Snails are optional.
I'm so glad you stopped by today!   Be sure to follow A Pinch of Joy so you don't miss a thing! 
Subscribe by email  on the sidebar or follow on Facebook, RSS feed, bloglovin' or twitter   using the links here or the blue buttons on the header!   Follow  my pinterest boards here.    If you found this helpful, please share on your favorite network by clicking one of the buttons on the bottom of this post.
Save