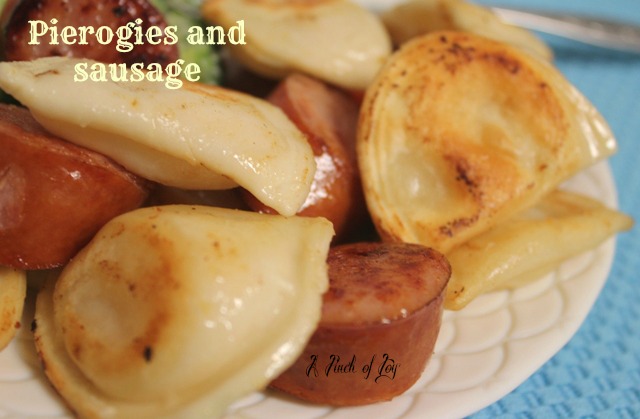 Happy Pierogie Day!  I don't know who decides these things, but when I read that October 8 was the day for pierogies I knew I had to share this recipe.
I was introduced to pierogies a few years ago on a Vacation Bible School message board.  One woman noted that she had spent so much time preparing for VBS  that she would have to pull out her busy day recipe.  Someone pressed her and she said they were having pierogies and sausage.  It would take her a breezy fifteen minutes to get a meal on the table that everyone loved.  Quick, easy and good . . . everyone was all over that!  Over the next couple of days there were reports of everyone's pierogies dinner.  The moderators probably wondered if their company boards had been confused with a cooking forum!
Since I'd never heard of  pierogies before, I had to find out what it was.  Pierogi is one of the national dishes of Poland.  It's spelled a variety of ways and the word is considered plural because you can't eat just one!  Americans add the "es" so when you shop, look for pierogies.  It's similar to the Italian ravioli in that small bits of dough are folded around a filling. Pierogi filling can be anything from sausage to fruit. Fruit pierogies are served with butter and sugar, other pierogies are served with butter and bacon crumbles.  In the US and Canada, the most popular filling is potato, often mixed with onion, some kind of cheese and perhaps a bit of other vegetables.
When I bought pierogies last, the checkout clerk told me her boyfriend's mom made homemade pierogies.  They were the best she said!  Checkout girl raved about them and said she really was sorry that she had to break up with the guy because that meant no more homemade pierogies.  I asked what his mom served with her pierogies.   Grilled steak.  Well, back to the mundane but pretty darn good sausage.
I buy the long u-shaped sausages – the ones in a 16 ounce package —  and slice them about half an inch thick on the diagonal.  The diagonal lets more of the sausage itself touch the surface of the frying pan.  I use a large pan with about a tablespoon of olive oil in the bottom over a medium high heat.  When the sausage is warm and beginning to brown I push it up the sides of the pan to keep it warm.  Add another tablespoon of olive oil and a box of frozen pierogies, couple at a time, laying them out flat.  Let the pierogies cook and begin to thaw before turning them over. Adjust the heat if necessary to keep them from over browning.  Turn a few at a time to keep from tearing them and let them cook a bit on the other side.  Then I flip them again, mixing the sausages in with the pierogies.  Let the sausages and and the pierogies brown and begin turning a few at a time to keep the browning even.  You can cover the skillet in between flips.  The whole process does take about fifteen minutes and you can set the table, and pull together a salad in between.
We had our sausage and pierogies last night with Sunny Broccoli Salad that I made ahead of time and fresh apple slices.   I have also baked pierogies to serve with fish or as a side dish with some other baked dish.  Spray both sides of the pierogies with butter flavored spray before baking according to directions.  The crust is "crispier" when baked – a different dish than the sauted pierogie, but we like it too.  I've used the regular pierogies, but we like the mini ones better for some reason.
How do you serve your pierogies?  Or are you going "huh?" like I did when I first heard of them?

Pierogies and Sausage
Small bits of dough folded around a mashed potato filling, sauted with chunks of sausage.
Author:
Charlene - A Pinch of Joy
Ingredients
1 package of tube sausage, precooked, 16 ounce
1 package of pierogies, at least 12 ounces
2 tablespoons of olive oil, or your preferred cooking oil.
Instructions
Slice sausage into half inch slices on the diagonal.
Put one tablespoon of oil in large skillet over medium high heat and add sausage.
When sausage begins to brown push it up the sides and add another tablespoon of oil. Add pierogies a few at a time, laying them flat.
Let pierogies cook until they begin to thaw. The color becomes more translucent and the pierogie pliable. Turn to other side until thawing is complete and they begin to brown.
Turn again and mix in sausages.
Monitor the sausage and pierogies turning as necessary until browned and cooked, depending on size of meat and pierogies.
Serve hot.
Please Pin! 
I'm so glad you stopped by today!   Follow A Pinch of Joy using the icons on the teal bar at the top of the page so you don't miss a thing!   I'd love to have your company on this venture!!  Share: if you found this helpful or inspiring please click one of the sharing buttons below!  Your support of A Pinch of Joy is appreciated!
Shared with these awesome link parties here