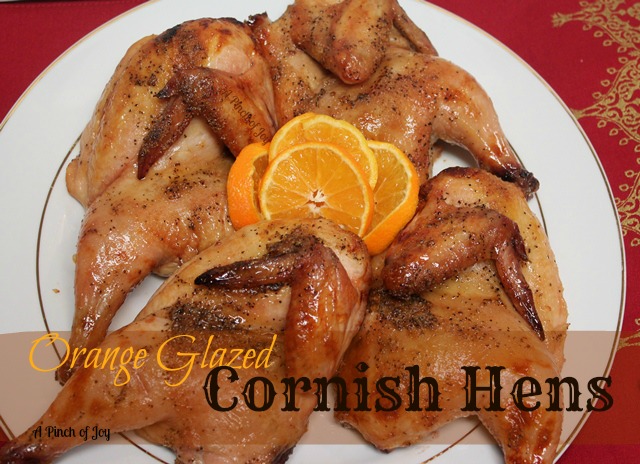 Orange Glazed Cornish hens are an out of the ordinary entrée, perfect for any special occasion. So easy to prepare and so elegant on the plate!  Cornish Hens are great for a Valentine dinner for two or an Easter dinner for the family, or a birthday celebration.   And certainly Cornish Hens can replace the traditional Christmas and Thanksgiving turkey!.
The history of the Cornish hen is interesting and fairly recent.  A young Frenchwoman, Alphonsine Davis, moved to Paris where she worked in a cheese shop and a millinary shop.   Jacques Makowsky,  a Jewish printer to Csar Nicholas II, escaped the Russian Revolution and fled to France where he met Alphonsine.  They married in 1933 and escaped the Nazis by moving to New York in 1940 where Jacques printed exquisite boxes for high end cosmetics. Later they moved to a large farm in Connecticut.  They raised African guinea hens, a delicacy prized by exclusive restaurants.  A few years later,  fire wiped out their flock. It would take several years to bring production of these birds back to scale.   Alphonsine  came up with the idea to breed game cocks from Cornwall in England with the common New England breed, Rock Island.  The result was a small heavy breasted bird that became so popular no one ever missed the guinea hens that it replaced.  By the Mid-1950's their farm was sending out 30,000 Rock Cornish hens a day.  Talk about making lemonade from lemons!
The birds are not fully Cornish nor are they always a hen.  Gender doesn't matter – only that the bird weigh 2.2 pounds or less.  They can be a bit pricey, but watch for a sale to make the cost more reasonable.   Servings are often based on one bird per person which would be about a pound of meat.  Cutting the bird in half lowers the cost per serving, and makes the servings sizes more reasonable, too!  I cut these in half along one side of the breast bone and the back bone, using a sharp knife.   I patted the cut birds all over with a dry rub and then oven roasted them with a honey glaze.  I don't typically make gravy or sauces (to avoid the additional carbs) so I lined a jelly roll pan  with aluminum foil before placing the roasting rack on top.  I lost the drippings, but clean up was easy.

Orange Glazed Cornish Hens
Orange Glazed Cornish Hens are an extraordinary entree, easy to prepare, and perfect for any special occasion.
Author:
Charlene -A Pinch of Joy
Ingredients
Dry Rub
2 tablespoons salt
1 teaspoon black pepper or to taste
2 teaspoons garlic and herb (McCormick Perfect Pinch or similar)
Glaze
⅓ cup of orange juice
¼ cup of honey
2 Tablespoons of mild honey barbecue sauce
Instructions
If hens are frozen, thaw in refrigerator overnight.
Prepare Cornish hens. Cut in half along the breastbone, using sharp knife. Break ribs away from backbone and finish making cut through. Remove tail and clean any other undesirable parts away.
Turn on oven to 375 F. .
Mix dry rub and apply to both sides of the cut chicken, lifting skin and patting dry rub under it. Pat any remaining dry rub on the outside of skin.
Prepare baking pan. If no roasting pan is available, place rack on jelly roll pan or other shallow pan. Line with aluminum foil for easy clean up, unless planning to deglaze pan and use drippings. Place chicken on rack and let set until oven is preheated.
Bake for 30 minutes.
Prepare glaze, in the meantime.
At thirty minutes of baking time, generously brush honey orange glaze over chicken, being careful not to brush off any rub on top of the chicken. Return to over and adjust oven temperature to 400F.
Repeat glaze every 10 minutes for the next 40 minutes. Pierce chicken to make sure juices run clear or use thermometer to see if temperature has reached 180F.
Please Pin! 
I'm so glad you stopped by today!   Follow A Pinch of Joy using the icons on the teal bar at the top of the page so you don't miss a thing!   I'd love to have your company on this venture!!  Share: if you found this helpful or inspiring please click one of the sharing buttons below!  Your support of A Pinch of Joy is appreciated!
Shared with these awesome link parties here