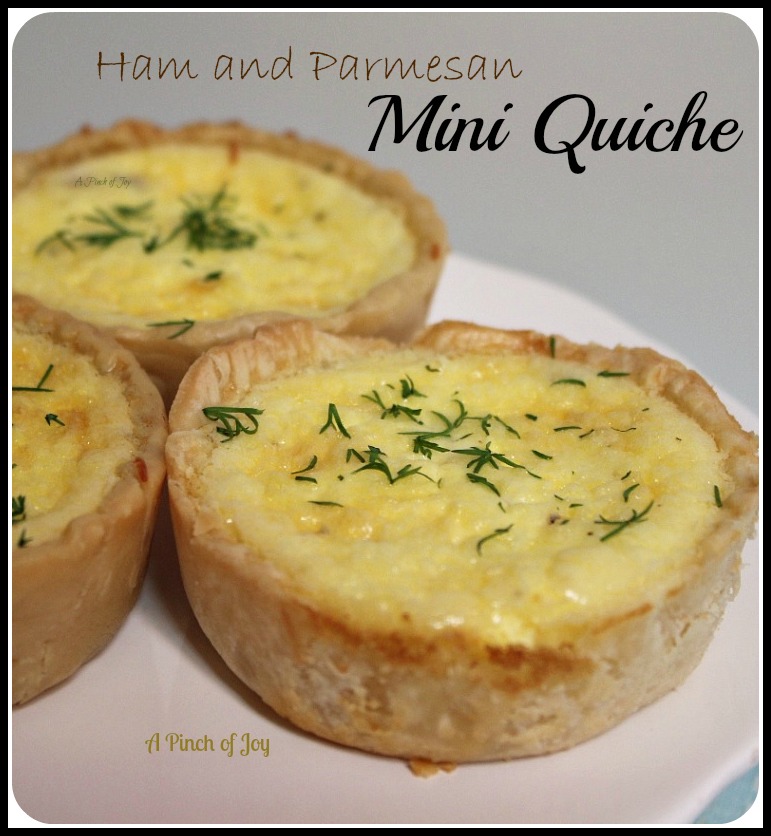 A platter of these little quiche looks quite elegant on a table for a shower or tea party.   They are surprisingly filling so they are perfect for a small dinner party celebrating Mother's Day, birthday or other special occasion.  Be prepared as the hostess though.  Do NOT worry when the room goes silent. That's every hostess nightmare.  But this time everyone is just focused on the creamy wonder of this little quiche!  They are unbelievably good!  And so easy to make!  I recently  made them three times in one month and looked for excuses to make them again.   They are that good and every bit as good when served to the family, too.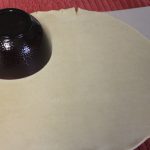 Using refrigerated pie dough makes things extra easy.  Yes, you can warm the dough in the microwave according to package directions, but it is much more uniform and better if you let  it come to room temperature on the counter before unrolling it.  Don't have a four inch cookie cutter?  I don't either.  So I used a sharp knife and cut around a four inch bowl.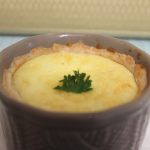 I also do not have 4" tart pans, but do have 3 ½ inch ramekins so that is what I used.  This made the quiche a little deeper than the fairly shallow four inch tart pan.  This affects the baking temperature.  NOTE the difference:  4 inch – bake at 350 for the times given.  3/12 inch – bake at 375 for the times given.   When done, the crust will be golden, the center will be puffed and set.  When you shake the pan, the center may move slightly but it will not be liquid.  The quiche filling will continue to cook a bit after you remove the mini quiche from the oven.
Don't skip searing the ham because it really brings out the full flavor.  Use good quality grated parmesan cheese.  I have not tried this with anything but cream because it lifts the flavor and texture to celestial heights.  If I only had half and half in the refrigerator, I would use it instead – but I am daring like that! I have served them in the ramekin to help keep them warm, but they are much prettier when removed and placed on a platter.   Snip a bit of fresh dill, green parsley or chives across the top before serving – just enough to accent the perfect golden colors of the crust and filling.
Ham and Parmesan Mini Quiche
Elegant and easy to prepare, this makes a statement on your brunch or party table. Be prepared for the room to fall silent as everyone savors the perfectly balanced flavors and flaky crust!
Ingredients
1 14 ounce package refrigerated pie dough
1 cup ham, diced small (aout ¼ inch cubes)
1 cup shredded parmesan cheese
1 ¼ cup heavy cream
3 eggs
½ teaspoon salt
Pinch of ground black pepper
Instructions
Cube ham. Spray small skillet with cooking spray, sear ham over medium heat until lightly browned.
Preheat oven to 375 degrees.
Unroll room temperature pie dough on a lightly floured surface. Cut eight four inch circles. Press each circle into a four inch tart pan or equivalent.
Place 1 tablespoon ham and 2 tablespoons of cheese in each prepared tart pan.
In a medium bowl, combine cream, eggs, salt and pepper whisking well.
Divide egg mixture evenly among tart pans placed on a rimmed baking sheet.
Bake until quiches are set and slightly puffed, 15-18 minutes.
Serve hot.
Notes
Charlene Vance @ A Pinch of Joy
Nutrition Information
Serving size:
1 mini quiche
.
I am so glad you stopped by!  Follow A Pinch of Joy so you don't miss a thing!  Click the buttons on the header to subscribe by email or RSS feed, follow on facebook or twitter to catch the latest post!    If you found this helpful, please share on your favorite network by clicking one of the buttons on the bottom of this post.

Linking up to these awesome parties here
Save