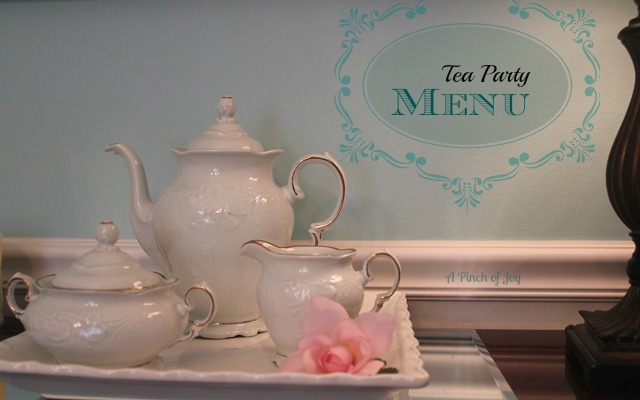 When planning your tea party, take into consideration the time of day.  If between meals, you can serve a lighter menu. The focus is on the tea with perhaps a small sandwich or "biscuits" – aka cookies, non-computer version.  That was the origin of tea time – a tide-me-over between lunch and a dinner that was served late in the evening.  It serves the same purpose today, and is also very useful for entertaining.  It's not the commitment of a meal, but is still a special event.  No fussing required.  Guests pass the dishes or help themselves from a small table or tea cart.  The hostess pours, but guests also can help themselves after the first cup.  Food is served in small portions and most often can be eaten using only the fingers. High tea was an early adaptation to include heavier fare and replaced a meal, more like a supper than a snack.  
In our case, we were having a meal alongside our tea party– a brunch, to be exact.  We needed something savory and something sweet according to a loose tradition for tea.  But we also needed something healthy and something filling, because our meal was doing double duty for breakfast and for lunch.   Here's what I served:
Healthy Beginnings
Itty Bitty Yogurt Parfaits
Breads and Spreads
Pear Honey             Strawberry Jam

Brunch
Savory
French Onion in Phyllo Cups
Cucumber Sandwiches
Havarti Turkey Pannini Squares

Sweet
Cheatin' Heart Turtle Brownies*
Raspberry Meringue Clouds**
Chocolate Kiss Meringue Minis

Tea
Totally Random
Valentine Pretzel Rods
Ginger Snap Pops
*Cheatin' Heart = purchased and it was close to Valentine's Day
**Or would have been, if  I hadn't misplaced the raspberry filling
—————-
Check out the tablescape here!    My Pinterest Tea Party – Brunch Board, found here, is where I've collected ideas for future events.
Be sure to follow A Pinch of Joy so you don't miss a thing! 
Subscribe by email  on the sidebar or follow on Facebook, RSS feed, bloglovin' or twitter   using the links here or the blue buttons on the header!   Follow  my pinterest boards here.
  If you found this helpful, please share on your favorite network by clicking one of the buttons on the bottom of this post.

  I'm so glad you stopped by today!