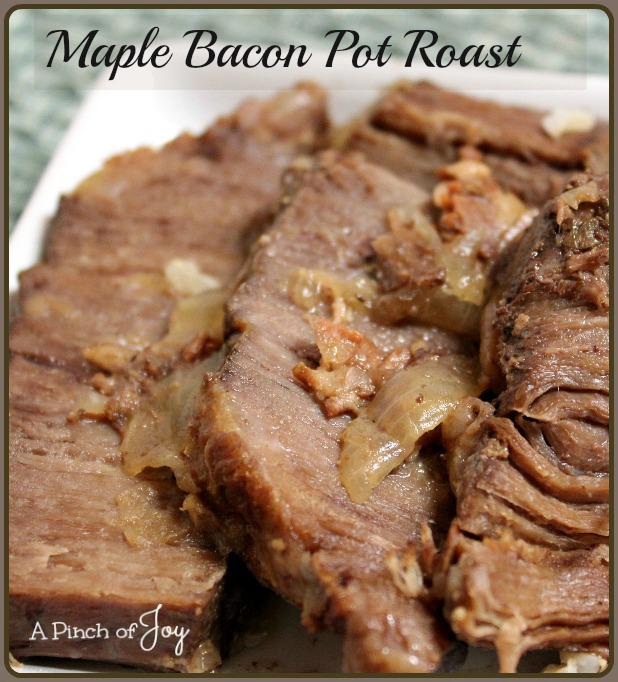 Maple Bacon Pot Roast — my Mother's Day Gift.  Before Wheels and I were married we talked about the things we wanted for our children.  One item on that short list was to teach them how to be self sufficient.  Wheels share of that goal was to teach our children things like how to change a tire and how not to get lost.  (Neither of which belonged on my side of the list. I still can't change a tire – don't tell the kids!  I can argue with the GPS, though.)    My share was to teach our children things like how to cook a meal and do their own laundry.   (Let it be noted that Wheels does a great job at those self sufficiency things.)   And that is why, when Mother's Day rolls around I only want one gift.  A homecooked meal that I don't prepare. 
 This year Bytes selected this dressed up version of everyone's favorite — pot roast.  The smells wafting through the house were so tantalizing!   And they did not disappoint!  The roast was absolutely delicious and so tender.  We had leftovers a couple of days later – just as wonderful as the first time.  Like any cook, Bytes likes to tweak a new recipe.  He's thinking next time that the flavor might be deepened if he follows these steps:  brown bacon before adding it to the roast in crockpot; remove all but couple tablespoons of bacon fat.   Sauté chopped onion in bacon fat until softened, about 5 minutes, before adding to crock pot.  Wheels and I thought it was great as prepared. 
Oh yes, other things on our short list: provide as many opportunities for personal growth as we could from infancy through high school,  support them and provide education to the best of our ability in their career choice, love them unconditionally, and wish them happiness

Maple Bacon Pot Roast — Slowcooker
A tender, tantalizing dressed up version of everyone's favorite pot roast.
Ingredients
2½ to 3 pounds chuck roast
4-5 slices bacon, cut in one inch pieces
1 large onion, chopped
1 ½ to 2 cups chicken stock
1 tablespoon Dijon mustard
2 tablespoons maple syrup
1 tablespoon red wine vinegar
1 teaspoon paprika
1 teaspoon salt
Black pepper, to taste
Instructions
Spray crockpot with cooking spray and place roast in bottom of pot.
Cut bacon into pieces and chop onion. Place on top of roast.
In separate bowl, whisk together chicken stock and remaining six ingredients. Pour over meat and onions.
Cover and cook on low for 8 hours, until meat is tender and falls apart.
Remove meat to rest and pour the liquid into a pan and bring to a boil. Cook, uncovered, until the gravy is reduced to desire thickness. Cut roast and pour hot gravy over the top.
Nutrition Information
Calories:
345
Carbohydrates:
40 g
Protein:
40 g
I'm so glad you stopped by today!
Follow
A Pinch of Joy using the icons on the teal bar at the top of the page so you don't miss a thing!   I'd love to have your company on this venture!! 
Share:
if you found this helpful or inspiring please  pin for future reference!  Or share on facebook or twitter by clicking one of the buttons below! 
Your support of A Pinch of Joy is appreciated!
Shared with these awesome link parties here