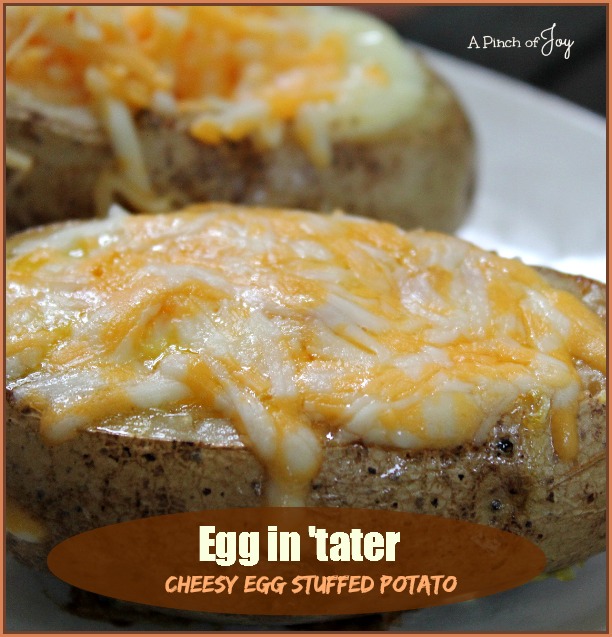 Bytes has developed his own repertoire of recipes that are quick, easy and tasty.   He offered to share some of them with you because we all can use a quick and easy dinner that is super yummy —  a meal that is quick to prepare and clean up and move on to the evening's activity.   Or in this particular case so I can keep caulking and painting and caulking and painting and caulking. . . . . .   Here's another recipe in a (sort of random) series titled "Bytes Bites". Actually it's a two-fer because you'll get two meals out of this — really a win-win!!!
Egg in 'Tater — Cheesy Egg Stuffed Potato
A meal in a baked potato shell topped with creamy, melty cheese -- plus a delicious fritata variation for the next day!
Ingredients
1 baking potato, scrubbed with skin on
¼ shredded cheese of your choice such as cheddar or colby jack,
2 tablespoons filling of choice such as diced ham, chicken, bacon, diced onion or mixed vegetables or any combination of these
1 egg
salt and pepper to taste
Instructions
Select the number of potatoes needed for the meal and scrub well, removing any imperfections.
Remove a slice of potato lengthwise and set aside.
Use a sharp knife to "dice" the interior of the potato without cutting through the bottom or sides. You'll want to leave a layer about ¼ to ½ inch of potato against the skin. Use a melon baller or spoon to remove the diced pieces of potato and set aside. Place potato shell on baking pan.
Add a little cheese to the bottom of the shell, and then add filling to about half an inch below the top of the potato shell.
Break one egg for each potato you are baking into a small bowl and stir until well mixed. Add salt and pepper and stir again. Pour gently over the filled potato until the shell is filled to just below the top.
Bake at 350 degrees for about an hour until potato can easily be punctured with a fork or toothpick.
Top with remaining cheese and slip back into hot oven until cheese melts.
Serve immediately.
Bonus dish
Take set aside potato slice and dice into bite size pieces to add to scooped out potato bits. Place in appropriate sized, greased baking dish. Add any leftover filling and stir quickly to mix. Cheese is optional, but I like an additional ¼ cup per potato sprinkled over the top of the potato/filling mix. For each potato used, crack and scramble one egg (in addition to one listed in ingredients above). Add salt and pepper to taste. Pour egg mixture over potatoes/filling mixture in baking dish and bake along with the stuffed potatoes. This is done when table knife inserted in center comes out clean. Baking time will vary according to number of potatoes used, but a general rule of thumb is about 20 minutes for each potato. Let cool and warm for serving the next day in the microwave.
I'm so glad you stopped by today!   Be sure to follow A Pinch of Joy so you don't miss a thing!   Subscribe  Facebook  //   RSS feed  //  bloglovin' // twitter  // pinterest .   If you found this helpful or inspiring please share below!  Your support of A Pinch of Joy is  appreciated!

Save