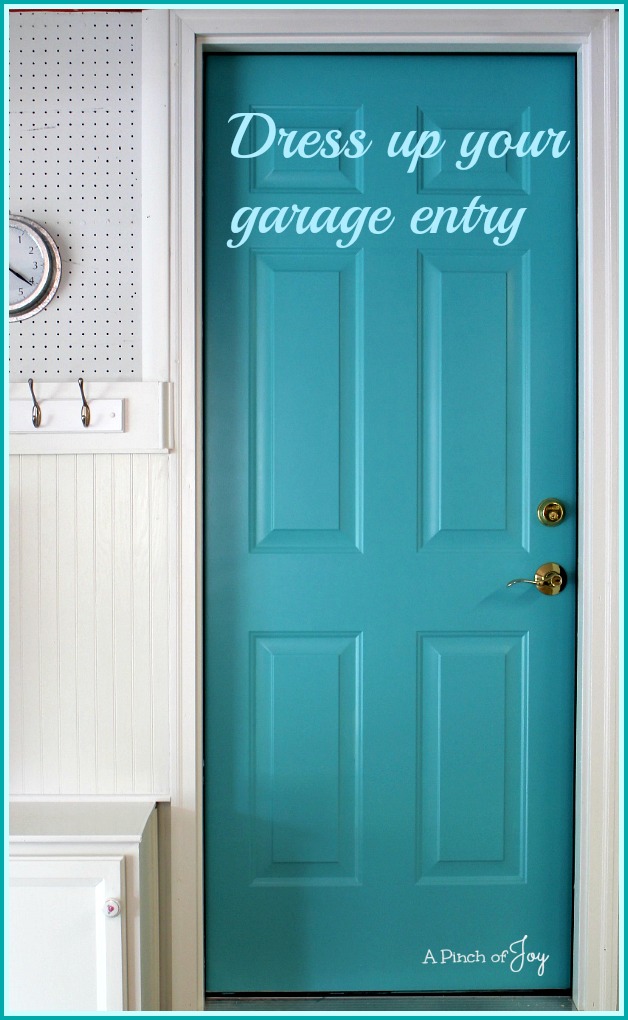 When you park the car in your garage, do you walk around to the front door to enter the house?  I didn't think so!  If your family is like most, chances are you come and go by the garage entry door something like 97.3% of the time.  I totally made up that statistic out of thin air just now.  But think about it – you drive in the garage, everybody hops out and runs in the house to the potty, for a drink, for dibs on the tv remote.  That 2.7 % front door usage includes going for a walk, running in and out the front door to play, picking up the mail and other quick forays.  We dress up the front door for curb appeal and to make our home pleasant for us.  And seldom use it.  Especially if we live in a place where winter is a  season that makes its presence known!   
 Why shouldn't we dress up the door we use most frequently?  It is the door that announces "home!".  It is the portal through which we travel from our busy world of school, work and errands to a place of sanctuary and belonging.  This epiphany was inspired by the new entry door we installed recently between the garage and the kitchen.  As I contemplated painting the garage side of the door, it occurred to me how much we use this door.  And that inspired a trip to purchase this gorgeous colored paint.  Looooove it!!!! 
 Off to the left you see a sneak peek of another project we completed to make our garage entry more welcoming, the mini mudroom  we added by the back door.  Garage storage also helps to keep things organized and more pleasant.
I'm so glad you stopped by today!   Be sure to follow A Pinch of Joy so you don't miss a thing! 
Subscribe by email  on the sidebar  or follow on Facebook, RSS feed, bloglovin'  twitter  and check out my  pinterest boards.   If you found this helpful or inspiring please share below!  Your support of A Pinch of Joy is  appreciated!
Save