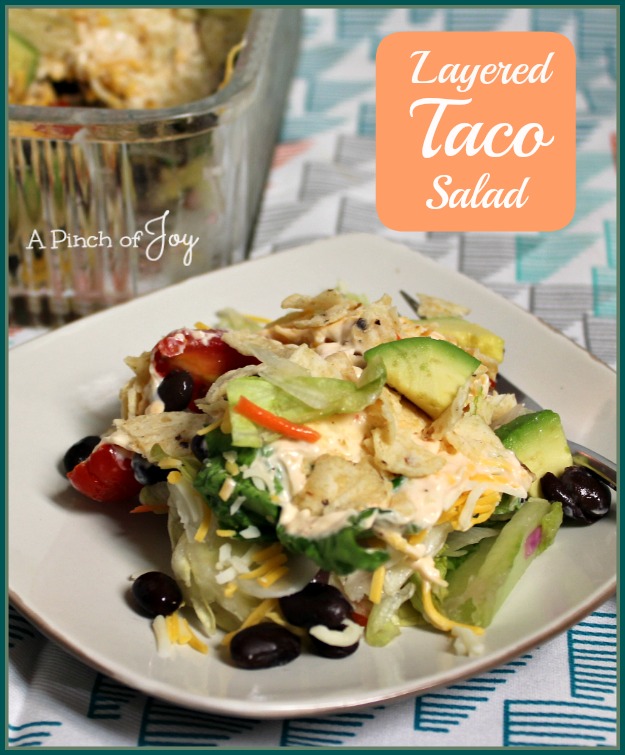 This layered salad with a Mexican twist makes six servings of about 1 cups each.  A glass 8×8 pan is the perfect size.  I have a vintage covered refrigerator dish that works great!   Use any sturdy lettuce or lettuce mix as the base – iceberg, romaine,etc. A 12 ounce package seems to be the norm, but a 16 ounce package will also work with the proportions above.  Feel free to up the amount of taco seasoning for more kick.  1 teaspoon is very mild, 2 teaspoons is medium and 1 tablespoon (3 teaspoons) makes the flavor pop!   Wait till the last minute to add the tortilla chips so they stay crunchy.  Wheels and Bytes like to have extra chips to moosh on their plates as a foundation to top with the salad.  Avacado is optional, but if you choose to use it, add it at the last minute as well so it doesn't turn brown.


Layered Taco Salad
A Mexican twist on the classic layered lettuce salad.
Ingredients
½ cup mayonnaise
½ cup sour cream
1 tsp taco seasoning mix
1 15 ounce can black beans, drained and rinsed
12 ounce package lettuce
½ cup sliced onion
1 cup Mexican style shredded cheese
½ cup grape tomatoes, cut in half
1 cup broken tortilla chips
Optional: avocado
Instructions
Mix mayo, sour cream and taco seasoning mix and set aside
Layer lettuce, onion, beans, tomatoes and cheese in 8x8 glass container
Spread dressing mixture over salad.
Cover and refrigerate at least two hours or overnight.
Crush tortilla chips and sprinkle over the top of the salad just before serving.
Optional, dice avocado and add to top of salad before serving.
Nutrition Information
Serving size:
8 ounce
Calories:
213
Carbohydrates:
14 g
Protein:
11 g
I'm so glad you stopped by today!   Follow A Pinch of Joy using the icons on the teal bar at the top of the page so you don't miss a thing!   I'd love to have your company on this venture!!  Share: if you found this helpful or inspiring please click one of the buttons below!  Your support of A Pinch of Joy is appreciated!
Shared with these awesome link parties here