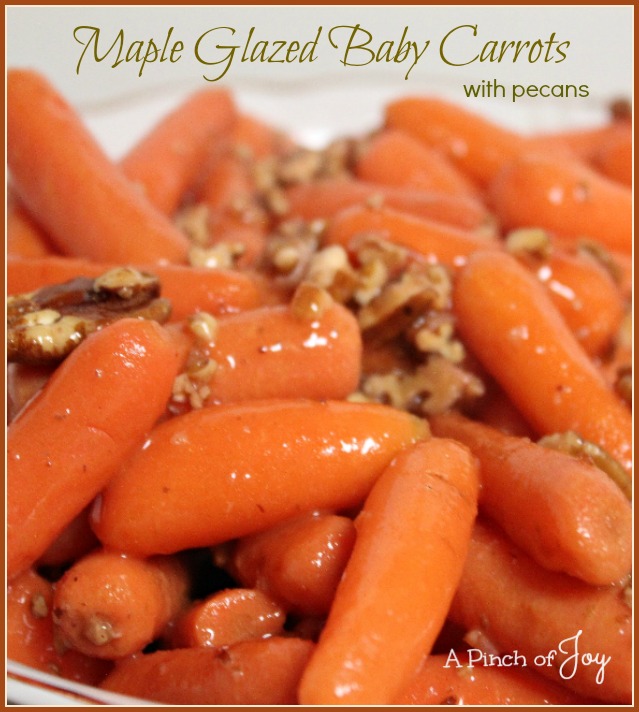 They are really good, my sister Vee said, when telling me about the glazed carrots she'd made. That was a couple of years ago and I've had the recipe in my "let's try this" stack ever since. Last time we visited her family, she made Maple Glazed Carrots with Pecans. And she was right – again! They are good! But let's just keep that between us okay – she doesn't need to go gettin' the big head!*
I've gotten lazy and grab a package of frozen vegetables to microwave instead of cooking the real deal. This recipe starts with baby carrots – no need to peel and slice. Put a cup or so of water in a medium pan, add carrots, cover and bring to boil. Steam/boil until carrots are crisp tender when pierced with a fork. That only takes about 15 minutes. So easy, it was not worth the fussin' on my part –. The glaze is simple.   The predominate flavor is the maple as the dressing just enhances it without competing or changing it. Glaze the carrots, add nuts and you have an impressive dish. That is really, really good.
*I worked for a season in a children's program with an elderly volunteer who was a gifted teacher. She could explain complex things so simply anyone could get it, keep the room organized and things moving. But she did not believe in praising children because, she said, they would get the "big head". I think we all need to hear appreciation. Vee, here is yours! And thanks for sharing!
Maple Glazed Baby Carrots
An impressive dish for holidays and guests -- or just the family. Impressive and delicious!
Ingredients
1 cup water
2 pounds baby carrots
¼ cup light catalina dressing
¼ cup maple flavored syrup
2 tablespoons butter
½ cup coarsely chopped pecans
Instructions
Put water in medium pan, add carrots and cover. Cook 12 –14 minutes or until tender, then drain.
Mix dressing and syrup, stirring frequently, until glaze is thickened.
Add carrots and butter. Stir until butter is melted and carrots are covered with glaze.
Add pecans and stir to distribute.
I'm so glad you stopped by today!   Be sure to follow A Pinch of Joy so you don't miss a thing! 
Subscribe by email  on the sidebar  or follow on Facebook, RSS feed, bloglovin'  twitter  and check out my  pinterest boards.   If you found this helpful or inspiring please share below!  Your support of A Pinch of Joy is  appreciated!
Save