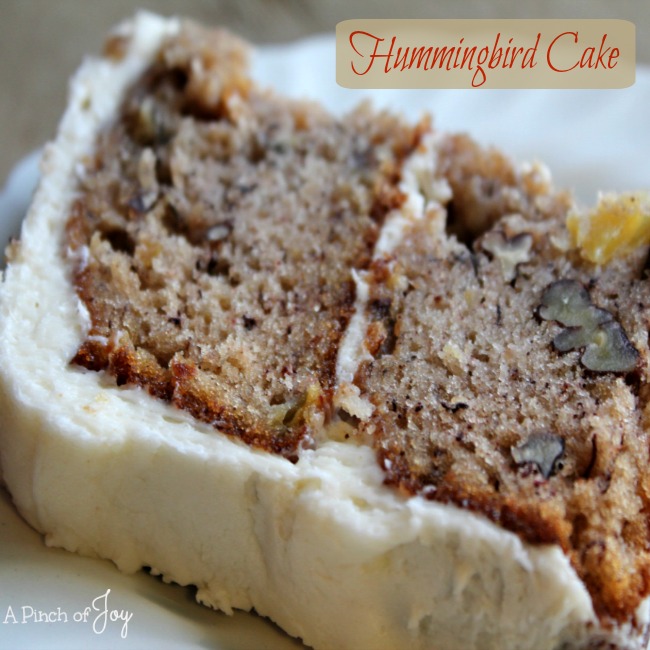 I've heard of Hummingbird Cake forever and wondered what it was. I pictured something light and fluffy, fruity and sweet to taste. You know – hummingbird like!   So I jumped at the chance to make one when my friend Donna shared a Hummingbird Cake recipe.
Be sure to use overripe bananas since they are sweeter. Mashing them releases more of the ripe banana flavor.   Mash bananas with a fork in a small bowl or in the two cup measure. It will take about 4 bananas to make two cups. Don't drain the pineapple. You can substitute chopped walnuts for the pecans (or use coconut instead if there is nut allergy to worry about). A 9×13 pan will work, but I'd recommend using the layer pans. I used a 9×13 pan as it is the only one available at the moment and it took about 45 minutes for the center to test done. Even then it was a little gooey to eat. I cut in half to make a layer cake. A good cream cheese frosting is traditional. I wasn't sure how to embellish the cake so I just used a row of pecan halves along the bottom. Next time –and there will be a next time– I will chop extra pecans and press them into the sides of the frosted cake. I'll also try about half a teaspoon of nutmeg along with the cinnamon. Delicious cake and gets even better if you can resist eating it all in the first day or two!
Nobody seems to know where the hummingbird fits into the picture. It's not because the cake is light and fluffy, fruity and sweet to taste or remotely bird like. However, it is somewhat dense and moist, slightly spicy and sort of tropical to the taste. So here's my theory on the name: Humming birds eat at least half their weight in sugar each day just to survive. With their high metabolism they can eat up to 8 times their own weight in a single day. They eat "meals" just like people, usually about 5 times a day.   This is perfect humming bird food: Somewhat dense with just enough sugar and you'll want it more than once a day. That's my story and I'm sticking to it. 🙂

Hummingbird Cake
Dense, moist oh-so-good cake with banana, pineapple and nuts!
Author:
A Pinch of Joy by Charlene Vance
Ingredients
3 cups flour
2 cups sugar
1 teaspoon baking soda
1 teaspoon salt
1 teaspoon cinnamon
4 eggs, lightly beaten
2 teaspoons vanilla extract
1 ¼ cups oil
1 8 ounce can crushed pineapple, undrained
2 cups ripe bananas, mashed (3-4 large bananas)
1 cup pecans, chopped
Instructions
Preheat oven to 350 degrees.
Combine dry ingredients, gently mixing with whisk.
Add remaining ingredients and mix until all ingredients are well moistened. Do not over mix.
Spray 3 9 inch cake pans or two 8x8 square pans. Divide cake mixture evenly between pans.
Bake 25-35 minutes until cake is done in center. When done, a toothpick inserted in the middle will come out clean.
Cool fifteen minutes before removing from pan to rack. When completely cool, frost with cream cheese frosting.
I'm so glad you stopped by today!   Be sure to follow A Pinch of Joy so you don't miss a thing!  I'd love to have your company on this venture!!   Follow:    Facebook /  RSS feed  / bloglovin' /   twitter  and   pinterest.   Share: if you found this helpful or inspiring please click one of the buttons below!  Your support of A Pinch of Joy is appreciated!