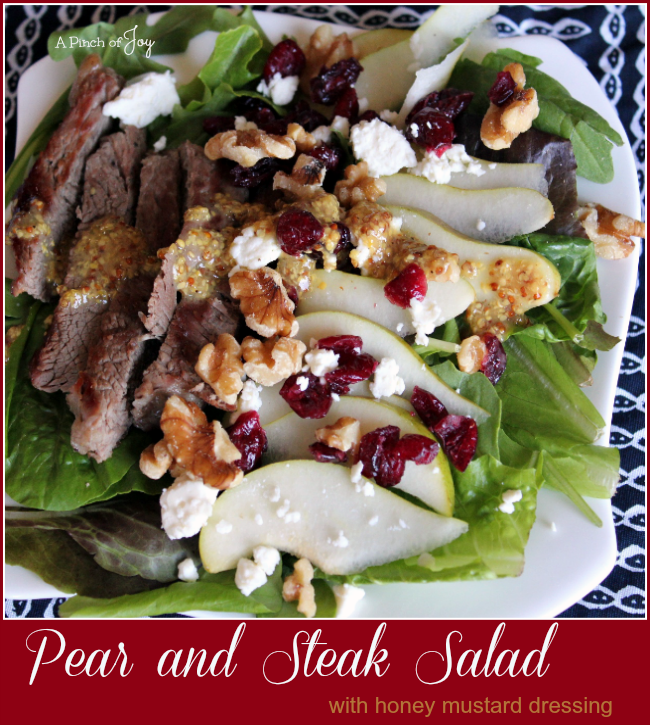 Sometimes we look at a recipe, like Pear and Beef Salad with Honey Mustard Dressing, and think "I can't use that.  It serves four and I am cooking for two."  Or  "This is too spicy for my family".  Or even, "this combination is weird!" – which usually actually means " I've not had this before".  Don't turn the page or click away too soon however!  You'll miss some good eatin', if you do!   Instead think of ways you can make it fit your situation and tastebuds.
I cook for three people, two with pretty big appetites.  To make this fit my family, I use only half of some of the salad ingredients, but I leave the amount of meat and the dressing the same.  One third of a bag of baby greens each is just about right for our appetites.  Dried cranberries are high carb so we only need a few for color.  The cheese provides additional protein so I usually use the full amount and the same with the walnuts, which are also healthy.  I don't eat a lot of meat at any one time, so by the time I take my palm sized piece (about 4 ounces), the guys have about a pound of steak to divide between them.  That makes them really happy. (Although I can and do buy smaller steaks, too.)    I am wimpy when it comes to tart or spicy flavors so I usually opt for no dressing or a light raspberry vinagerette or even a creamy yogurt dressing.  The guys LOVE this mustard dressing drizzled across the meat and over the salad.  Everybody gets a balanced meal with flavors they like and will leave the table full and happy.  It can pay to be adventurous and flexible!
And as for combinations that seem weird – I couldn't quite imagine hearty beef with delicate spring greens and pears.  It really helps to watch the temperature of the meat as it grills so it does not overcook and become tough.   The tender beef  plays off the greens and pears in a perfect combination!  Makes a great summer meal by itself.  Add a crusty roll, if you like. Adapt the recipe,  if you need. Go ahead, make this.   Betcha like it!
Original recipe from Dinner is Solved at HyVee.

Beef and Pear Salad with honey mustard dressing
The tender beef plays off the delicate greens and pears in a perfect combination with a zip of mustard!
Author:
A Pinch of Joy by Charlene Vance
Ingredients
1 ½ pound sirloin steak
½ teaspoon black pepper
2 5 ounce bags baby salad greens
2 medium pears, cored and thinly sliced
¼ cup dried cranberries
½ cup chopped walnuts
½ cup feta cheese crumbles
Honey Mustard Dressing
½ cup prepared honey mustard
2 tablespoons water
1 ½ teaspoons olive oil
1 teaspoon white wine vinegar
Pinch of salt
Instructions
Sprinkle pepper over sirloin and grill over medium heat for about 10 minutes, turning after five minutes until medium done. OR use a countertop grill. Medium doneness is achieved at 160 degrees.
In small bowl, whisk dressing ingredients together and set aside.
Divide salad greens among 4 serving plates. Top with pears, nuts, cranberries and cheese.
When steak is done, let it rest a couple of minutes before slicing across the grain in thin slices.
Drizzle with dressing.
I'm so glad you stopped by today!   B
e sure to follow A Pinch of Joy so you don't miss a thing!   Subscribe by email  on the sidebar  or follow on Facebook, RSS feed, bloglovin'  twitter  or   pinterest    If you found this helpful or inspiring please share below!  I'd love to have you along on this journey!
Save
Save