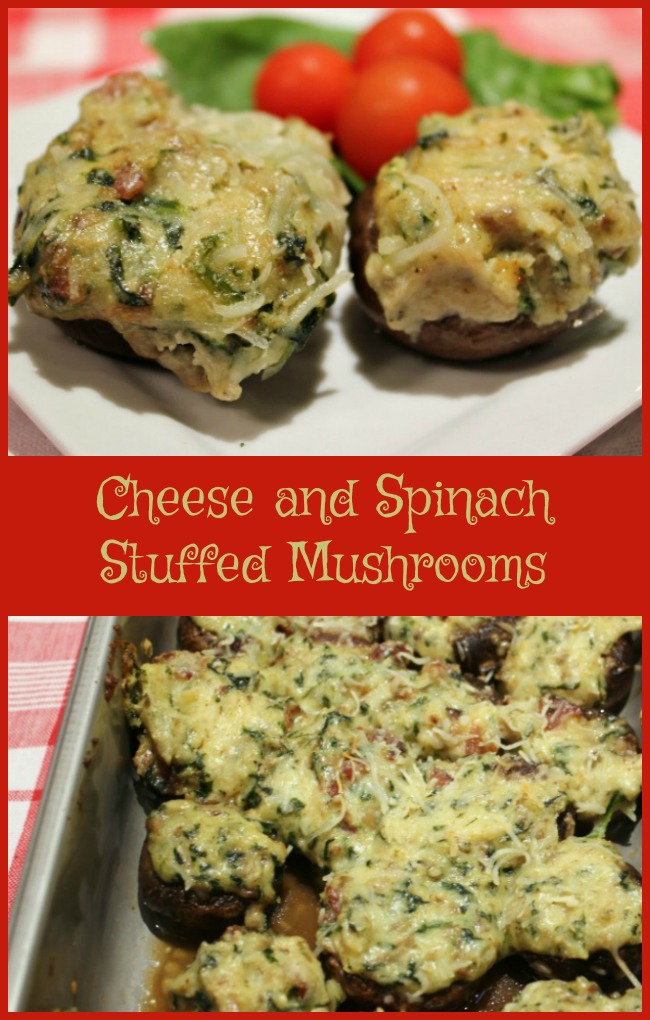 Cheese and Spinach Stuffed Mushrooms are a delicious, warm, cheesy and filling addition to an appetizer table. You can also serve them as a side dish at a pot luck. Sooo good.  Unless you talk to someone like Bytes who can only mumble "fungus".  That's okay – more for the rest of us.  And they disappear quickly so don't dally in loading your plate.
Look for packages of larger baby bellas in your produce section.   Larger mushrooms  are easier to stuff and handle without breaking.  When dicing the stems and cutting the spinach, make the pieces small so they will blend into the mixture evenly.  Italian mix cheese is not available at every store; Kraft is the brand I find most often.  If you don't find it at your store, use shredded parmesan and romano.   Bake until the cheese is golden and  mushrooms are tender.  The number of servings will depend on the size of the mushrooms available to you.  I had more than twenty when I made this batch because they were smaller.  Big or small, they are a wonderful addition to the table!

Cheese and Spinach Stuffed Mushrooms
Cheese and Spinach Stuffed Mushrooms are a deliciously warm and cheesy, filling addition to an appetizer table.
Author:
A Pinch of Joy by Charlene Vance
Ingredients
3 ounces fresh spinach
½ teaspoon minced garlic
1 tablespoon oil for cooking
16 ounce whole baby bella mushrooms
4 ounces cream cheese
one egg
½ cup mushroom stems, chopped
¼ cup Italian bread crumbs
1 cup Italian cheese mixture
salt and pepper to taste
additional ¼ cup Italian cheese mix for topping
Instructions
Preheat oven to 350
Wash mushrooms and remove stems. Finely chop stems and set aside
Chop spinach into small pieces, add to preheated 8 inch skillet with 1 tablespoon of olive oil. Then add chopped mushroom stems and garlic. Stir well, cover and cook until spinach is tender, 8-10 minutes. Remove from heat
In medium mixing bowl, combine cream cheese, bread crumbs, Italian cheese mix, egg, salt and pepper. Mix thoroughly.
Add spinach, mushroom stems, and garlic to cheese mixture. Mix well.
Place mushroom caps into baking dish with open side up. Carefully fill mushroom caps with cheese mixture, pressing down lightly,
Sprinkle lightly with remaining Italian cheese.
Bake 17 to 20 minutes, until golden and mushrooms are tender.
Makes 12-18 stuffed mushrooms.
Welcome to A Pinch of Joy!  I'm so glad you stopped by today!   Follow A Pinch of Joy using the icons on the teal bar at the top of the page so you don't miss a thing!   I'd love to have your company on this venture!!  Share: if you found this helpful or inspiring please click one of the buttons below!  Your support of A Pinch of Joy is appreciated!
Shared with these awesome link parties here