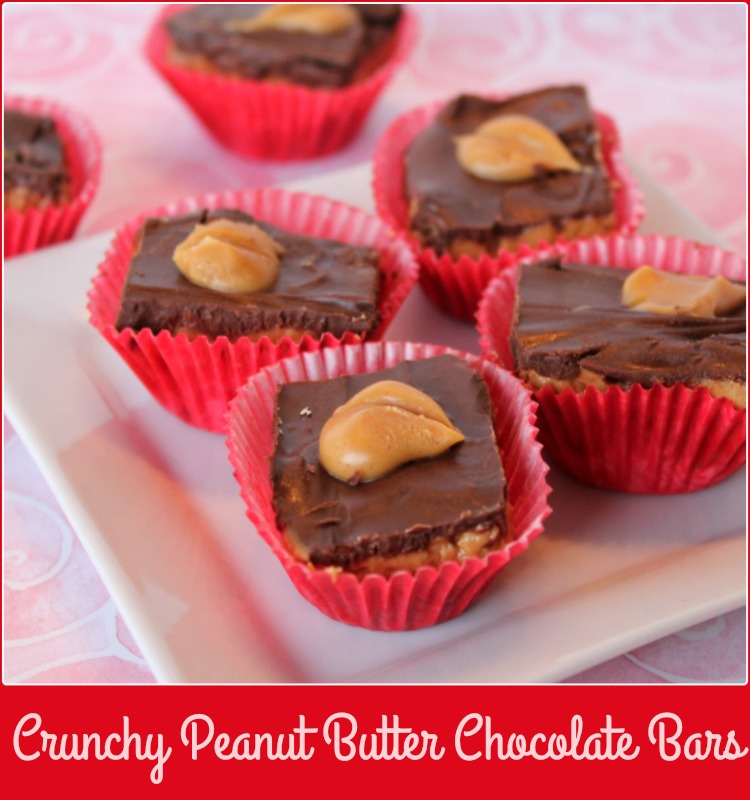 Valentine's Day has a few traditions around our house.  Wheels comes up with beautiful heartfelt cards that make me cry.   And sometimes the perfect — although quite unexpected — gift.    When Bytes and his brother  were little I would find something red to gift them — a red truck, a red book, red handled pliers,  red earbuds — something small and red that fit their interests at the time.   And I always make something special to eat.  Peanut Butter Chocolate Bars fits right in the special category, from the peanut butter cup bottom to the peanut butter hearts on the top.
The peanut butter bar is a classic knock off of Reese's Peanut Butter Cups.  Use graham cracker crumbs in the box if you have them on the shelf.  To make your own, use 9 sheets (2 squares each) of graham crackers.  Place crackers in a quart sized zipper bag and crush with a rolling pin or a heavy glass. Leave some crumbs crushed a little coarsely  to provide the crunch.  The two tablespoons of peanut butter added to the chocolate chips makes the chocolate a bit softer so that you can easily bite into it without chunks of chocolate flying off.
The peanut butter hearts make this special.  The recipe is easy — a bit of melted butter stirred into a couple of tablespoons of peanut butter.  If you have not done anything like this before — there is a bit of a learning curve to make the hearts look "hearty"!  Not hard to do — just a bit of practice needed.  I used a quarter teaspoon measure to make the peanut butter dots.  Scrape the outside of the measure to remove any excess peanut butter so you perfect circles stay circles without tentacles.  You can see a dot or too on the picture that I missed.  I used a toothpick to draw a line through the peanut butter.  However, using something a little wider would probably work better — like the blunt end of a skewer or a thin chopstick.  Some ended up looking less than heartlike — you can tell which ones I shaped into a heart with my toothpick. 🙂   When you figure it out — so easy to do and looks quite cute!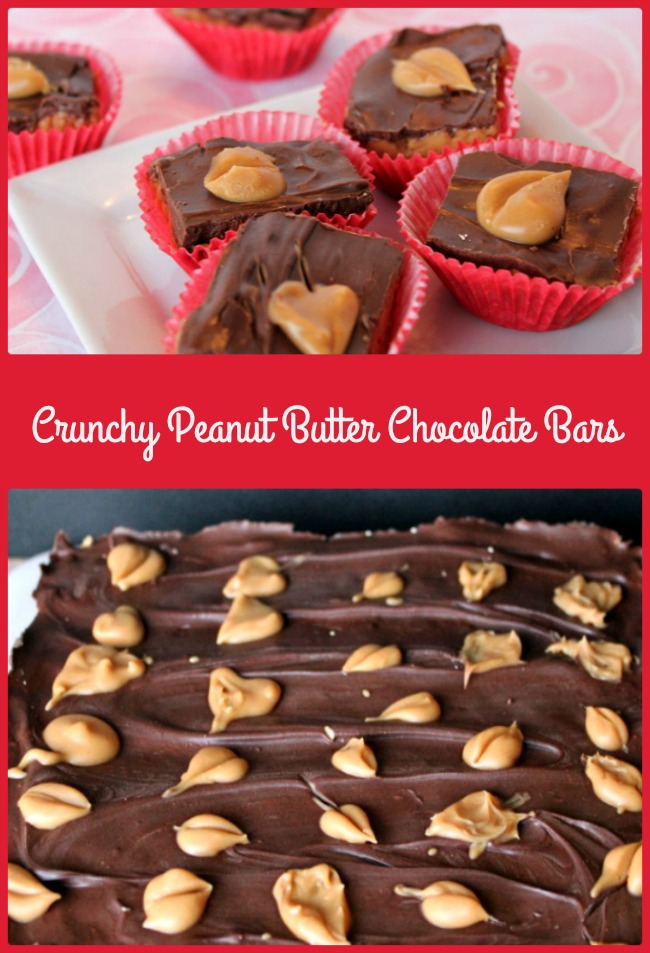 Crunchy Peanut Butter Chocolate Bars
Author:
A Pinch of Joy by Charlene Vance
Ingredients
1 cup peanut butter
⅓ cup butter, melted
1 ¾ cups confectioners sugar
1 cup crushed graham crackers crumbs (about 9 sheets)
Topping
one cup semi sweet chocolate chips
2 Tablespoons peanut butter
Hearts
2 Tablespoons peanut butter
1 Tablespoon butter, melted
Instructions
Line bottom and two sides of 8 by 8 square baking pan with no stick foil, leaving two inch "handles" on two sides.
If necessary, crush graham crackers into crumbs and set aside.
Melt butter in microwave, about 30 seconds on high. Mix with peanut butter. Add graham cracker crumbs. Stir confectioner's sugar into peanut butter mixture, about half cup at a time.
Transfer mixture to prepared pan and smooth the top. If necessary you can pat the top with dampened hands to level and smooth out the mixture.
Combine chocolate chips and approximately two tablespoons peanut butter in small bowl. Melt in microwave about 30 seconds on high. Stir until smooth. Pour chocolate over peanut butter mixture in pan and spread evenly across the top.
In small bowl, melt 1 tablespoon butter. Add remaining peanut butter. Stir until smooth. Let set a few minutes to cool and thicken slightly.
Using small measuring spoon, drop rounds of peanut butter mixture on top of chocolate in baking pan, leaving about an inch between drops. Drag a skewer or toothpick quickly through the center of each round to create a heart shape.
Refrigerate until firm, about an hour. Cut into 1 inch squares
Using the foil overhang as handles lift candy from pan. Cut into 1½ inch square bars.
Store in refrigerator.

I'm so glad you stopped by today!
   B
e sure to follow A Pinch of Joy so you don't miss a thing! Subscribe   on the sidebar  or follow with the icons in the right header.   If you found this helpful or inspiring please share!  Your support of A Pinch of Joy is appreciated!
Save