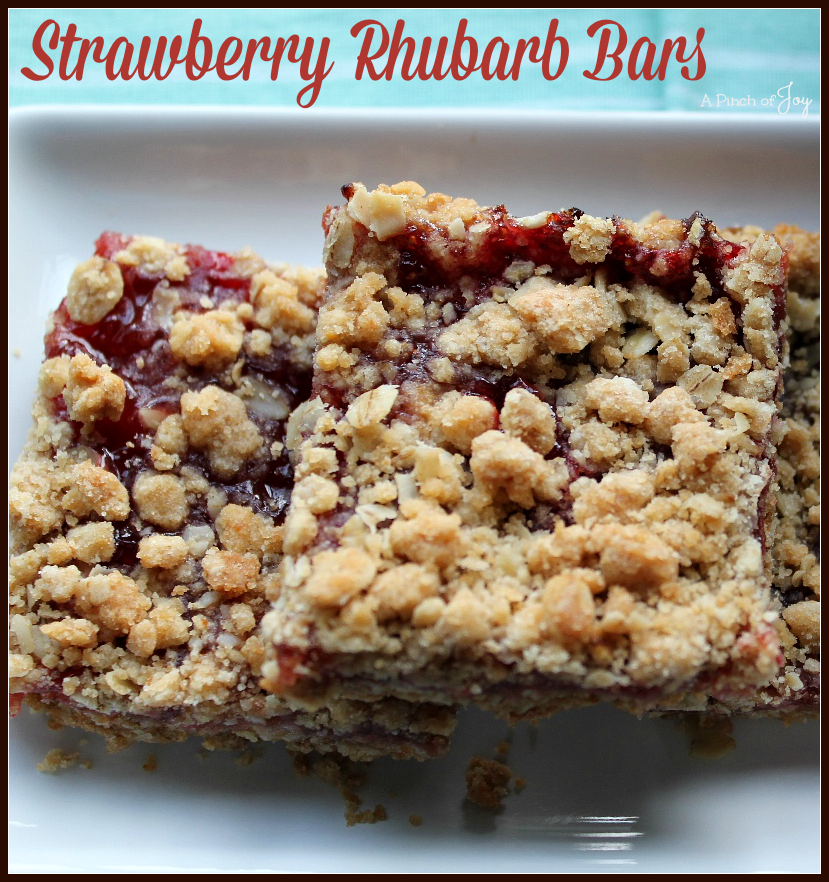 Rhubarb can be fresh or frozen.  Cut fresh rhubarb into one inch slices; frozen is usually already cut.  Fresh strawberries can be washed, stemmed and cut in half; frozen just need the package opened and the amount measured.  Let frozen fruit thaw somewhat so you aren't starting with a solid chunk of ice.  Using the microwave is fair, if needed, to de-ice quickly .   Cook fruit until it is just tender, about 7 or 8 minutes.  Then quickly stir in the sugar and cornstarch mixture  and cook until thickened.  It'll take about a minute to return to a boil so stir gently until the mixture does boil.  Then boil for another minute until  the mixture thickens, stirring intermittently.  When thickened, remove from the heat.
If you are a learning cook, it is sometimes hard to see how you can make the best use of your time in the kitchen until someone points the way.   Here's what I do:  Turn on the oven and prepare the baking pan.  Put the fruit on medium heat. While the fruit is heating, first mix the sugar and cornstarch in a small bowl.  Then soften the butter and measure all the crust ingredients into a large mixing bowl, adding the butter last.  Stop and tend to the fruit mixture until it thickens and has been removed from the heat.  Finish preparing the crust mixture, using your fingers or a pastry cutter to mix the butter into the dry ingredients.  Set aside 1 ½ cups of the mixture (I pour it into a two cup measure,  stopping at the 11/2 cup line)  Pat the remainder evenly across the bottom of the prepared baking pan.  Spread the fruit filling across the bottom crust, pushing the mixture to the edges and corners with a spatula.  Sprinkle the reserved butter crumb mixture evenly across the top and bake in the preheated oven until golden brown.  Cool completely before serving topped with whipped cream or vanilla ice cream.

Strawberry Rhubarb Bars
#crunchysweet
Author:
A Pinch of Joy by Charlene Vance
Ingredients
Filling
1½ cups rhubarb, sliced
1½ cups strawberries, sliced
1 tablespoon lemon juice
½ cup sugar
2 tablespoons cornstarch
Crust
1½ cups all-purpose flour
1½ cups uncooked quick-cooking oats
1 cup firmly packed brown sugar
¾ cup butter, softened
½ teaspoon baking soda
¼ teaspoon salt
Instructions
Pre heat oven to 350°F. Prepare 9x13 inch baking pan by greasing side and bottom or spray with cooking spray.
Slice strawberries and rhubarb, if using fresh fruit.
Combine rhubarb, strawberries and lemon juice in 2-quart saucepan. Cover; cook over medium heat, stirring occasionally, until fruit is just tender, about 8 minutes.
Combine ½ cup sugar and cornstarch in small bowl. Stir into fruit mixture.
Continue cooking, stirring constantly, until mixture comes to a boil (about 1 minute). Continue boiling until thickened (1 minute). Remove from heat.
Place butter in microwavable bowl and soften in microwave for 30 seconds. Butter will be partially melted.
Combine all crust ingredients in large bowl, using pastry cutter and fingers or mixer, until mixture resembles coarse crumbs. Reserve 1½ cups crumb mixture. Press remaining crumb mixture onto bottom of greased 13x9-inch baking pan.
Spread filling over crust. Sprinkle with reserved crumb mixture.
Bake for 30 to 35 minutes or until golden brown. Cool completely.
You might also enjoy these rhubarb delights:   Rhubarb Cheesecake Bar        Rhubarb Apple Crunch        Rhubarb Cherry Jam
Pin for future reference!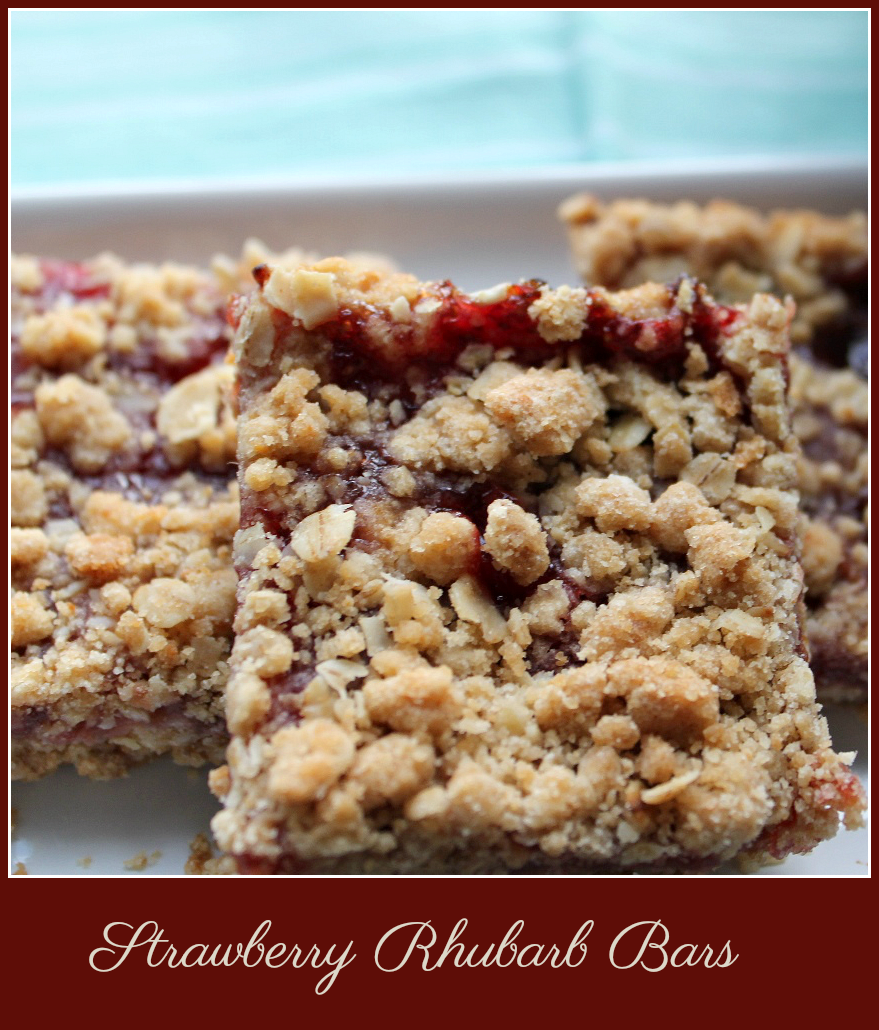 I'm so glad you stopped by today!   Follow A Pinch of Joy using the icons on the teal bar at the top of the page so you don't miss a thing!   I'd love to have your company on this venture!!  Share: if you found this helpful or inspiring please click one of the buttons below!  Your support of A Pinch of Joy is appreciated!
Shared with these awesome link parties here