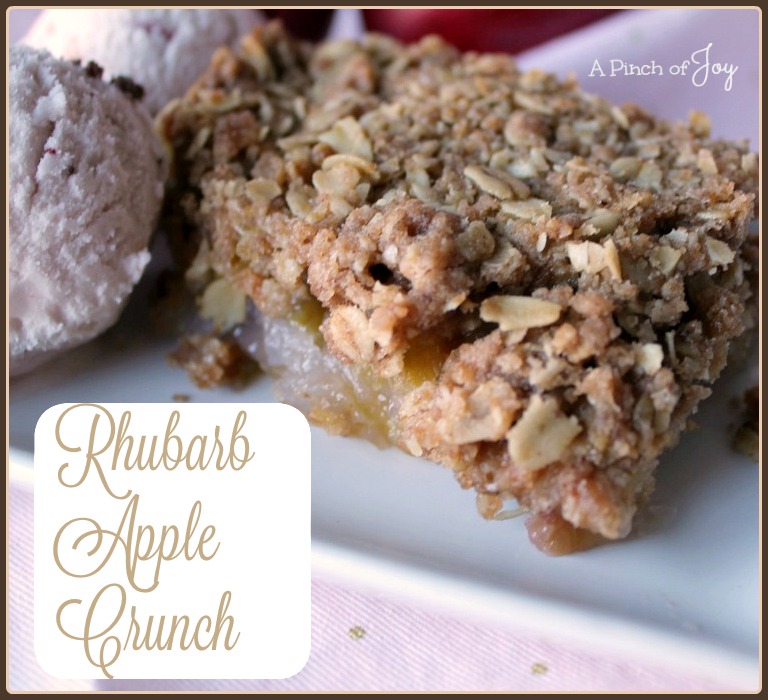 I was delighted to find some late season rhubarb at the farmer's market this past weekend.  I've been pining for Rhubarb Crunch.   It's late enough in the season so I added some  apple to the dessert to celebrate fall.  This actually   was the first rhubarb of the year because I totally missed  rhubarb last spring.
In fact, we missed the farmer's market.  We heard it was going to move but not where.  In May,  a facebook page celebrating the move came through my feed – but the farmer's market was not on the highway  where it was supposed to be.   Then one Saturday morning I happened to drive through the mall parking lot.  And there was the farmer's market on the OTHER side of the mall from where it was last year.    The fb page?  Turns out it was the same city name — but  in a different state!   (In my defense, they didn't include the state in the address on fb.)    Note to me:  honey, you need to get out more often!   Especially since the reward is this good.
Slice the rhubarb across in about half inch lengths. If the stalks are wider than about half an inch, cut them lengthwise before slicing.  I used two small Gala apples for a texture and flavor contrast.  Don't worry about peeling them, just wash well.  Slice and then dice in small pieces.  You can use an additional ¼ cup of sugar, if more sweetness is desired.  This recipe makes a firm dessert, which we like.  You can omit one tablespoon of cornstarch for a slightly more moist dessert.  The topping is really easy to make. Measure the dry ingredients together and give them a stir to evenly distribute them all.   Work the melted butter in with a fork or your fingers until coarse crumbs form, then sprinkle evenly over the rhubarb.  Optional:  Add a handful of chopped walnut pieces over the topping for even more crunch!  The topping will make a crisp, crunchy contrast to the fruit filling.

Rhubarb Apple Crunch
Just a little bit tangy rhubarb, sweet apple chunks, crunchy butter topping with a hint of spice -- so good!
Author:
A Pinch of Joy by Charlene Vance
Ingredients
Filling
¾ cup sugar
3 Tablespoons cornstarch
4 cups fresh rhubarb, sliced
2 small apples, diced
Topping
¾ cup oatmeal
½ cup brown sugar
¾ cup flour
1 teaspoon cinnamon
¼ teaspoon nutmeg
½ cup melted butter
Instructions
Preheat oven to 350. Spray 8x8 inch square baking dish
Combine sugar and cornstarch in large bowl. Add sliced rhubarb and diced apples. Toss gently to coat. Pour into prepared baking dish.
In a small bowl, mix oatmeal, brown sugar, cinnamon, nutmeg and flour. Add melted butter and mix until coarse crumbs form. Sprinkle crumbs over rhubarb mixture.
Bake for 50 minutes, until lightly brown and fruit is bubbly.
Let cool until just warm or at room temperature.
Serve with whipped cream, whipped topping, ice cream or just plain.
Nutrition Information
Calories:
296
Carbohydrates:
50 g
Protein:
2 g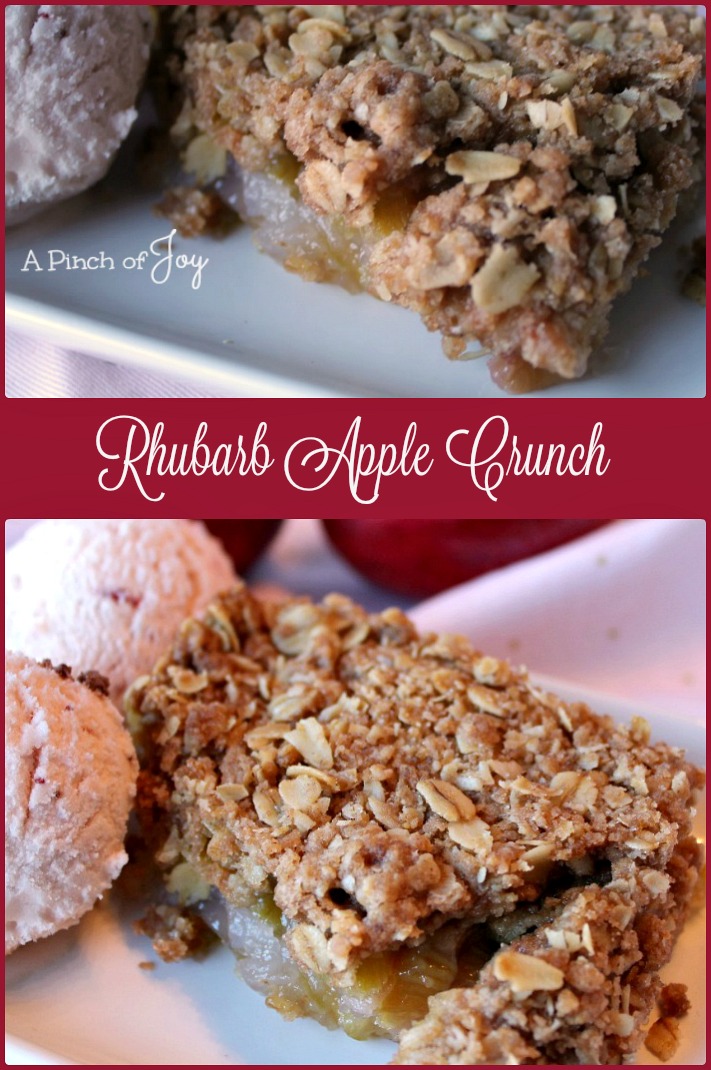 You might also enjoy these rhubarb delights:    Strawberry Rhubarb Bar        Rhubarb Cheesecake Bar        Rhubarb Cherry Jam
I'm so glad you stopped by today!   Be sure to follow A Pinch of Joy so you don't miss a thing!    If you found this helpful or inspiring, please share!  Your support of A Pinch of Joy is appreciated!
Save