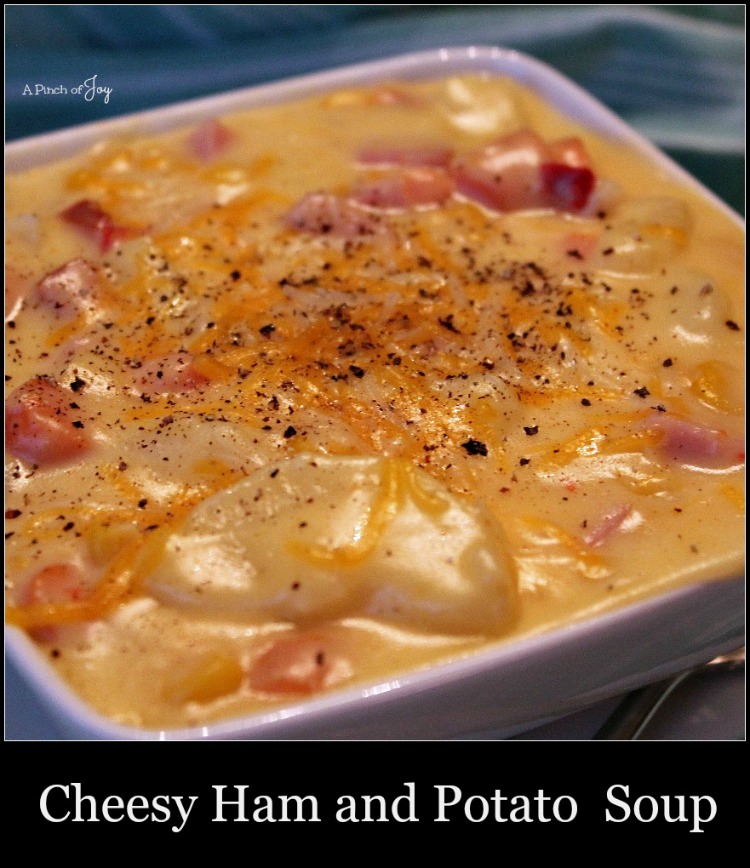 This hearty Cheesy Ham and Potato Soup is like a warm hug by the fire on a cold day.  Loaded with potatoes, veggies and ham — pure comfort food.  It's also quick and easy to prepare and is ready to eat in about half an hour.
I buy ham after major holidays at a reduced price just for delicious treats like this throughout the year.  I slice, dice and cube chunks of the ham and freeze them in quart sized zipper bags in 2 cup portions.  It only takes a quick trip to the freezer when the mood strikes for a super hearty – omlet, casserole or whatever.  An unexpected early – early – fall snow was the inspiration for this wonderful soup.  Thaw the ham before cooking, either by setting it in the refrigerator overnight, putting it in a pan of hot water for a couple of hours, or a 1-2 minutes in the microwave.
This soup is pretty straightforward to make.  I put the broth on to heat and start chopping vegetables.  I add each vegetable as I finish cutting  and move on to the next.   Dice the potatoes in pieces no bigger than half an inch cubed.  I ran out of onions earlier in the week and was waiting for the farmer's market,  so I substituted an equivalent amount of dried onion from the pantry seasoning collection.  Use  diced ham – about a quarter inch cubed- to make it easier to eat.  The corn makes this soup unique.  You can buy it in cans about1 cup measure, or scoop out a cup from a package of frozen corn.  Use coarse shredded sharp cheddar cheese for a full taste.  Serve with extra cheese shreds on top. Sprinkle on a bit of paprika or ground pepper or scatter finely chopped chives over the top for extra color.

Cheesy Ham and Potato Cheddar Soup
Hearty Cheesy Ham and Potato Soup is loaded with potatoes, veggies and ham -- pure comfort food. And it's quick and easy!
Author:
A Pinch of Joy by Charlene Vance
Ingredients
2 cups potatoes, peeled and cubed
2 cups chicken broth
½ cup sliced carrot
¼ cup onion, chopped
¼ cup butter
¼ cup all-purpose flour
2 cups 2% milk
½ teaspoon salt
¼ teaspoon pepper
2 cups (8 ounces) sharp cheddar cheese, shredded
1-1/2 cups cooked ham, diced
1 cup corn
Instructions
Combine potatoes, chicken broth, carrot and onion, in Dutch oven or small stock pot. Bring to a boil. Reduce heat, cover and cook for 10-15 minutes or until potatoes are tender.
Meanwhile, in 10 inch skillet, melt butter.
Whisk in flour, salt and pepper until smooth.
Gradually whisk in milk. Bring to a boil and cook and stir for 2 minutes or until thickened.
Stir thickened mixture into potatoes and chicken broth, stirring until well mixed and bubbly.
Stir in cheese until melted.
Add ham and corn. Heat through. Serve immediately.
Nutrition Information
Calories:
623
Carbohydrates:
39 grams
Protein:
41 grams
Please Pin! 
I'm so glad you stopped by today!   Follow A Pinch of Joy using the icons on the teal bar at the top of the page so you don't miss a thing!   I'd love to have your company on this venture!!  Share: if you found this helpful or inspiring please click one of the sharing buttons below!  Your support of A Pinch of Joy is appreciated!
Shared with these awesome link parties here