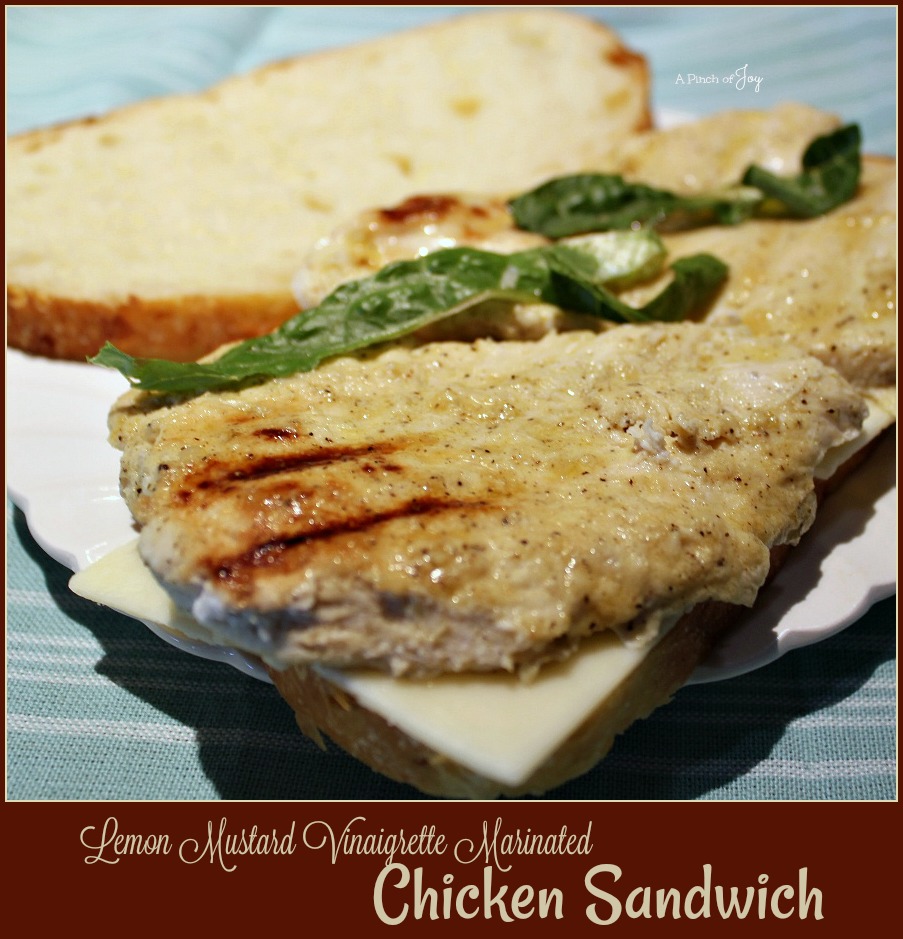 Lemon Mustard Vinaigrette Marinated Chicken on a fabulous artisan bread takes the concept of chicken sandwich to new levels.  Sooo good I made it twice in one week – and we aren't big sandwich eaters!!!   Use your favorite artisian bread – sourdough, multi-grain or any round bread that is crusty on the outside and soft in the middle.  Ask the bakery to slice it for uniformity.   When you seldom eat bread as we do – go for a really good one when you do put it on the menu!   I chose an asiago cheese loaf that was excellent.   We opted not to toast it, but a little denser bread, like the sourdough, would be wonderful buttered and tossed in a skillet until just barely golden.
For one set of sandwiches I used provolone cheese and needed two slices to cover the big sandwiches.  For the second batch  we used Havarti on some and Muenster on others.  All were delicious, but the provolone will be what we usually purchase for this.  I like sandwiches to have a bit of moistness and creaminess so I spread one slice of bread with a good mayonnaise very lightly.  Drizzling the sauce across the chicken as it came off the grill and onto the bread added more flavor.  We didn't use any other toppings – like lettuce or tomato.   Although they would have added to the "experience", everybody was ready to dig in after smelling the tantalizing odors from the kitchen.
This recipe was very quick and easy.  You do need to plan ahead a bit to thaw the chicken and put it in the marinade ahead of cooking time so the meat absorbs the flavors.  If the chicken slices are not uniform sliced the thawed meat with a sharp knife to about ½ inch thickness so you can grill it easier.   I used the countertop grill and was careful to check the temperature after 3 or 4 minutes so the meat didn't overcook.  Just for a bit more flavor.  Yummy!   Serve with a good tossed salad (or Sunny Broccoli Salad) and fresh fruit for dessert!

Lemon Mustard Vinaigrette Chicken Sandwich on Artisan Bread
Lemon Mustard Vinaigrette Marinated Chicken on a fabulous artisan bread takes the concept of chicken sandwich to new levels. Serve with tossed salad and fruit for dessert.
Author:
A Pinch of Joy by Charlene Vance
Ingredients
5 large chicken breast pieces, sliced about ½ " thick
1 loaf, artesian bread, sliced
5-10 slices of provolone or other mild cheese
Your choice of sandwich toppings, such as lettuce and tomato
Marinade and dressing
3 Tbsp minced garlic
½ cup olive oil
¼ cup lemon juice
1 tsp dried lemon peel
1 tsp coarse ground pepper
1 Tbsp Dijon mustard
1 Tbsp honey
Salt, to taste
Instructions
Thaw chicken.
Whisk together all marinade ingredients in small bowl. Pour about ⅔ of the marinade into a gallon zipper bag. Set aside the remaining one third to brush on chicken OR to use as dressing on the sandwich. Place thawed chicken breast in zipper bag with marinade and close tightly. Let marinade for 2-3 hours in the refrigerator.
Preheat grill. Remove chicken from marinade and place on grill. Discard remaining liquid and the bag.
Cook for 3-4 minutes on each side or until thermometer shows 160 F. Don't overcook. While cooking brush additional marinade (from snack size baggie) on chicken OR serve as a sauce on the sandwich.
Serve on bakery fresh artisan bread with sandwich toppings of choice!
I'm so glad you stopped by today!
Follow A Pinch of Joy using the icons on the teal bar at the top of the page so you don't miss a thing!   I'd love to have your company on this venture!!  Share: if you found this helpful or inspiring please click one of the buttons below!  Your support of A Pinch of Joy is appreciated!
Shared with these awesome link parties here