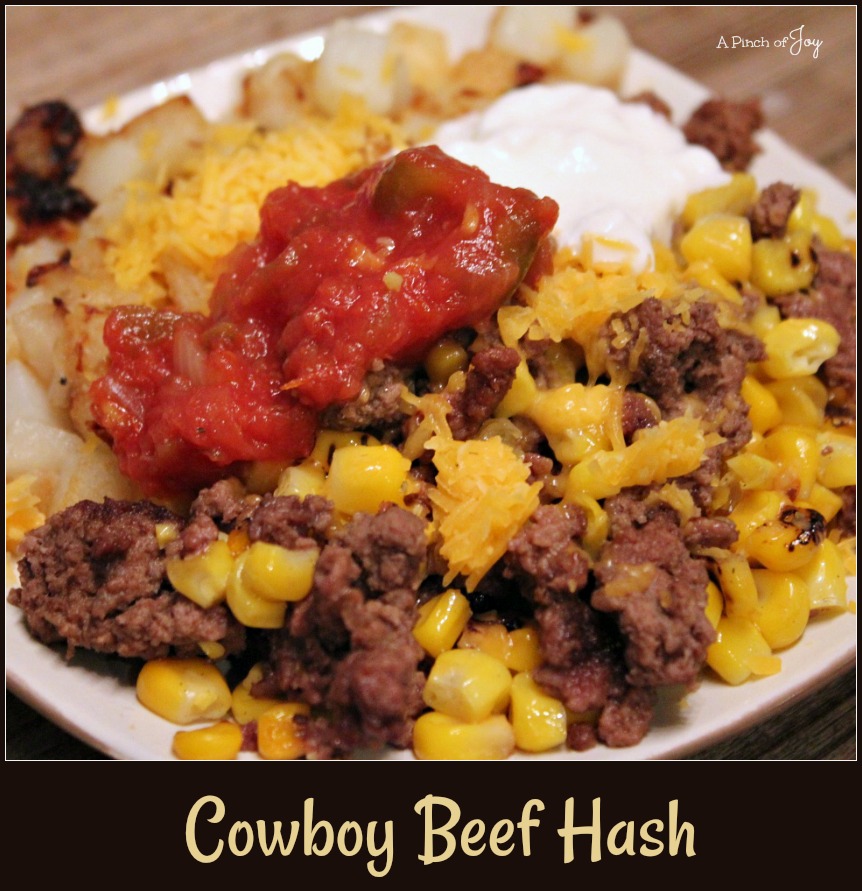 Cowboy Beef Hash is a meat and 'taters meal that is ready in about 30 minutes.  It is a quick and easy, stick to the ribs meal that everyone in the family will love. You probably have the ingredients on hand in the pantry/freezer right now.    Add it to the rotation and your family will thank you!!
The recipe is also easily adjusted to individual taste.  Instead of adding the entire 16 ounce jar of salsa to the meat mixture, I only add half and then serve the remainder on the side for those who want more kick. (You know – my wimpy taste buds!)   I like the shredded frozen hash browns, because you can cook them crispy.  Bytes and Wheels like their potatoes so they prefer Potatoes Obrien for heartiness — and that's what I use.    I had not heard of Frozen Roasted Sweet Corn until I saw this recipe – Bytes was allergic to corn as a child so I never fully explored the corn part of the freezer.  Turns out there are several varieties of Roasted Sweet Corn!  It is part of the flavor of this dish.  But I would still use  regular frozen corn if that was all I had on hand.  Use about half the bag, approximately one cup.  The recipe above serves six.   There are 40 grams of carbs, 33 grams of protein and 543 calories.
We recently needed to tighten our carb control and the guys liked this dish well enough that I did some experimenting.  I reduced the amount of potatoes to half a bag or about 2 cups of frozen potatoes.   The number of servings dropped to four regular or three hearty servings, which was just perfect for us.  (A hearty serving in our house means Bytes and Wheels split the fourth serving.  Don't forget to calculate that fact if you are doing tight carb control! )  Using four servings, the protein remained at 33 grams per serving, but the carbs dropped to 26 grams and the calories calculated to 484 per serving.  And everything still tasted great!

Cowboy Beef Hash
Cowboy Beef Hash is a meat and 'taters meal that is ready in about 30 minutes. It is a quick and easy, stick to the ribs meal that everyone in the family will love.
Author:
A Pinch of Joy by Charlene Vance
Cuisine:
American/Mexican
Ingredients
1 pound 90% lean ground beef
Salt and pepper to taste
½ cup diced onions
¼ cup cooking oil, divided
1 Tablespoon lime juice
1 cups frozen roasted corn
1 28 oz bag frozen potatoes Obrien
1 16 oz jar prepared thick and chunky salsa
2 cups shredded cheese
Instructions
Brown ground beef over medium heat until done, drain if desired. Salt and pepper to taste.
In meantime, heat remainder of oil, in large skillet. Saute onions until soft. Add Potatoes Obrien and cook according to directions until golden brown.
Add roasted corn and salsa to ground beef when done and cook until heated through.
Place potatoes on plate, top with ground beef mixture. Top with cheese and allow to melt.
Serve with sour cream and additional salsa, if desired
Nutrition Information
Calories:
543
Carbohydrates:
40 carbs
Protein:
33 grams
Welcome to A Pinch of Joy!  I'm so glad you stopped by today!
Follow A Pinch of Joy using the icons on the teal bar at the top of the page so you don't miss a thing!   I'd love to have your company on this venture!!  Share: if you found this helpful or inspiring please click one of the buttons below!  Your support of A Pinch of Joy is appreciated!
Shared with these awesome link parties here