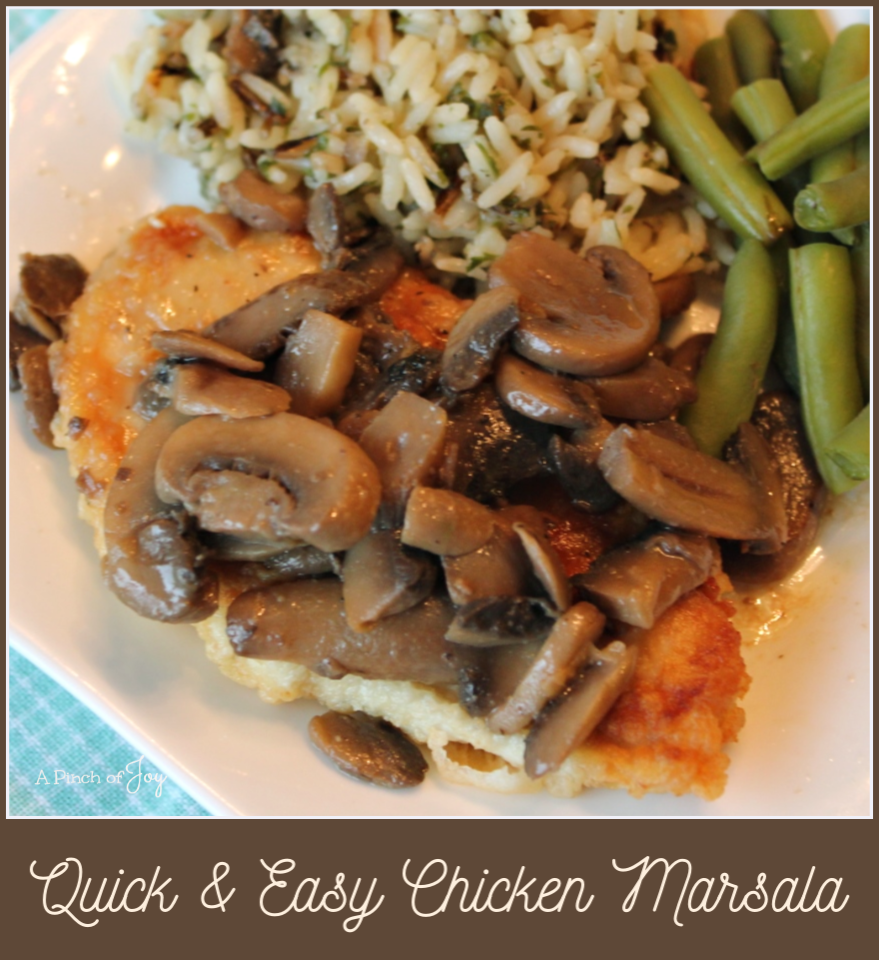 Quick and Easy Chicken Marsala begins with chicken breast fillets.  That is chicken breast cut into half inch slices the full length of the chicken breast. If you can't find them in the frozen food area or the butcher shop in the grocery store, you can cut them yourself from chicken breasts.  The even thickness allows for more even cooking and result in a tender, juicy finished product.  Another essential is Marsala wine  simmered together with heavy cream to make the sauce.  And, of course, sliced mushrooms.  Even Bytes eats the mushrooms in this dish without grumbling about "fungi".
Dredge the chicken in flour lightly and add to preheated skillet with 2-3 tablespoons of oil — enough to coat the entire bottom.  Saute each piece 3-4 minutes on each side until golden brown.  I check to make sure the chicken has reached 165 degrees – the guideline temperature for poultry – before removing it from the skillet to a platter.  Pour any excess oil from the skillet into an empty throw away container  before proceeding.  Melt butter over medium heat and add mushrooms.  Saute, occasionally stirring gently.  Add wine, chicken stock and cream to small bowl, then whisk in the flour briskly until mixture is smooth.  Add mixture  to skillet, stirring thoroughly, then let cook until thickened and reduced in volume.   NOTE:  You can substitute dry white wine for the chicken stock if you like.  Pour sauce and mushrooms over the chicken on the platter and serve.
You can make it with all fresh ingredients and have it on the table in about 30 minutes. Serve with sauce over hot pasta, if desired. Tossed salad is a good accompaniment with the pasta.    I served it with brown rice and fresh beans from the garden.   Or go low carb with riced cauliflower and spring greens with strawberries.  You can also make this recipe  ahead and freeze for a super quick family dinner on a weeknight.  Just thaw the night before and it will be ready to prep almost as soon as you walk in the door and ready to eat before you've finished going through the mail.  Dress the finished dish with herbs, add buttered garlicky roasted baby potatoes and carrots (from a freezer bag or fresh produce "cook in a box" if you want — I won't tell!) and you will have a delightful meal for guests.  Versatile and delicious!!!!
Quick and Easy Chicken Marsala
Tender chicken topped with sauteed mushrooms in a savory sauce.
Author:
A Pinch of Joy by Charlene Vance
Cuisine:
Italian American
Ingredients
5 chicken breast fillets
2 Tbsps butter
1 8 ounce package mushrooms, sliced
½ cup Marsala wine
½ cup chicken stock
2 Tbsp heavy cream
½ cup flour
1 8 ounce box pasta of your choice, cooked according to directions--optional.
Instructions
Thaw overnight in refrigerator
If using pasta, begin cooking according to directions.
Heat oil over med-high heat. Season chicken with salt and pepper and dredge in flour.
Sauté each piece of chicken for 3-4 minutes on each side until they are golden brown.
Remove chicken and place them on your serving platter covering them with foil. Remove excess oil from pan.
Reduce heat to medium and add butter and mushrooms. Sauté for 4-5 minutes seasoning with salt and pepper.
Mix wine, chicken stock and heavy cream in a small bowl. Add flour whisking briskly to make sure it is thoroughly mixed. Pour over mushrooms in skillet. Bring to low boil and allow to reduce slightly 3-5 minutes.
To make freezer meal:
Place 5 chicken breasts in a gallon sized zipper bag. Press out air and seal. Put sealed bag in a second gallon bag.
Add the following three bags to the second bag, seal, label and freeze until needed.
In the first quart sized baggie, place
Tbsp butter
ounce pkg sliced mushrooms
In second quart sized baggie, place
½ cup Marsala Wine
¼ cup chicken stock
¼ cup dry white wine
Tbsp heavy cream
In a snack sized baggie, place
½ cup flour
To cook, follow directions above.
Nutrition Information
Calories:
332
Carbohydrates:
25 g
Protein:
25g
Welcome to A Pinch of Joy!  I'm so glad you stopped by today!
Follow A Pinch of Joy using the icons on the teal bar at the top of the page so you don't miss a thing!   I'd love to have your company on this venture!!  Share: if you found this helpful or inspiring please click one of the buttons below!  Your support of A Pinch of Joy is appreciated!