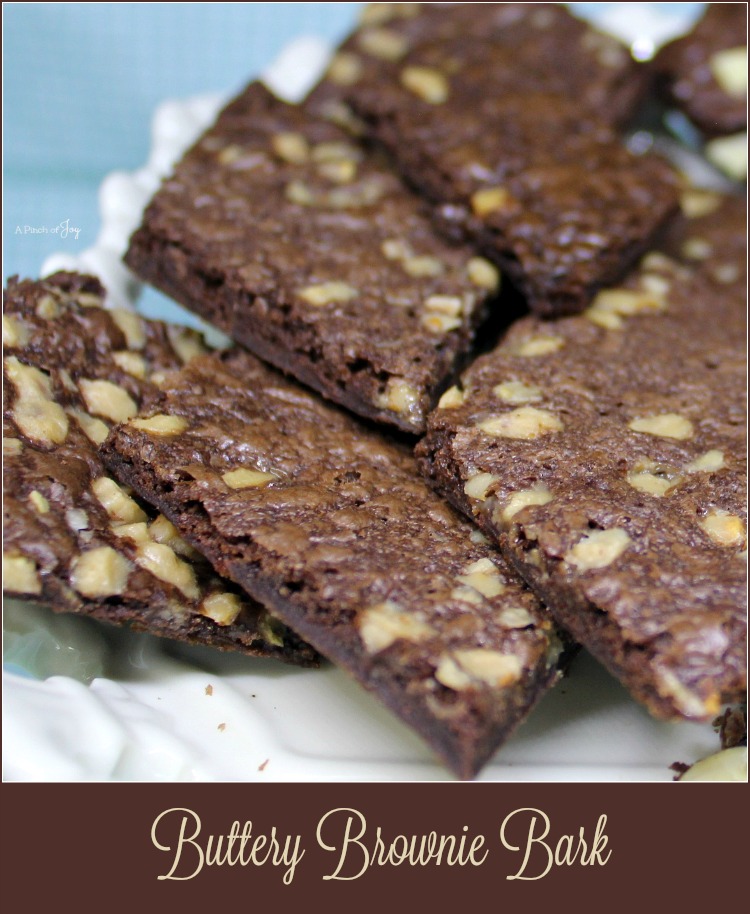 For a brownie lover, brownie bark seemed a no brainer.  Who wouldn't go for that rich chocolate brownie taste in a different form? Especially with toffee on one pan full and slivered almonds on the other.  Turns out Bytes was not a fan.  He had his mouth set for the rich chocolate flavor, but also for the fudgy texture.  What he got was crisp and crunchy.  He felt cheated.  I didn't care because I got chocolate and crunch, both of which are high on my list.  Wheels will eat anything that looks good so both the toffee topped bites and the ones with almond slivers disappeared in short order and without discrimination.  That was the first time I made brownie bark.
The second time I made them, I found a better buttery recipe.  I made one batch just a bit thicker when spreading the batter in the pan.  I stopped spreading a couple of inches from the end of the baking pan.  For the other batch I spread the batter thinner and covered the entire 11×15 inch jelly roll pan.  I baked them both about the same time.  However, I watched the thinner pan and pulled it out when the edges began to crisp.  The thicker batch came out about the same time.  The center was done – it was set but not dry and the edges  looked done but not crispy or browned.
Let the brownies cool for about 10 minutes before cutting / marking into 2 inch pieces with a pizza cutter or sharp knife.  Pull the parchment sheets with the brownie bark off the warm pans to a cooling rack.  Let cool completely before breaking apart.  A glaze of powdered suger mixed with just enough milk to make a thick, squeezable drizzle will make these party worthy.   However, I was more concerned with the total carb count so I skipped the drizzle.  A deep red drizzle with mini m&m's strewn over the top makes a great Christmas treat.  White drizzle and pastels – great for spring holidays.
What was Bytes reaction?  He and a couple of cousins taste tested away a whole batch of the more chewy brownie bark in one evening and declared it perfect!  Wheels and I were happy with the crispier version.  How many other recipes can perfectly meet the demands of two differing camps?

Buttery Brownie Bark
Author:
A Pinch of Joy by Charlene Vance
Ingredients
1 pkg Chocolate Fudge Brownie Mix for 9x13 pan
½ cup butter, melted
⅓/ cup water
1 egg
½ cup mini chocolate chips
½ cup English toffee bits or slivered almonds
Instructions
Preheat oven to 325. Line 2 11x 15 inch baking pans with parchment paper, the spray paper with cooking spray.
In large bowl, beat brownie mix, melted butter, water and egg until smooth.
Stir in mini chocolate chips.
Drop ¼ cupfuls of batter onto baking sheets, leaving 4-5 inches in between each. Spread dough to make even layer across the pan.
Sprinkle toffee bits evenly over batter in each pan.
Bake 25 – 28 minutes or until centers are set.
Cool completely on wire rack before removing from parchment paper.
Nutrition Information
Calories:
59
Carbohydrates:
8 g
Protein:
1 g
Please Pin! 
I'm so glad you stopped by today!   Follow A Pinch of Joy using the icons on the teal bar at the top of the page so you don't miss a thing!   I'd love to have your company on this venture!!  Share: if you found this helpful or inspiring please click one of the sharing buttons below!  Your support of A Pinch of Joy is appreciated!
Shared with these awesome link parties here