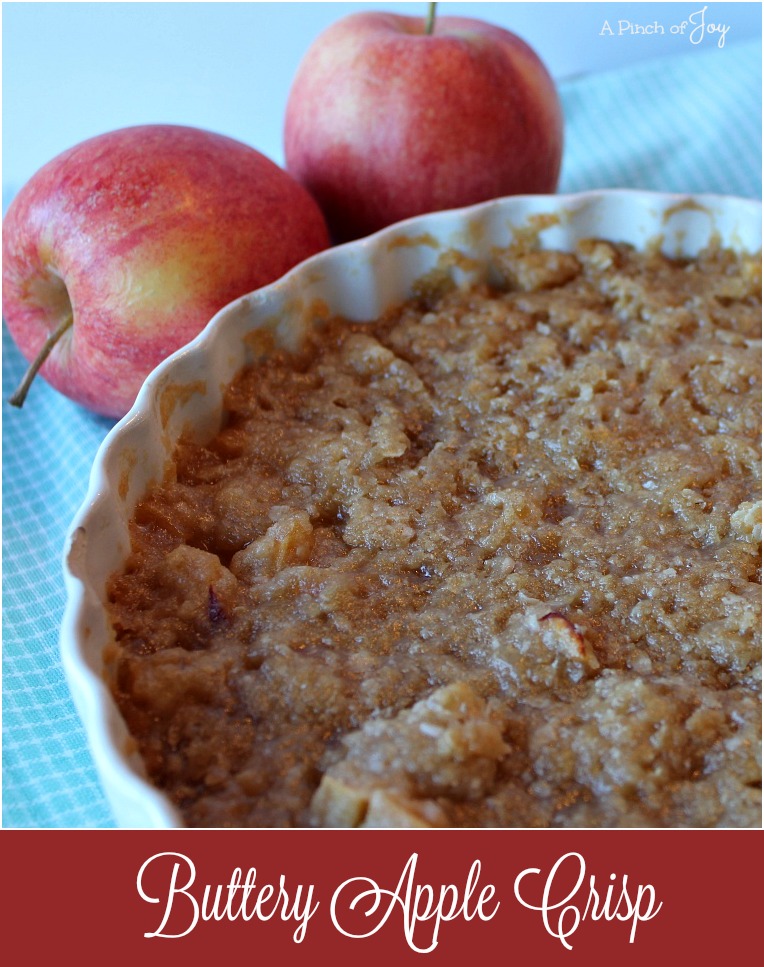 Nate the Great's Mommy set the dessert on the table.  MMMMMM Apple Crisp.  One bite and it was wow!  Light and buttery, cinnamony, and just right sweetness.  This apple crisp just whispers in your ear and wraps you in warm apple flavor kissed with butter and cinnamon.  Where did you find this recipe, I asked.  (just for you, of course!)  In grandma's community cookbook, she said.  Of course.   Every cook who knows someone from that little town has a fat orange covered spiral bound cookbook on the shelf or in the kitchen drawer.  Apparently even those who weren't even in kindergarten yet when it was published!
How could I have missed it?  Granted there are 7 apple crisp recipes in the book, including one with marshmallows, one with eggs and one with raisins.  Interestingly they all call for 4 cups of apple slices.  Most of the others are similar to what I have always made before with their heavy oatmeal crunchy crust.  Don't get me wrong — I like  crusty crisps like this one.  But this recipe upends the proportions — light on the dry ingredients and just right on the butter!   Without further ado —
Use your favorite crispy apples, like Gala or Honey Crisp.  Something that won't get mushy when baked.  Peel and slice the apples.  I don't worry about removing all the peel, just most of it — like 75% — so that the crisp is easy to eat.  Combine the cinnamon with the brown sugar in a medium bowl and lightly toss the apples in the mixture.   Using two forks, or a pie crust cutter or the food processor, cut together the butter, granulated sugar,  flour and oatmeal to form a crumbly mixture.  Sprinkle evenly over the apples and bake.  Serve hot, warm or cold.  Quick and easy.  Totally guestworthy!!

Buttery Apple Crisp
Buttery, light and utterly delicious apple crisp.
Author:
A Pinch of Joy by Charlene Vance
Ingredients
4 cups sliced apples
½ teaspoon cinnamon
⅓ cup brown sugar
½ cup butter
⅓ cup sugar
⅓ cup flour
⅓ cup oatmeal
Instructions
Mix brown sugar and cinnamon in large bowl.
Peel and slice apples. Toss lightly with brown sugar and cinnamon mixture.
Put sugar coated apples in 9 inch pie pan or 8x8 baking dish.
In small bowl, but together butter, sugar, flour and oatmeal until crumbly. Sprinkle evenly over apples in baking dish.
Bake at 350 for 30 minutes or until crust is light golden brown and apples are tender. .
Serve hot, warm or cold.
Notes
Nutritional values will vary and are given only as guidelines.
Nutrition Information
Serving size:
⅛
Calories:
240,
Carbohydrates:
33 g,
Protein:
1.5 g,
Please pin!!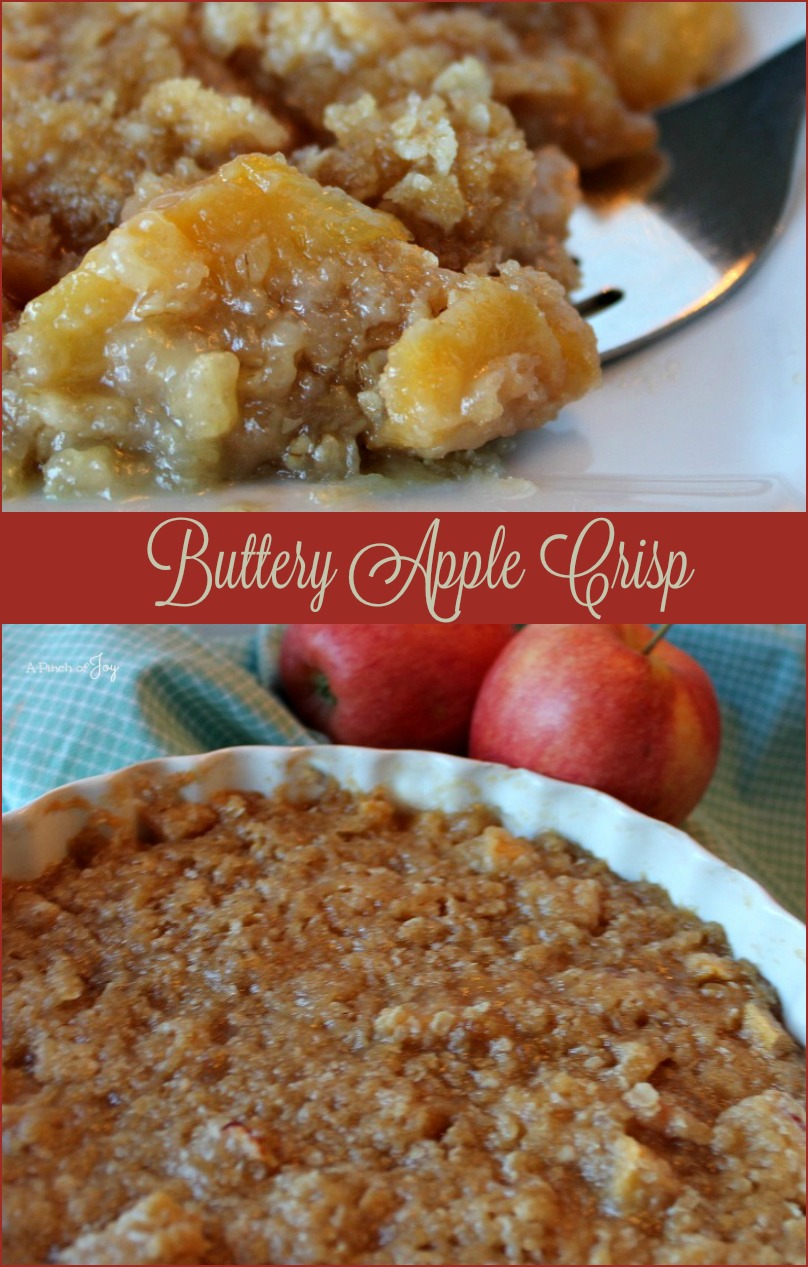 I'm so glad you stopped by today!   Follow A Pinch of Joy using the icons on the teal bar at the top of the page so you don't miss a thing!   I'd love to have your company on this venture!!  Share: if you found this helpful or inspiring please click one of the sharing buttons below!  Your support of A Pinch of Joy is appreciated!
Shared with these awesome link parties here