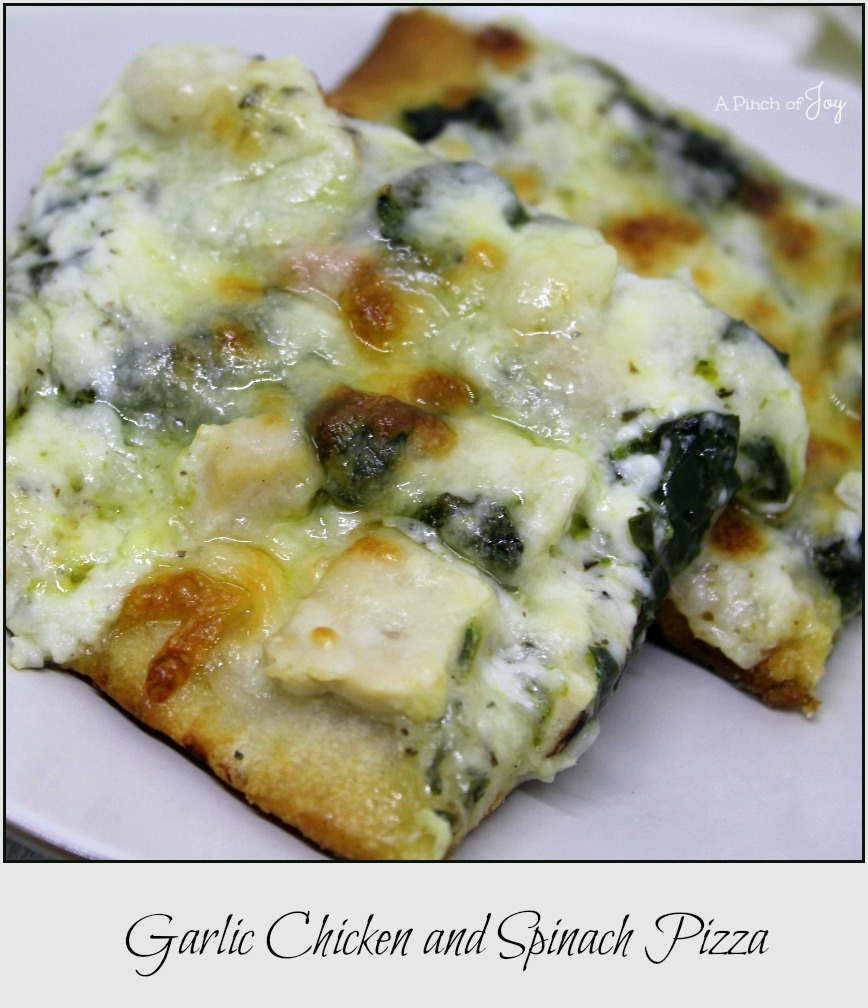 I loved Garlic Chicken Spinach Pizza!!  I really liked the cottage cheese dollops instead of tomato sauce.    Just the right amount of garlic, and I used tender precooked chicken so less time in the kitchen.   Rolling the  prepared pizza crust thin, reduced the carbs significantly – and we like the thinner crusts on pizza anyway.  It also gave us 12 servings, instead of the 6 it said on the package.  So there was enough for two meals – and was just as tasty the second appearance.   I was the nerdy kid (with my brother) who begged Mom to eat lunch at school on spinach days.  In those days, we could trade food – and Jay and I got ALL the spinach we wanted!  Unfortunately that trait did not pass to my sons.  Bytes liked the pizza – but NOT the spinach.  Oh well, more for me!
Since we are cooking from the pantry with limited chances to buy groceries, it is helpful to know some possible alternatives.  If you are starting with uncooked boneless, skinless chicken breasts  (thawed from frozen or fresh) you'll need about 8 ounces.  Heat 2 tablespoons olive oil in a large skillet over medium high heat. Season chicken with salt and pepper, to taste. Add chicken to the skillet and cook, flipping once, until cooked through, about 3-4 minutes per side. OR you can poach the chicken breast.  Put the chicken breasts into a shallow pot and enough cold water to just cover them.  Turn the heat on medium-high and wait for the water to come to a simmer and then immediately turn the heat down to right below a simmer. The goal is to gently poach the chicken so it cooks evenly and does not dry out. Use your meat thermometer and turn off the heat just before the temperature reaches 165 Farenheit.   Add 10-15 minutes to the prep time, if you use these methods.
You might want to batch cook more chicken than you need and refrigerate or freeze the excess for future recipes.   Insta Pot?  Follow the directions with your appliance.  OR you might want to oven bake a batch.  Let thawed or fresh chicken breasts set in salt water for about 15 minutes at room temperature.  Drain and pat dry. Brush with melted butter or olive oil and bake at about 450 for 15 minutes.  Check with thermometer to make sure the internal temperature reaches 165.  No matter how you cook the chicken let it set for 5-10 minutes before cutting.  This allows it to continue cooking internally, maintains the juiciness of the meat – and lets it cool enough for you to safely dice into bite sized pieces.   Package into bags of one cup (8 ounces) or 2 cups (16 ounces) to freeze.
Normally I would make a recipe several times before posting, but we are looking for something different for lunch everyday.  So you get to make your own tweaks.  When I make it again, I will put the mozzerella cheese on first.  I used shredded cheese because that was what I had on hand but sliced mozzarella on the bottom will probably balance better with  the rest of the ingredients.  I used prepared pizza dough, but you could make your own crust.  I had garlic paste on hand, but you could also use minced garlic.  Minced garlic is stronger in flavor than the paste, so only use 1 tablespoon unless you are a real garlic lover.  Don't be afraid to substitute and try different variations when you cook!

Garlic Chicken and Spinach Pizza
Amazingly cheesy and yummy delicious low carb pizza.
Author:
A Pinch of Joy by Charlene Vance
Cuisine:
Italian inspired
Ingredients
1 cup cooked and diced chicken breast
salt and pepper, to taste
6 oz package of spinach, chopped (approx.. 4 cups)
1 cup cottage cheese
2 Tablespoons garlic paste
½ teaspoon dried thyme
¼ teaspoon dried oregano
¼ teaspoon dried basil
¼ cup yellow cornmeal
(13.8-ounce can) refrigerated classic pizza crust
8 ounces mozzarella cheese
Instructions
Preheat oven to 450 degrees F. Line a baking sheet with parchment paper OR lightly oil the pan with olive oil.
Heat 1 tablespoon olive oil in the skillet. Add diced red pepper. Stir in spinach until just wilted, about 2-3 minutes; season with salt and pepper. Set aside.
In a small bowl, whisk together cottage cheese, thyme, oregano, basil and garlic paste; season with salt and pepper, to taste. With whisking, the cottage cheese curds should start to break down, but still maintain some texture.
Sprinkle cornmeal onto the parchment paper. Open the package of pizza dough and place the rectangle in the middle of the baking sheet. Using a rolling pin or your fingers press out the pizza dough to approximately 11 x 14 inches.
Top with mozzarella, dollops of cottage cheese mixture, chicken and spinach.
Place into oven and bake for 15-20 minutes, or until the crust is golden brown and the cheeses melted.
Serve immediately.
Nutrition Information
Serving size:
1 piece
Calories:
66,
Carbohydrates:
15 grams,
Protein:
12 grams,
Pin for future reference!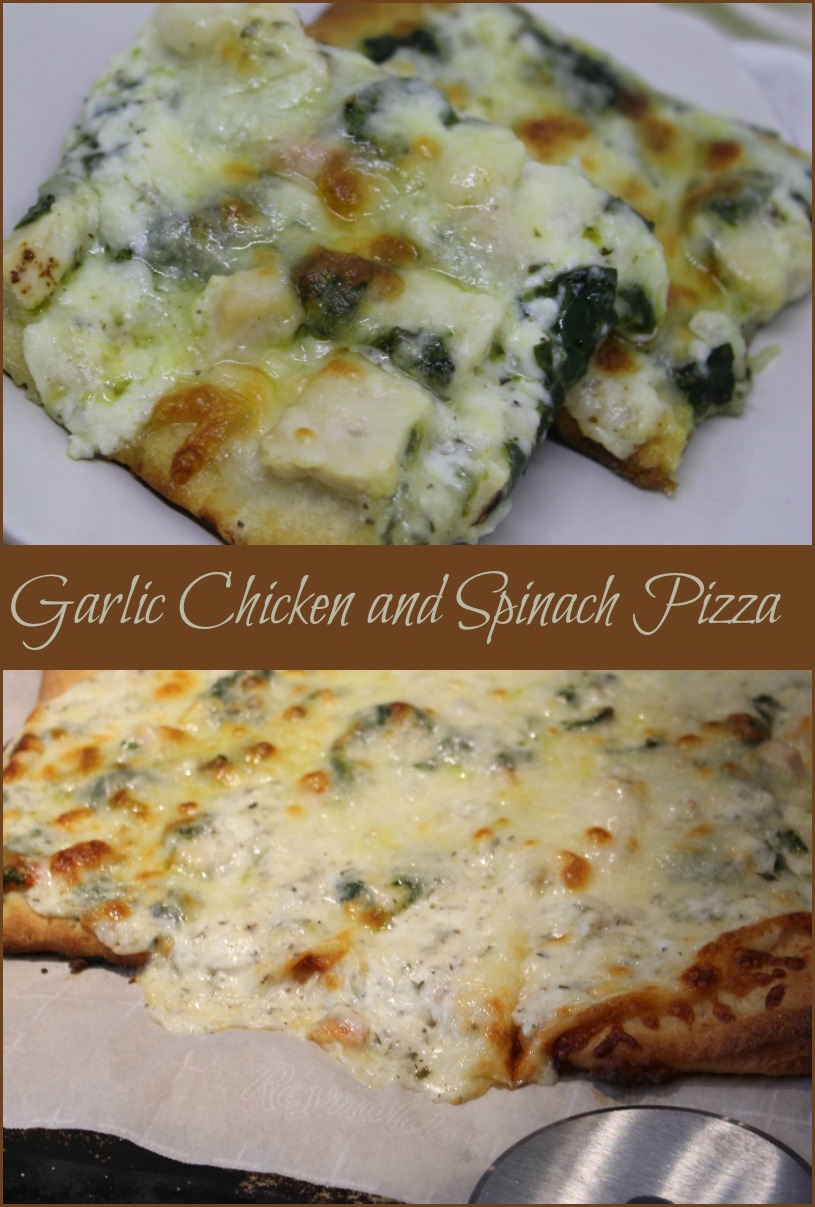 Welcome to A Pinch of Joy!  I'm so glad you stopped by today!   Follow A Pinch of Joy using the icons on the teal bar at the top of the page so you don't miss a thing!   I'd love to have your company on this venture!!  Share: if you found this helpful or inspiring please click one of the buttons below!  Your support of A Pinch of Joy is appreciated!
Shared with these awesome link parties here