What's for lunch?  Asian Beef and Noodles.  This is a colorful, budget friendly stir-fry dish that takes only five ingredients—all of which you're likely to have on hand.   Ready to eat in about 20 minutes!  Serve with fruit (fresh, frozen or canned – whatever you have available) for a complete meal.
I had to raid Bytes' cupboard to find the ramen.  I don't usually buy it, but he keeps it on hand because he likes it for a snack.  Or a meal when he is pressed for time.  It was worth sneaking down the stairs, avoiding the laser beam network, dodging under the security camera, giving the guard cat a generous handful of treats to keep him busy, and opening the cupboard door just right to avoid setting off the piercing alarm.   Actually, I just asked over the stair rail, "got any ramen?" and two packages came sailing upward.  The biggest feat was not stretching too far over the rail to catch them!
This delicious dish went together very quickly.  If you brown the ground beef  and toss it in the freezer when you bring it home from the store, it goes even more quickly.  I had a package of frozen stir fry vegetables in the freezer.  It was broccoli with mushroom slices, onion and thinly sliced green beans.  It was only 20 ounces, the equivalent of a cup and a half.  I added a half cup of  frozen broccoli from an open bag to make the full two cups.  Tip: I keep opened bags of frozen vegetables in the refrigerator freezer to add to all kinds of dishes.  At any one time there is usually a bag of peas, another of mixed vegetables, and one of broccoli in the freezer – folded and rubber banded to keep them airtight.  Add half a cup of any one of them to all sorts of dishes.  An easy way to get more vegetables on the table!
Bytes only had chicken ramen which I thought was just perfect for this dish as the flavors were well balanced.  However you could use beef for a deeper flavor.  If you are daring,  try other flavors.  I had a slice of red pepper in the refrigerator, which I diced and threw in for an extra bit of color.  This is a great recipe for a beginning cook since it is so simple.  But it tastes soooo good, make it even if you are an experienced cook.  We all gave it a thumbs up and you will too!
Try Italian inspired for lunch tomorrow  — Cheesy Beef Stromboli 
Asian Beef and Noodles
This colorful, budget friendly stir-fry dish takes only five ingredients—all of which you're likely to have on hand. Ready to eat in about 20 minutes!
Author:
A Pinch of Joy by Charlene Vance
Ingredients
1 pound lean ground beef
2 (3 ounce) packages ramen noodles, broken into pieces
2 ½ cups water
2 cups frozen stir-fry vegetables, broccoli blend
¼ teaspoon ground ginger
2 tablespoons green onion, thinly sliced
Instructions
In a large skillet, cook beef over medium heat until no longer pink; drain if needed. Add the contents of one ramen noodle flavoring packet; stir until dissolved. Remove beef and set aside.
In the same skillet, combine water, vegetables, ginger, noodles and contents of remaining flavoring packet. Bring to a boil. Reduce heat; cover and simmer for 3-4 minutes or until noodles are tender, stirring occasionally. Return the browned ground beef to the pan and heat through.
Serve immediately. Top with thinly sliced green onions.
Nutrition Information
Serving size:
1½ cup,
Calories:
383,
Carbohydrates:
28 grams,
Protein:
27 grams,
Please pin for future reference!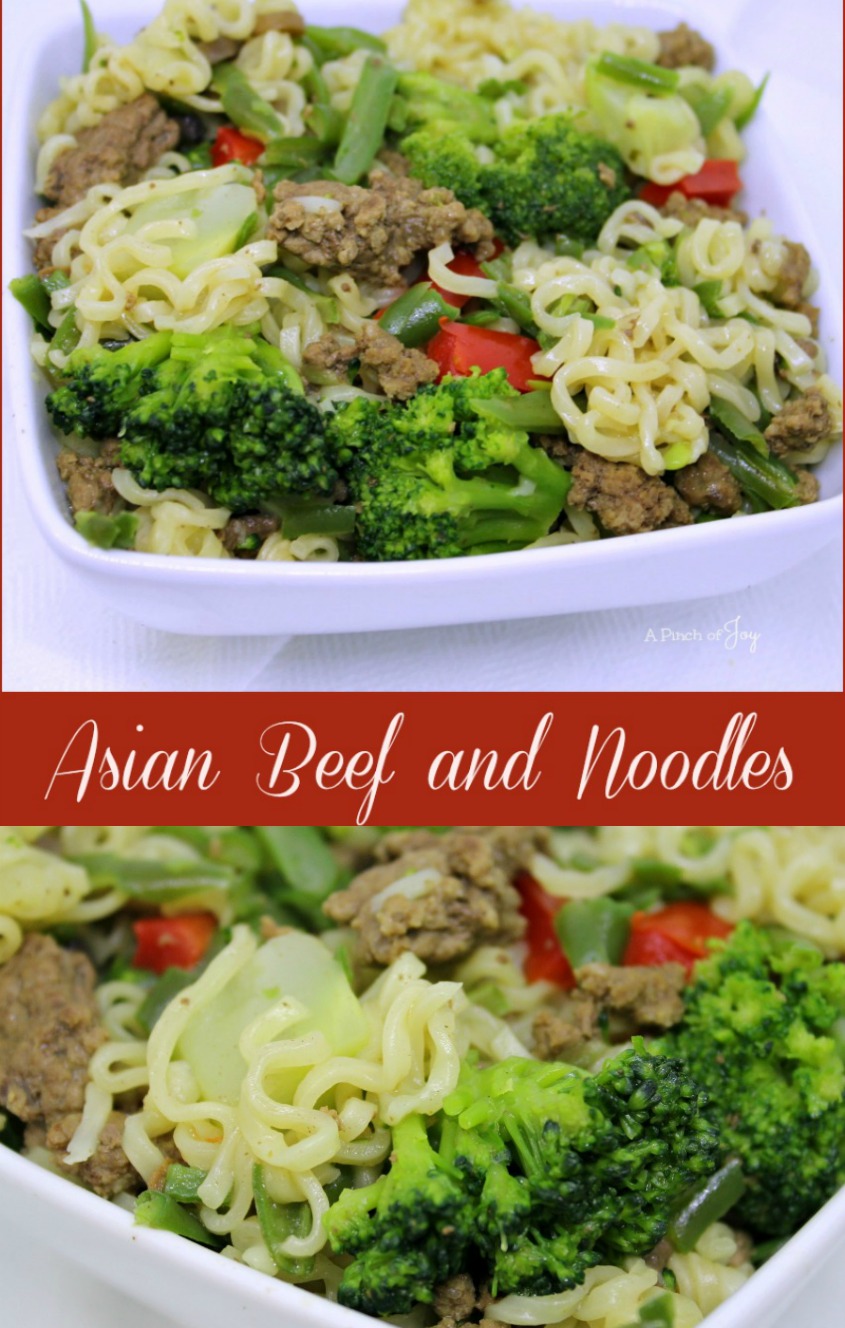 Welcome to A Pinch of Joy!  I'm so glad you stopped by today!   Follow A Pinch of Joy using the icons on the teal bar at the top of the page so you don't miss a thing!   I'd love to have your company on this venture!!  Share: if you found this helpful or inspiring please click one of the buttons below!  Your support of A Pinch of Joy is appreciated!
Shared with these awesome link parties here