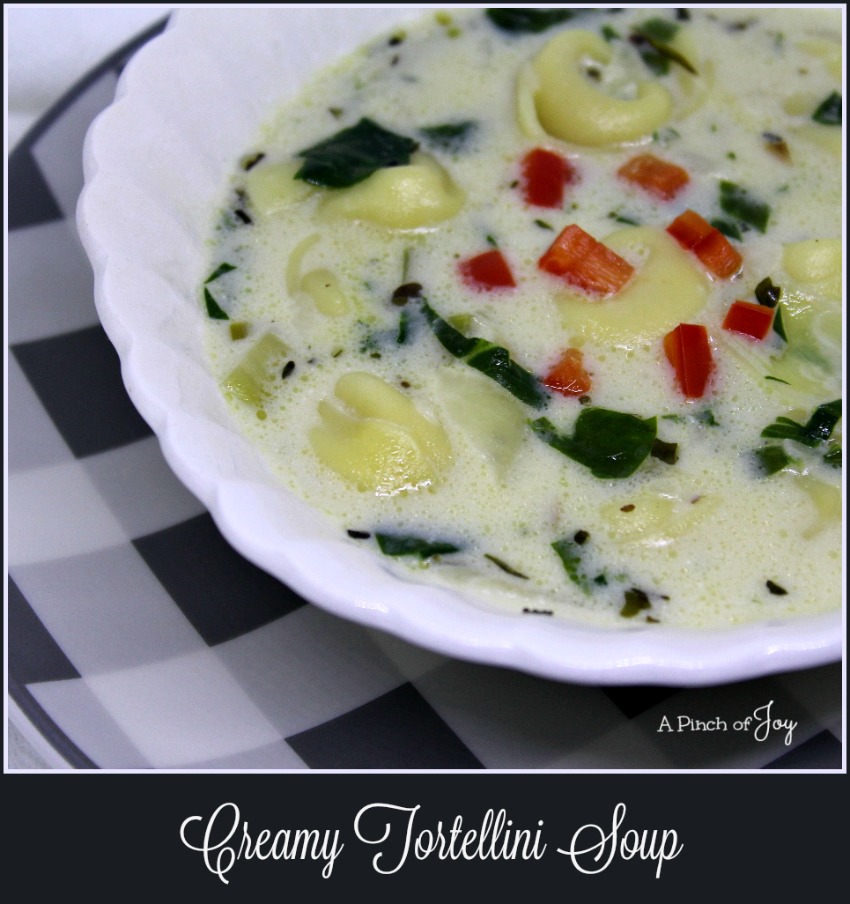 Creamy Tortellini Soup is worth a regular spot in anyone's lunch planning rotation.  The flavor is so creamy and delicious it's hard to believe that it goes together so quickly easily.  Or that it has only 12 carbs!
I often think of soup as a great place to use leftovers.  A half cup of any kind of vegetable – in it goes.  A bit of leftover meat – dice it up and toss it in.   Half a baked potato – chunk it up and chuck it in.  Not this soup!  It's already well balanced with great flavors.  Don't mess with this by adding something more!
However, there are still some options.  Use vegetable broth if you prefer.  Broth a bit short?  It's okay to add up to half water to make up the difference.  Out of fresh garlic?  Use minced garlic from a jar.   No cream or half and half?  Use whatever dairy milk you have on hand.  (I personally haven't used almond milk – which we almost always have – but it would probably work too since the flavor is quite neutral.)  I have used a couple of ribs of celery when there were no carrots available.  The soup was still delicious – just minus the color the carrots provided.  A garnish always makes a dish shine – even just tiny slices of red pepper on top.

Creamy Tortellini Soup
This Creamy Tortellini Soup is a quick, easy, and deliciously creamy soup ready in thirty minutes. It is packed with cheesy tortellini and fresh, healthy spinach.
Author:
A Pinch of Joy by Charlene Vance
Ingredients
3 tablespoons butter
1 medium onion , diced
2 to 3 garlic cloves , minced
2 large carrots , sliced thinly
2 teaspoons Italian Seasoning
1 teaspoon salt
¼ teaspoon fresh ground pepper
¼- cup all-purpose flour
6 cups chicken OR vegetable broth
1 package (12-ounces) frozen tortellini
1 bag (5-ounces) fresh baby spinach
1 cup cream OR half-and-half
Instructions
Melt butter in a large saucepan or soup pot.
Chop onion and slice carrots. Add them, along with minced garlic, Italian seasoning, salt, and pepper; cook over medium-low heat for 6 minutes, or until vegetables are tender.
Whisk in flour until crumbly. Slowly add broth and whisk until ingredients are well combined. Bring soup to a boil.
Chop spinach and add to soup. Add frozen tortellini.
Continue to cook over medium-high heat, stirring occasionally, for 5 to 6 minutes, or until tortellini is tender and heated through.
Stir in cream; bring to steady boil for 2 to 3 minutes, or until smooth and thickened.
Remove from heat and let stand 5 minutes to thicken before serving.
Nutrition Information
Calories:
237,
Carbohydrates:
12 grams,
Protein:
1 gram,
For lunch tomorrow:  Monte Cristo Sandwich 
Welcome to A Pinch of Joy!  I'm so glad you stopped by today!   Follow A Pinch of Joy using the icons on the teal bar at the top of the page so you don't miss a thing!   I'd love to have your company on this venture!!  Share: if you found this helpful or inspiring please click one of the buttons below!  Your support of A Pinch of Joy is appreciated!
Shared with these awesome link parties here