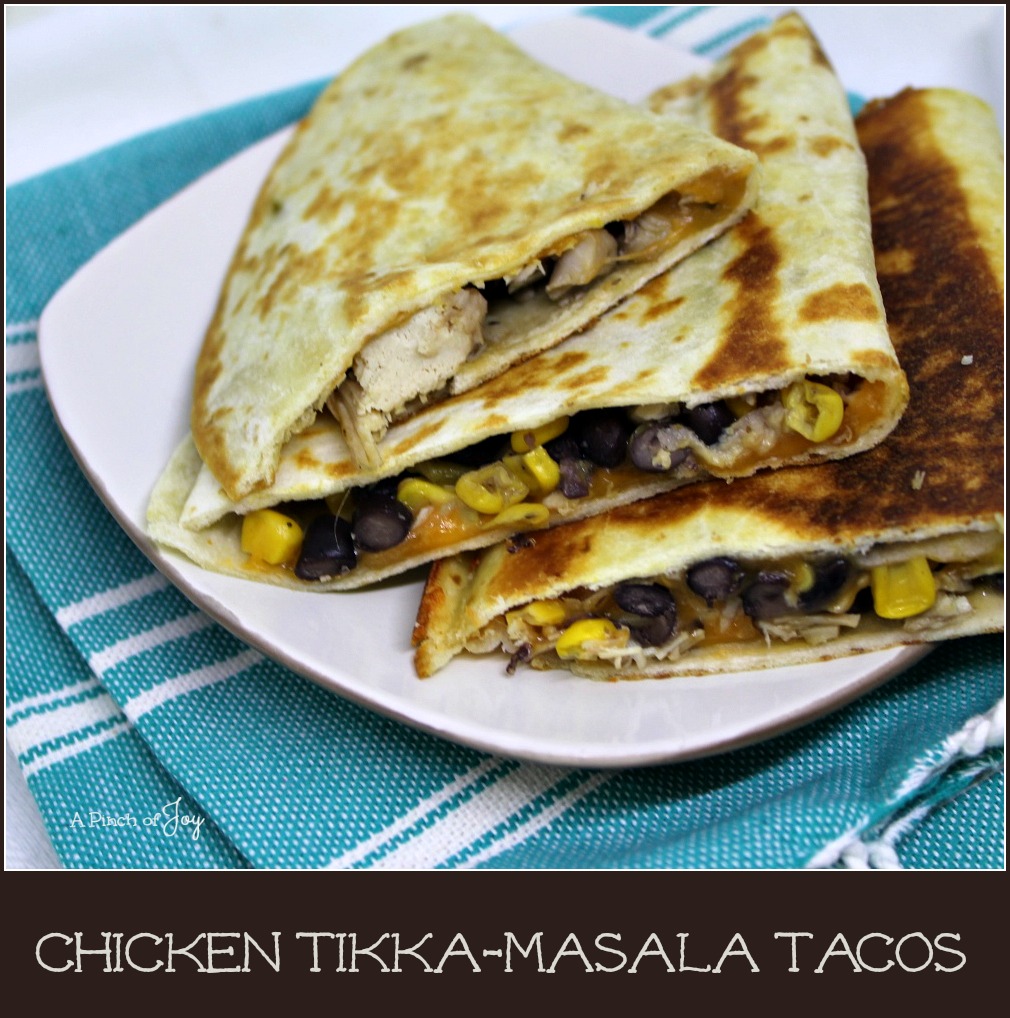 Tortillas filled with chicken in a tikka-masala sauce.  I was confused.  Is it from India?  Mexico?    Chapitas from India are similar to a Mexican tortilla, but are made from whole wheat flour with water, oil and salt.  The Mexican tortilla is made from refined flours (or corn) with milk, oil and salt. Tortillas are more readily available in US groceries.  So Chicken Tikka-Masala Tacos are an American adaptation of an Indian dish??  Sort of — but there is that matter of the filling.  In India,  Chicken Tikka is usually a kebab, small pieces of chicken skewered and then roasted. In the UK, cooks skip the skewering part and cooks smaller bits of chicken in a savory sauce and call it tikka.  A British adaptation of India cuisine.  Only the masala part was left alone.  And, what is masala?  It's a combination of spices, but a different combination than the other flavor from India — curry. Are beans and corn found in chicken tikka masala?  Only in this recipe which seems to combine foods common to both India and Mexico, but the black beans and corn are found more often in Mexico and the chicken mixture is more common in India.  So a combination from both countries???  Now that we have that straightened out, let's make a jolly good lunch! 
If you will be pressed for time, prepare the chicken ahead of time in the zipper bag and let marinate in the refrigerator overnight.  If you do not have garam masala on your shelf, you can also prepare it ahead of time, using the recipe below.  You could also mix the sour cream sauce ahead of time and let it develop deeper flavor overnight in the fridge.  Add the beans and corn at the end, just to warm them before filling the tortillas.  I used large tortillas, 10 inches in diameter.  Warming the tortillas first makes them easier to handle and to fold.  Be fairly generous with the olive oil in the skillet — not so much that the tortillas absorb oil, but enough that they will turn beautiful golden brown.  I had no trouble turning the filled tortillas, but Bytes grabbed a package of cheese and added a quarter of cup to each one he cooked so they would turn easier without losing  filling.  You can lift the folded sides to insert shredded lettuce and additional sour cream before eating.  Except Bytes piled both on top of the folded tortilla and ate it with a fork, instead of fingers.
For all the confusion, these make a hearty and flavorful lunch!  Or maybe it is not confusing at all.  Just a demonstration of the commonality of humankind and what we eat.
Another geographically confused recipe for lunch tomorrow — Skillet Lasagna Mexicana

Chicken Tikka-Masala Tacos
Author:
A Pinch of Joy by Charlene Vance
Ingredients
1 pound chicken breast, cubed into ½ inch pieces
½ cup sun dried tomato vinaigrette dressing
½ cup chopped onion, approx. 1 medium
½ cup sour cream
2 Tablespoons tomato paste
1 Tablespoon garam masala*
1 15 ounce can black beans, drained
1 15 ounce can corn, drained
1 package shredded lettuce
1 package tortillas
!For garam marsala, mix together
1 ½ teaspoons ground coriander
1 ½ teaspoons ground cardamom
1 ½ teaspoons ground black pepper
1 teaspoon ground cinnamon
½ teaspoon ground cloves
½ teaspoon ground nutmeg
Measure what is needed and store rest in tightly covered jar.
Instructions
Using sharp knife, slice chicken breast into ½ inch cubes. Dice medium onion and mix into the vinaigrette dressing in medium bowl. Add chicken and pour into zipper bag. Knead until chicken is thoroughly coated.
Pour into into a non-stick skillet on medium heat, and cook for 6-8 minutes, until chicken is no longer pink. Stir frequently.
In small bowl, mix together sour cream, tomato paste and garam masala. Add to chicken mixture in skillet. Bring to a boil, stirring frequently. Add drained black beans and corn, Reduce heat and simmer for 7 minutes, until chicken is completely cooked and everything is heated through.
Heat large skillet drizzled with olive oil. Place tortilla in skillet for a few seconds until warmed through. Remove to plate, place another tortilla in skillet to warm.
Add 1-2 tablespoons of chicken mixture on half of tortilla on plate. Fold. Remove second tortilla from skillet and place the folded, filled tortilla in skillet. Fill second tortilla with chicken mixture, fold and add to skillet. Turn folded tortillas over when bottom becomes golden. Cook until second side is also golden and remove from skillet to serving platter.
Add more olive oil to skillet and repeat steps of warming, filling and folding and browning tortillas until filling is used.
Serve with shredded lettuce.
Notes
Nutrition values are estimates only.
Nutrition Information
Calories:
323,
Carbohydrates:
41 g,
Protein:
18 g,
Welcome to A Pinch of Joy!  I'm so glad you stopped by today!   Follow A Pinch of Joy using the icons on the teal bar at the top of the page so you don't miss a thing!   I'd love to have your company on this venture!!  Share: if you found this helpful or inspiring please click one of the buttons below!  Your support of A Pinch of Joy is appreciated!
Shared with these awesome link parties here