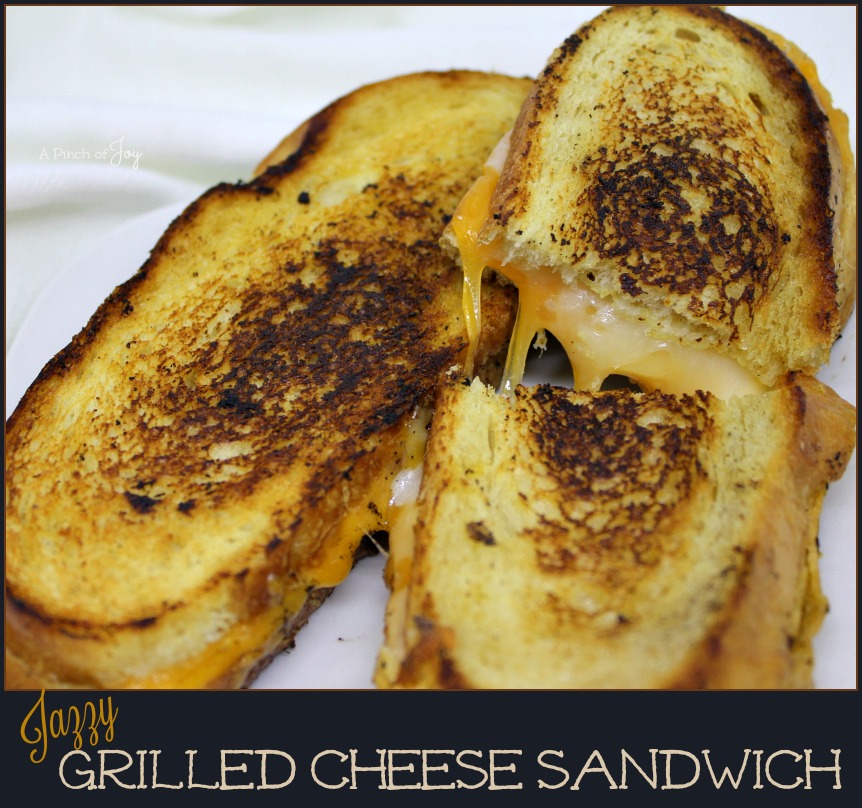 Grilled Cheese is a quick and easy lunch by itself or in combination with a bowl of soup.  A classic.  But sometimes you want something more than classic and the same ole, same ole.  Jazz up your grilled cheese sandwich with a little something extra and it soars to the next level.  Make it several somethings extra and lunch becomes legendary!
To build this flavorful sandwich, use a good quality bakery bread for the foundation.  We like sourdough bread for its texture, taste and because it does not impact blood sugar as much as do other breads.  One of the groceries in town makes great sourdough in two sizes – a six inch diameter circle and an 8 inch circle loaf.  One slice of cheese covers the smaller loaf, but the bigger one needs a slice and a half  and sometimes 2 slices.  I just break the slices to fit the bread so it is completely covered.  Stack on each sandwich the additional slices of  two other different cheeses.  You can combine any three of your favorite cheeses.  The ones I used happened to be in the refrigerator drawer.  Another time it will be cheddar because I nearly always have that on hand, but the other two cheeses are likely to be different ones.
I lay out the slices of bread and run a squiggly line of mustard across the middle of each one.  A quick swipe with a spatula leaves a thin layer of mustard.  The whole slice is not covered, just the middle couple of inches.  Add the cheese, then top with the second slice of bread.  Brush top side with the melted garlic butter, and lay the sandwich buttered side down in the heated skillet with its additional butter.  Brush the top of each sandwich with the garlic butter.  Brown until the bread becomes golden and the cheese is melted.  Jazzy indeed!
How about a salad for lunch tomorrow?  Check out this Beef and Pear Salad with honey mustard dressing.

Jazzy Grilled Cheese Sandwich
Jazz up your grilled cheese sandwich with a little something extra and it soars to the next level. Make it several somethings extra and lunch becomes legendary!
Author:
A Pinch of Joy by Charlene Vance
Ingredients
Ingredients for each sandwich
2 slices of bakery bread
1-2 slices of Havarti cheese
1-2 slices of Gouda cheese
1-2 slices of cheddar cheese
1 teaspoon Dijon mustard
2 tablespoons of butter, divided
1 teaspoon garlic powder
Instructions
Melt butter and garlic powder in microwave
Spread Dijon mustard very thinly on each slice of bread, about ½ teaspoon each.
Place one slice of each kind of cheese on half of the bread. If slices are large, two slices of cheese may be needed to cover the entire slice. Place the other slice of bread, mustard side down, on top of the cheese.
Using a pastry brush, brush the butter onto the top and bottom of both sandwiches until all the butter is gone
Heat a skillet over medium heat and melt a teaspoon of butter in the skillet
When melted, cook sandwiches until both sides are golden brown and the cheese is melted
Notes
Nutritional information is an estimate. Actual values will depend on size and brand of bread and cheese used.
Nutrition Information
Carbohydrates:
30 grams,
Protein:
32 grams,
Welcome to A Pinch of Joy!  I'm so glad you stopped by today!   Follow A Pinch of Joy using the icons on the teal bar at the top of the page so you don't miss a thing!   I'd love to have your company on this venture!!  Share: if you found this helpful or inspiring please click one of the buttons below!  Your support of A Pinch of Joy is appreciated!
Shared with these awesome link parties here