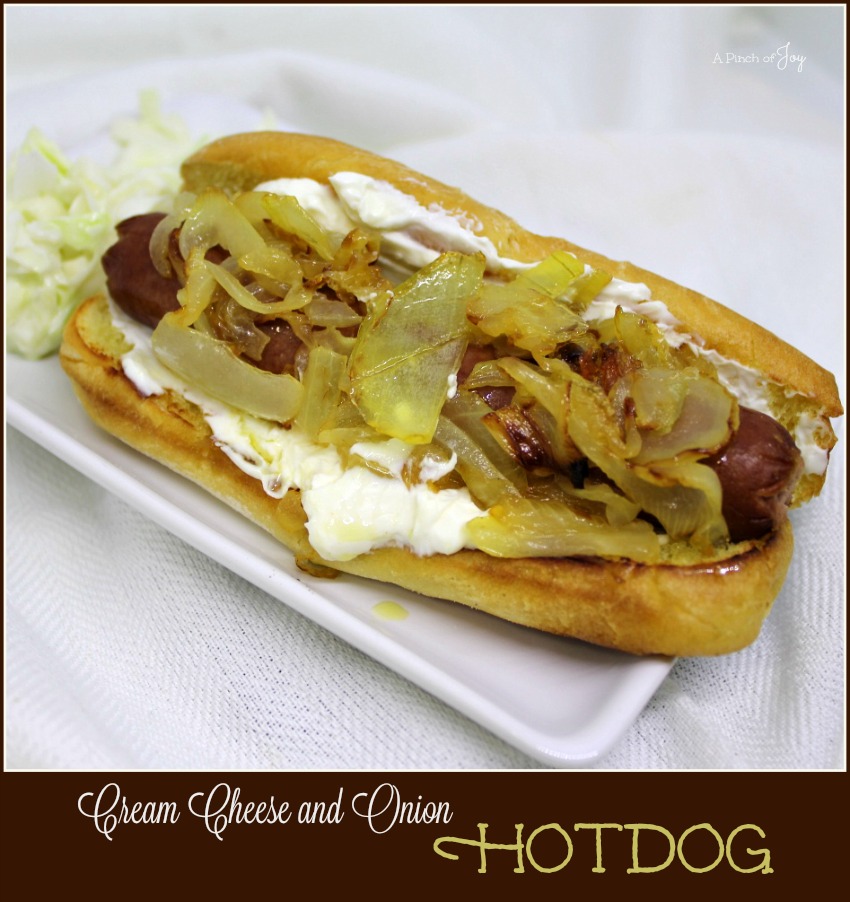 Hotdogs are not usually on our radar.  Not since I made octopus hotdogs for toddler lunches.  Now one toddler is 6'4″!   But when I heard of hotdogs smothered in onions on a bed of melted cream cheese — well, it was time to give that a try!   Glad we did.  We'll do that again.  Serve with Sweet Slaw from cabbage grown by sister Bee. Wonderful!!
Start with the onions.  A medium to large onion sliced thinly. Throw in the one piece not thinly sliced so it can be front and center in the picture – optional.  Preheat a smaller skillet with olive oil or butter, then add sliced onions.  Cook until they turn brown and soft.    In the meantime, cook a good beef hotdog, according to directions. Like — put in boiling water until hot.  But the directions can be more specific so take a look.  Or grill, them.    At the same time, melt cream cheese in a small saucepan over low heat.  (If you choose to melt cream cheese in the microwave, cut the bar into 8 or 10 pieces and use a flattish-type bowl so it doesn't explode.)  The buns — don't buy mushy national brand buns as I did.  Buy bakery buns.  They'll take more kindly to warm cream cheese spread, won't become mushy and will add to the amazing taste.  Especially if you toss them in a buttered skillet cut side down, until the edges just turn golden, before filling them.   At the magical moment, when onions turn golden brown, cream cheese is melty, hot dog cooked just right and the bun is warm — assemble.  Take a moment to admire the art.  Then dive in.  You'll be glad you did!

Cream Cheese and Onion Hotdog
Delightful melty cream cheese, golden fried onions make hotdog in a bun a heavenly treat!
Author:
A Pinch of Joy by Charlene Vance
Ingredients
8 hotdogs
1 package 8 oz cream cheese
1 medium onion
1 Tbsp. butter OR olive oil
8 buns (preferably bakery buns)
Dijon mustard, optional
Instructions
Slice onion thinly. Preheat skillet with oil or butter and cook onions, stirring frequently, until soft and golden brown. Time about 20 minutes.
Meanwhile, cook or grill hotdogs.
Melt cream cheese in small saucepan over low heat, stirring as needed.  Add tablespoon of milk for spreadable consistency.
Optional - Melt additional 1 tbsp butter in large skillet and brown buns, cut side down, until edges are golden brown.
Assemble hotdogs by spreading both cut sides of each bun with a dollop of cream cheese. Add cooked hotdog. Top with fried onions. Optional: Dijon mustard over top of onions.
Notes
Nutritional values are estimate only. Values will change according to size and brand of buns and hotdogs.
Nutrition Information
Calories:
395,
Carbohydrates:
26 grams
Protein:
13 grams,
Please Pin! 
Welcome to A Pinch of Joy.  I'm so glad you stopped by today!  Take some time to look around.   Follow A Pinch of Joy using the icons on the teal bar at the top of the page so you don't miss a thing!   I'd love to have your company on this venture!!  Share: if you found this helpful or inspiring please click one of the sharing buttons below!  Your support of A Pinch of Joy is appreciated!
Shared with these awesome link parties here