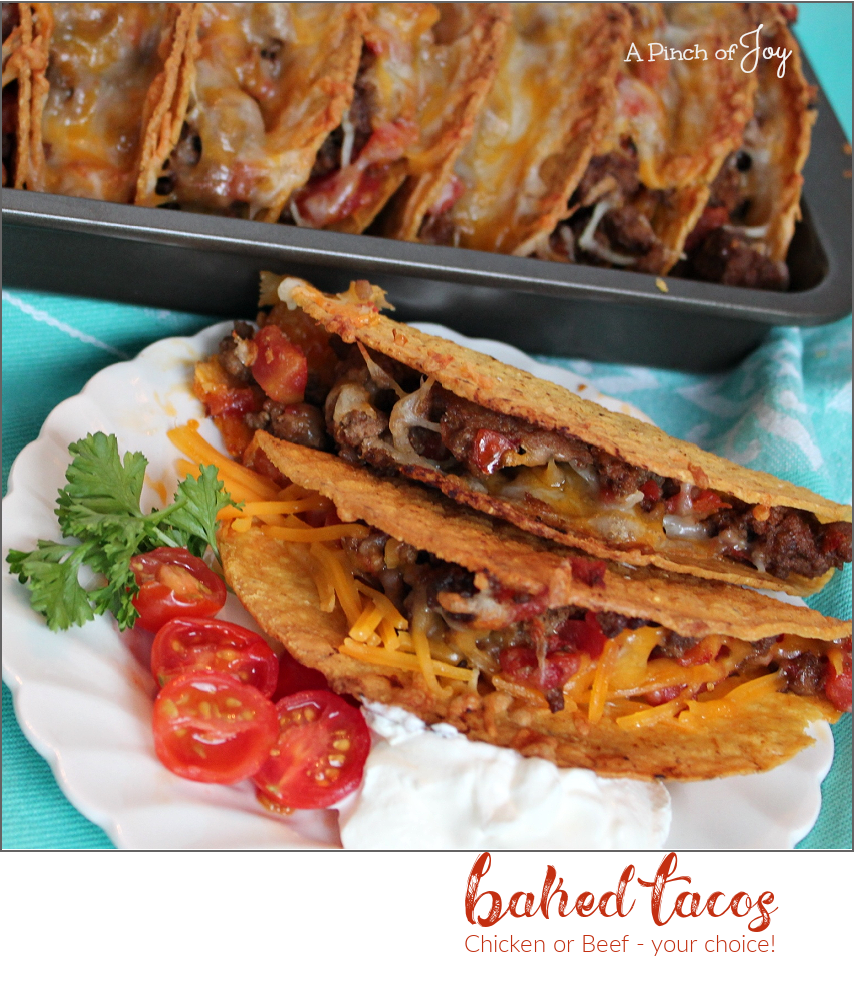 Baked Tacos are so easy, so quick and so delicious, it almost seems like cheating to have them on the menu.
Use precooked shredded or chunked chicken.  Or prebrowned ground beef.   I nearly always have 2 cup bags (1 pound) of both in my freezer because that saves so much time on a busy day.   Either one will make these wonderful tacos a snap to stir together.  Use frozen diced onions to save time instead of chopping a fresh onion.  If you want green chilis, add a small can or buy diced tomatoes with green chilis added.  You already know me – I skipped the additional zip.  Same with the taco seasoning.  I only used half a package.  Prebaking  taco shells turns them into a whispery crunch that is s-o-o-o good.  They are also only 6 carbs each.  Compare that to the 22-28 grams of carbs in tortillas!  The first time I made these I just sprinkled a handful of shredded cheese over the top of the panful of filled shells just before popping it into the oven.   Bytes suggested putting the cheese – in a generous amount – on each individual taco instead  so they don't stick together and can be served easily. Works much better.  We chose to serve with chopped tomatoes and sour cream topping  and make a small side salad with the lettuce.   Preparation time is less than 30 minutes.   Easy!! Perfect for lunch or a quick supper.
When you have a little more time and are thinking Italian, check out Cheesy Ravioli and Italian Sausage Bake.

Baked Tacos -- Chicken or Beef!
Author:
A Pinch of Joy by Charlene Vance
Recipe type:
Quick and Easy
Ingredients
1 pound cooked, shredded chicken*
*OR 1 pound browned hamburger
1 packet taco seasoning
½ cup diced onions
1 can diced tomatoes
1 can refried beans
1 package of 10-12 hard shell taco shells
1 8 ounce package Mexican Style shredded cheese
Instructions
Preheat oven to 375 degrees and spray a 7x11 baking dish with non stick cooking spray, set aside.
Heat olive oil over medium heat in a skillet and lightly saute onions. Add precooked chicken (or hamburger) and taco seasoning. Completely drain tomatoes and add to skillet. Reduce heat and let cook for 5-8 minutes
Meanwhile, place taco shells in prepared 7 x 11 baking dish and bake 5 minutes. Remove from oven.
To assemble tacos: spoon 1 tablespoon of refried beans on the bottom of each shell. Top with meat and tomato mixture (evenly distributed)
Add a generous amount of shredded cheese to each taco.
Bake for 7-10 minutes or until cheese is fully melted and edges are a little brown.
Remove from oven and top with additional toppings, such as chopped fresh tomatoes, shredded lettuce, sour cream.
Nutrition Information
Serving size:
1 taco
Calories:
148,
Carbohydrates:
4 grams,
Protein:
14 grams,
I'm so glad you stopped by today!
Follow A Pinch of Joy using the icons on the teal bar at the top of the page so you don't miss a thing!   I'd love to have your company on this venture!!  Share: if you found this helpful or inspiring please click one of the buttons below!  Your support of A Pinch of Joy is appreciated!
Shared with these awesome link parties here