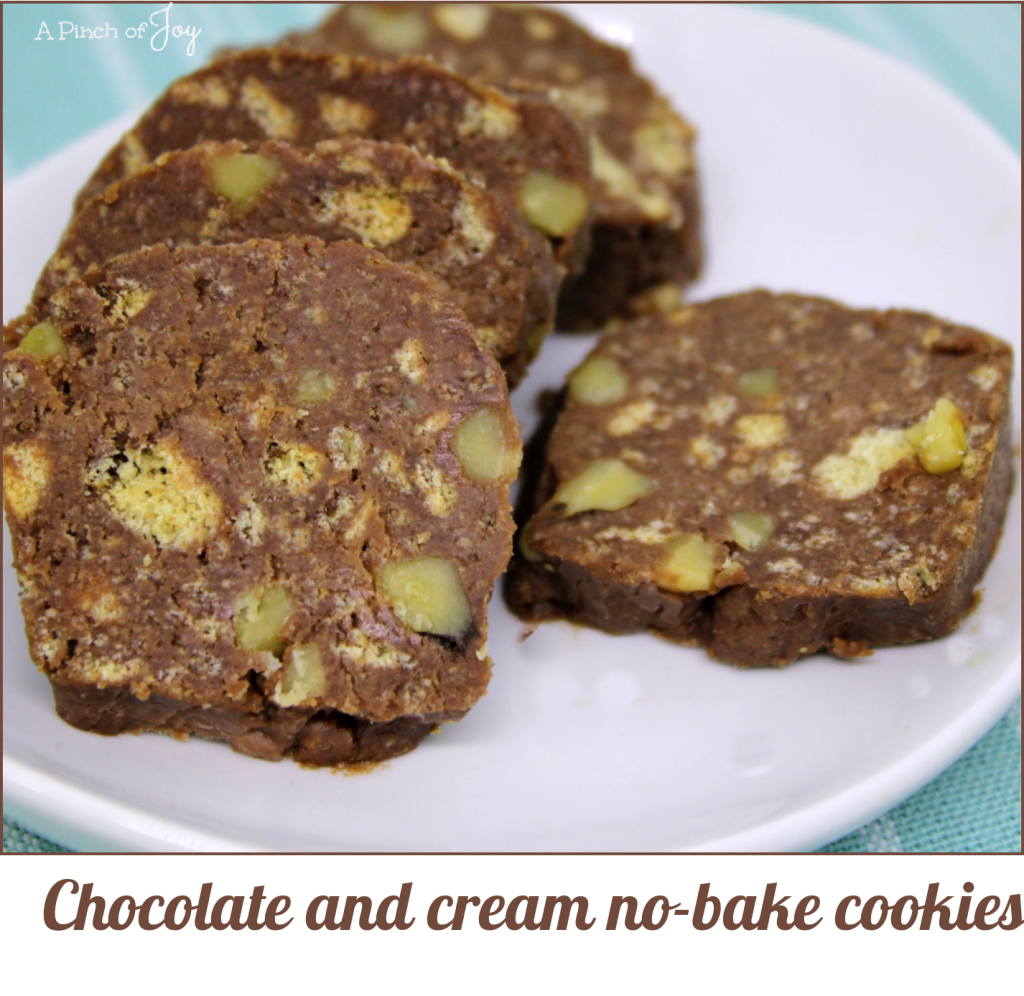 Chocolate and Cream Cookies are a fun addition to a cookie tray.  If you are talking and laughing as I usually am when faced with a cookie tray – we're talking choices of cookies and chocolate here!! –  you could do a double take.  Not meat, just a fun soft cookie!!  Would you eat it if it were called Salami Cookie?
You'll need two fully packets of graham crackers.  There are nine crackers in each packet.  I didn't open the packets, just started crushing them with my hands.  Once you get them started, the crackers will breakdown fairly quickly.  Don't worry about crushing them evenly.  You'll want some larger pieces about ½ inch square, some nice crumbs and everything in between.  Dump them in the mixing bowl, with 8 ounces of cream cheese (unwrapped) on top to soften slightly.
Mix the cocoa and sugar in a large cereal bowl and chunk up a stick of butter on top.  Put in the microwave and heat for 30 seconds on high.  If butter still has large chunks, heat in 10 second increments until melted.  When butter is melted or only has small chunks, stir thoroughly into the sugar and chocolate.  Add to graham cracker crumbs and cream cheese in mixing bowl.
You can stir by hand if cream cheese is soft, but I prefer the mixer.  Just mix long enough to combine all ingredients well,  to avoid breaking up crackers too finely.  Add nuts.  Mix until incorporated   and stop.  We're looking for a firmer log – not a fluffy one.    Make log according to instructions.  When frozen slice, evenly and arrange on plate. Leftovers will keep in airtight container.   Can make ahead and freeze for up to three months.

Chocolate and Cream No Bake Cookies
Author:
A Pinch of Joy by Charlene Vance
Ingredients
18 full sheets graham crackers (2 full packages)
½ cup sugar
⅓ cup unsweetened cocoa powder
8 oz cream cheese, softened
½ cup chopped walnuts
Instructions
Break graham crackers into uneven crumbs.
In a small saucepan over medium heat melt the butter, sugar and cocoa powder, stirring constantly. Pour the melted butter mixture over the cookie crumbs. OR mix sugar and cocoa powder in medium microwave safe bowl and microwave for thirty seconds. Stir melted butter into cocoa and sugar mixture until thoroughly mixed.
Add cream cheese and mix until well combined.
Stir in chopped walnuts.
On the counter, lay a 24-inch long strip of plastic wrap.
Put the cookie mixture in the middle of the wrap along its full length. Roll into a log, about 2 inches in diameter.
Tightly wrap the plastic wrap around the log and freeze for at least 2 hours, or until firm.
Slice log into uniform cookies, ¼ to ½ inch thick, before serving.
Store leftovers in the freezer in an air-tight container.
Nutrition Information
Calories:
74,
Carbohydrates:
9 grams,
Protein:
1 gram,
I'm so glad you stopped by today!
Follow A Pinch of Joy using the icons on the teal bar at the top of the page so you don't miss a thing!   I'd love to have your company on this venture!!  Share: if you found this helpful or inspiring please click one of the buttons below!  Your support of A Pinch of Joy is appreciated!
Shared with these awesome link parties here