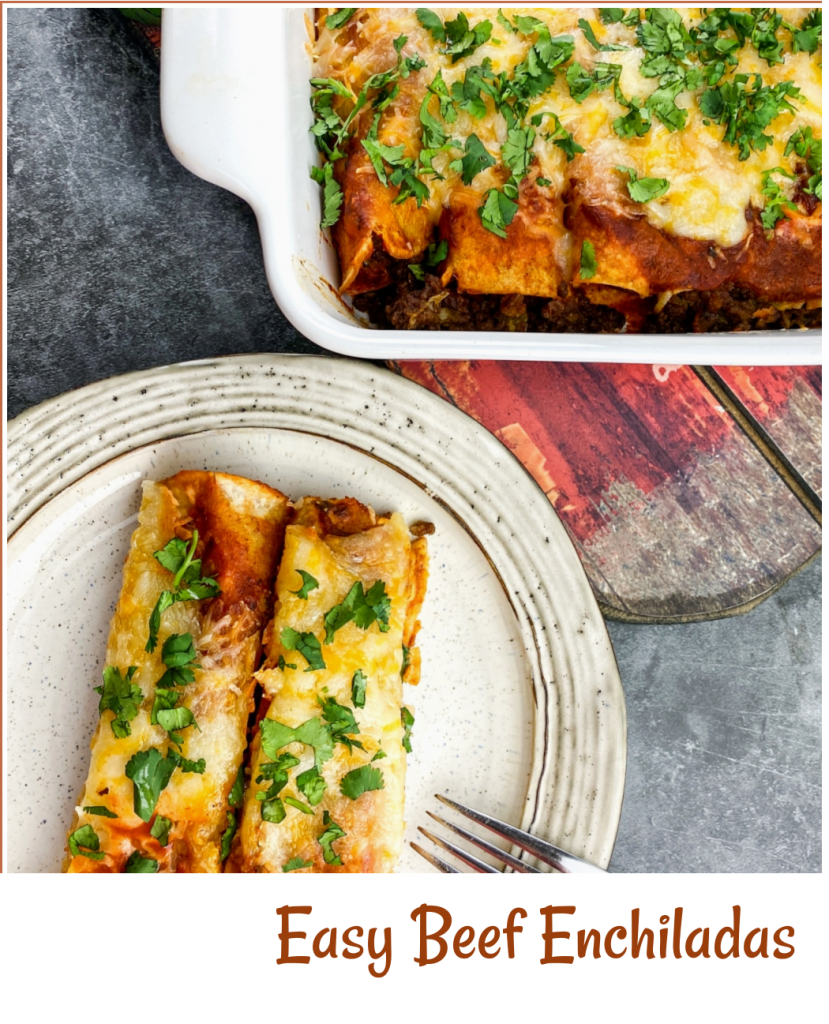 These easy, versatile beef enchiladas are packed with flavor and sure to become a family favorite. This recipe takes about an hour to come together, as written. However. .
you know we're all about quick and easy at our house so here are some time savers:   1) Prepare double or triple batches of the enchilada sauce to freeze for later use. 1a) Or use canned sauce.  (Mild, of course!)  2)  Brown ground beef when you bring it home from the store and freeze it.  Measure out two cups of browned and cooled ground beef.  Zip it in a quart freezer bag and you have a pound of ground beef ready to go. 2a) Prepare double of triple batches of filling and freeze for later use.  For either one; thaw ahead of time OR 3 minutes on 50 percent power in the microwave will let you break it apart and finish thawing with another 2-3 minutes at 50 percent power.  If you are serious about time saving see Make Ahead and Freeze directions in the recipe box.
This basic beginner recipe follows a two-step process to prevent soggy tortillas that fall apart after baking. The first step is to lightly toast the corn tortillas in a little vegetable oil. The second step is to lightly coat the toasted tortillas on both sides in some of the sauce before assembling the enchiladas. Building a stack of toasted and sauce-coated tortillas, as described below, will help them stay warm and pliable until you are ready to assemble the enchiladas.

Easy Beef Enchiladas
Easy to make with tips to save time and wrap an enchilada so it will hold together for no-mess dining!
Author:
A Pinch of Joy by Charlene Vance
Ingredients
¼ cup unsalted butter, cut into chunks
3 Tablespoons all-purpose flour
2 Tablespoons chili powder
1 teaspoon ground cumin
1 teaspoon garlic powder
1 teaspoon onion powder
1 teaspoon dried oregano
½ teaspoon sea salt
1¼ cup tomato sauce
1¾ cup chicken broth, divided
1 Tablespoon extra virgin olive oil
1 medium white onion, diced
2-3 cloves garlic
½ teaspoon sea salt
1 lb. ground beef (80/20 preferred)
1 4-oz. can green chilis, drained (optional)
3 Tablespoons red enchilada sauce
½ cup vegetable oil, divided
8 6-inch corn tortillas
8-oz. 4-cheese Mexican blend, shredded, divided
Topping Ideas: Diced avocado, tomatoes, red onion, and/or shredded Iceberg lettuce, 2 T. fresh cilantro leaves, finely chopped
Instructions
Sauce
Melt butter in large skillet over medium heat.
While butter is melting, measure flour, chili powder, ground cumin, garlic powder, onion powder, oregano, and salt into small bowl. Stir to combine. Stir flour and spices into melted butter.
Add tomato sauce and one cup chicken broth whisking lightly until completely smooth, approximately 3-4 minutes. Reduce heat to low. Gradually add remaining chicken broth, one-quarter cup at a time, as you make filling. Turn off heat. The sauce will continue to thicken as it rests. Add additional chicken broth, a tablespoon at a time, if needed.
Filling
Heat olive oil in a large skillet over medium heat. Add onions, garlic, and salt, and stir to combine. Cook, stirring frequently, until the onions soften and just start to develop some color, approximately 3-4 minutes.
Add beef to skillet and break apart with a spatula while it browns. Cook, stirring occasionally, for 6-7 minutes, or until completely browned.
Once beef is browned, carefully drain excess fat from skillet before adding green chilis (optional) and three tablespoons of the sauce to season. Stir to combine and reduce heat to low to keep warm.
Once sauce and filling are ready, place top oven rack in center position and pre-heat oven to 350°F. Add three or four spoonfuls of the sauce to a 7"x11"x2" baking dish and use back of spoon to spread sauce lightly over the bottom of the dish. Set aside.
To assemble enchiladas, add a small amount of vegetable oil to a small skillet set over medium-high heat. Once skillet is hot, add one tortilla and toast until nicely browned, approximately 2 minutes. Flip the tortilla and repeat on the other side.
Dip toasted tortilla into warm enchilada sauce to coat on both sides, using fingers and/or small tongs. Remove as much excess sauce as possible before transferring to a large, rimmed plate. Set aside.
Add a little more vegetable oil to the skillet and repeat Step #8 with a second tortilla. Place toasted tortilla on top of sauce-covered tortilla on the plate. The excess sauce from the first tortilla will adhere to the bottom of the second tortilla. Add additional oil and the next tortilla to the hot skillet. Add one spoonful of sauce on top of the already toasted tortilla you set aside on the plate. Use the back of the spoon to spread the sauce until it covers the top surface of the second tortilla.
Once all eight tortillas have been prepped, add a large spoonful of the filling to the top tortilla halfway between the midway point and the bottom edge. Add a little shredded cheese on top and roll the tortilla from the bottom end up. Place the rolled enchilada into the prepared baking dish, seam down. Repeat this process with the remaining tortillas until all eight enchiladas are in the baking dish, as shown.
If any of the beef filling is left over, spoon it into the baking dish in the space on either end of the enchiladas, as shown. Top with the remaining sauce and shredded cheese and place in the pre-heated oven for 15 minutes, or until the cheese is completely melted and bubbly.
Sprinkle chopped cilantro or other topping over top before serving.
Make Ahead and Freeze Directions:
Decide whether to double or triple sauce recipe. Recipe as written should yield approximately 3 cups of cooked sauce. Divide cooked sauce in three cup increments and seal in a quart zipper bag.
Double or triple the filling recipe as you did the sauce recipe. The filling recipe as written should yield approximately two cups. Divide filling into 2 cup increments, placing each one in a quart zipper bag.
Place 1 filling bag and 1 bag of sauce in a gallon zipper bag, add a package of eight tortillas and an 8 ounce bag of shredded Mexican blend cheese. Label gallon bag with name of recipe and date before flattening and freezing.
Thaw overnight and prepare recipe as directed above.
Notes
Nutritional values are estimates and will vary according to brands chosen.
Nutrition Information
Serving size:
1 enchilada
Calories:
551 |
Carbohydrates:
17 grams |
Protein:
36 grams|
Welcome to A Pinch of Joy!  I'm so glad you stopped by today!   Follow A Pinch of Joy using the icons on the teal bar at the top of the page so you don't miss a thing!   I'd love to have your company on this venture!!  Share: if you found this helpful or inspiring please click one of the buttons below!  Your support of A Pinch of Joy is appreciated!
Shared with these awesome link parties here