Celebrated a special wedding anniversary this week.  The host families were dressed in 70s attire.  Think lime green leisure suits, mini skirts, wild patterns, chunky heels, bell bottoms and the whole gamut.  When the honorees arrived — very much surprised to find themselves in that situation! — he was presented with Willie Nelson braids and bandana and she received a circlet of daisies and short skirt.  There was spaghetti aspic and other unfathomable dishes to sample if one wished.  No one did.  In short– it was a great party!!  May you have a great week filled with fun, memories, new experiences, surprises and all the best company.  Thanks for stopping by to share your awesome posts.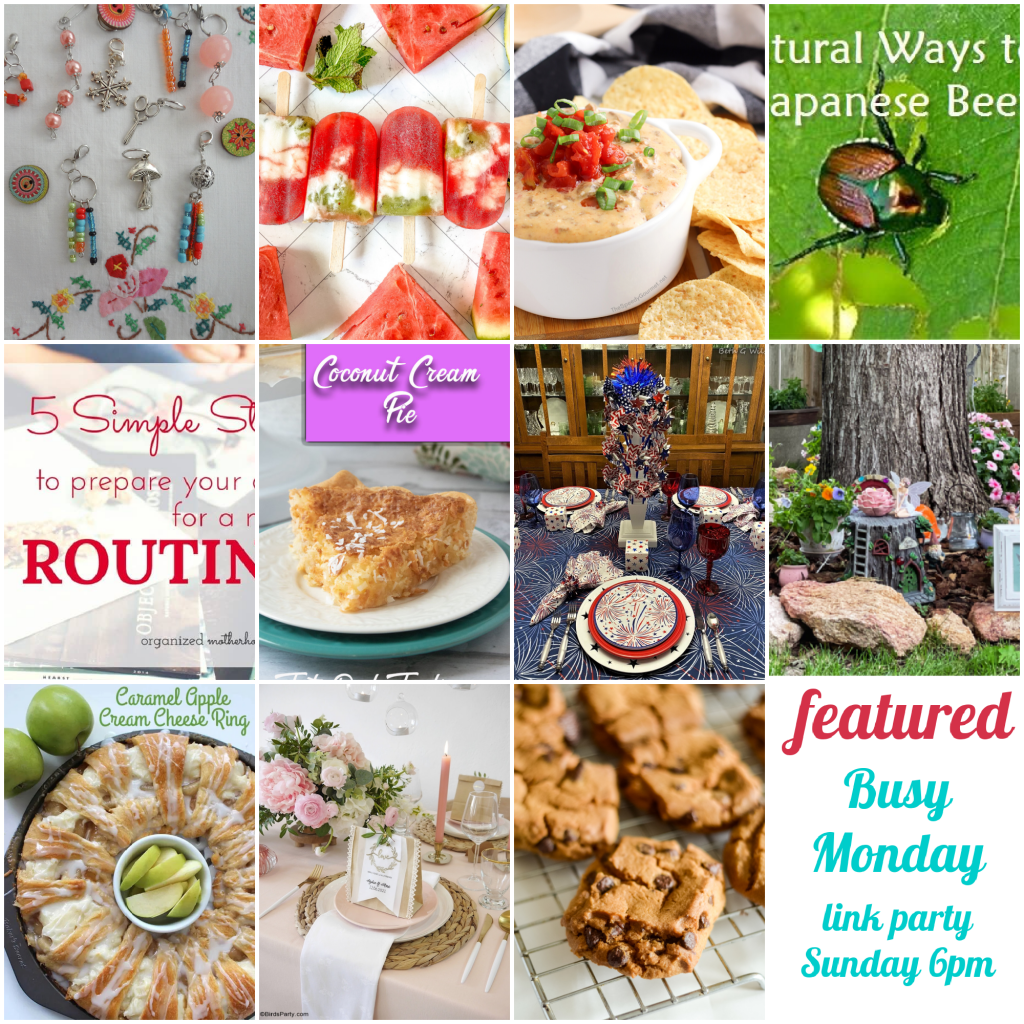 Featured from last week:  Little Treasures – Easy to Make Stitch Markers   The Happy Mustard Seed – Watermelon Popsicles  Condo Blues – 4 Natural Ways to Kill Japanese Beetles      Organized Motherhood – 5 Simple Steps to Prepare Your Child for a New Routine     Fat Dad Foodie – Coconut Cream Pie   Debbie Dabble – a Tail of Two Patriotic Tablescapes      My Home of All Seasons – How to Create a No-Fuss Outdoor Fairy Garden  Cincy Shopper – Caramel Apple Cream Cheese Crescent Ring     Bird's Party – DIY Ideas for a Small Indoor  Wedding    Air Fryer Fanatics — Toll House Cookies in the Air Fryer  Add a Busy Monday Button OR a text link somewhere on your blog. Click "copy" for the button code. You won't actually see the code until you click "paste" on your blog.

Add a Busy Monday Button OR a text link somewhere on your blog. Click "copy" for the button code. You won't actually see the code until you click "paste" on your blog.
Link only posts you created yourself. Please no link parties, sales pages, giveaways. Visit others and give the gift of a comment. It's a party! By linking, you agree photos are your own and posts may be shared on social media with attribution to you. All features are pinned to the Busy Monday Feature Board or the Busy Monday Recipes Board.
You are invited to the Inlinkz link party!