Series of lovely cool days and a soaker rain makes the garden look great!  Tomatoes are bursting off the vine, peppers are ready to set, flowers are rejuvenated and flouting their colors.  And the wannabe "geranium" — which was what it was labeled when it was at the early stages in the nursery — is producing lovely patty pan squash.  I knew something was up when the "geranium" produced big yellow blooms at the base instead of the usual geranium flower of any color.  So I dug it out of the pot, gave it a spot in the raised garden bed and it is indeed blooming and producing where it is planted!  May you bloom where you are planted and thanks for stopping by to share your fabulous posts!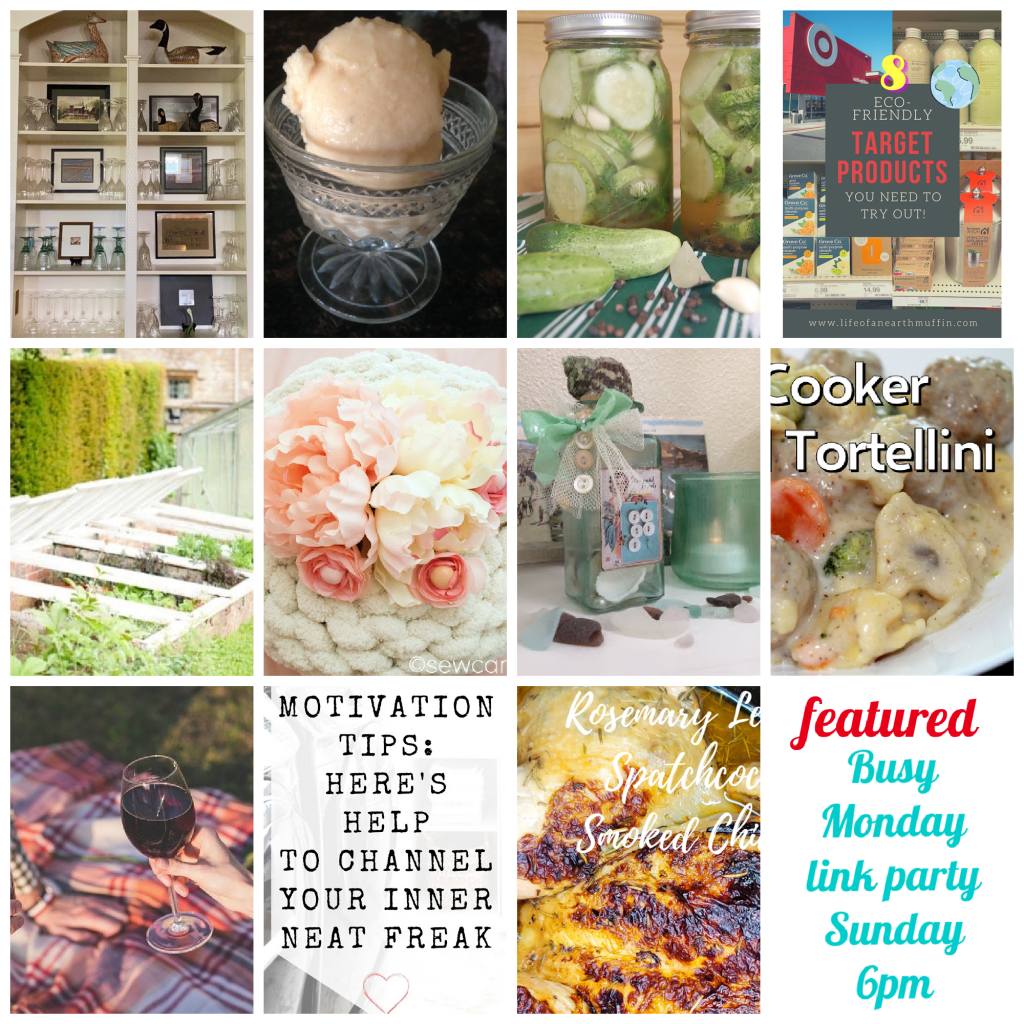 Featured from last week:  Thrifting Wonderland —  Creating a Bookcase Display      Seasonal  Recipe Exchange — Cantaloupe Bananna No-Churn Ice Cream     The Frugal Homestead _ Small Batch Refrigerator Dill Pickles  Life of an Earth Muffin – 8 Eco Friendly Products     An Off-Grid Life – Cold Frame Gardening DIY     Sew Can Do – Faux Flower Hand Knit Pillow  Fresh Vintage – Faux Sea Glass Trinket Bottle  Of the Hearth – Slow Cooker Meatballs and Tortellini   April Go Lightly – 6 Unforgettable At Home Date Night Ideas    Filling the Jars – Cleaning Motivation Tips  Homemade on a Weeknight – Rosemary Lemon Spatchcocked Smoked Chicken  Add a Busy Monday Button OR a text link somewhere on your blog. Click "copy" for the button code. You won't actually see the code until you click "paste" on your blog.
Link only posts you created yourself.
Please no link parties, sales pages, giveaways. Visit others and give the gift of a comment. It's a party! By linking, you agree photos are your own and posts may be shared on social media with attribution to you. All features are pinned to the Busy Monday Feature Board or the Busy Monday Recipes Board.
You are invited to the Inlinkz link party!