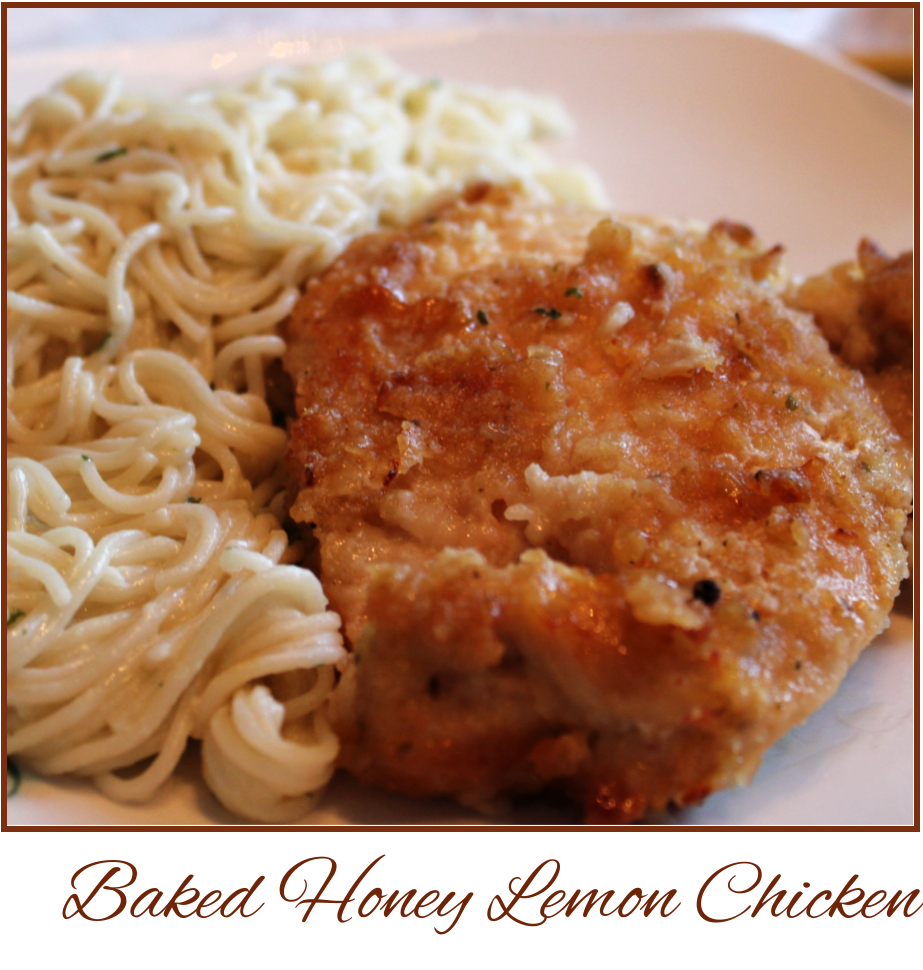 Tender and delicious, from Grandma's favorite cookbook, this is a can't miss recipe for serving 8-10.   Grandma started with a whole chicken – but you can pick up a package of sliced chicken breast and have it in the oven quickly.  It bakes for an hour, which gives you enough time to scrub 8 medium potatoes and toss them in the oven for an easy side.  Don't bother to wrap. No potatoes in the pantry?  Grab a couple of boxes of sauced pasta or brown rice.   Make a quick dessert like Buttery Apple Crisp or the Classic Naked Brownie and put it in the oven soon after the chicken.   Grab a packaged green salad from the fridge and toss in a single large bowl for diners to help themselves.  Or take a few more minutes and portion the salads in individual bowls for each place setting.  Better yet, delegate the salad to a guest while you are making the dessert. You (and/or  your sous chef) will have time to set the table and find the extra chairs.   A package of steam vegetables in the microwave for four minutes just before setting down to the table.   Viola!  A set down dining experience for 8-10 people in one hour!!   I did it just this past weekend with visiting family and it worked out great!
Since this was from Grandma's cookbook it took a little tweaking – but I did it so you don't have to.  Grandma had us melting butter in the baking pan in the oven as it preheated.  You can do that, too, once the temperature reaches 100.  That's the temperature at which butter melts.  Slip the butter laden baking pan in the oven for 2-3 minutes until melted.  Do NOT leave it in the oven or it will burn.  I find it easier to melt the butter in a small bowl in the microwave for about 30 seconds.  I'm also bad when it comes to basting, especially when I am multitasking.  (aka talking to the very interesting people in my kitchen!)  I baste when I turn to make sure the chicken has a good coat of honey-lemon on top and cover with a sheet of aluminum foil.  If I remember there will be at least one basting session.  If I get caught up in a story – the aluminum foil won't let things dry out!   Yeah, I know the set the timer trick – but there are some really intense conversations in my kitchen.  Or a lot of silliness!  And who wants to miss either one?

Baked Honey Lemon Chicken
Delicious and tender, this chicken is the star of any meal!
Author:
A Pinch of Joy by Charlene Vance
Recipe type:
Dinner Main Dish
Ingredients
¾ cup flour
½ cup bread crumbs
1 teaspoon salt
¼ teaspoon pepper
1 package chicken breast fillets (approx. 2.5 – 3 pounds)
¼ - ½ cup milk for dipping
½ cup butter
½ cup honey
¼ cup lemon juice
Instructions
Preheat oven to 400. Put butter in 9x13 baking pan and melt for 2-3 minutes after oven reaches 100 degrees. OR melt in small bowl in microwave for 30 seconds and pour into baking pan, spreading butter evenly across the bottom.
Combine flour, bread crumbs, salt and pepper in small bowl.
Place milk in saucer or flat bowl . Dip each piece of chicken in milk and then roll in flour mixture. Place floured chicken in butter and then turn in place so the buttered side is up.
Mix honey and lemon juice and set aside.
Bake 300 minutes at 400 degrees. Remove from oven and turn chicken. Pour over chicken. Bake 30 minutes longer, basting occasionally. OR cover with foil and bake, removing foil for the last few minutes to bring up golden color of each piece.
*Poultry should be at 165 degrees internally when done.
Notes
Nutritional values are estimates and may vary.
Nutrition Information
Calories:
345 |
Carbohydrates:
21 grams |
Protein:
23 grams |
Welcome to A Pinch of Joy! I'm so glad you stopped by today! Follow A Pinch of Joy  so you don't miss a thing! I'd love to have your company on this venture!! Share: if you found this helpful or inspiring please click one of the buttons below! Your support of A Pinch of Joy is appreciated!
Shared with these awesome link parties here