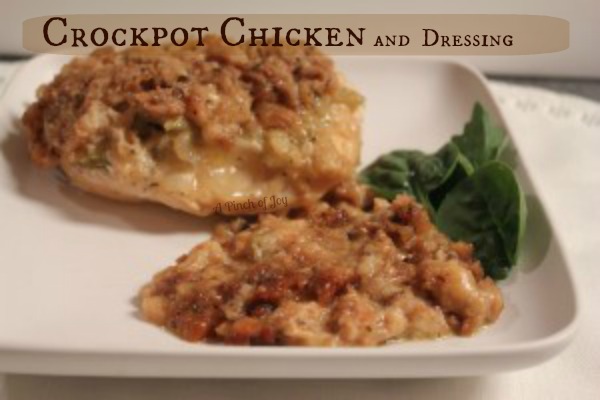 Eating healthy is not difficult.  Small changes make the biggest difference.  Limiting carbs has gone a long way toward our goal of eating more healthy meals.  If I had cooked a  meal like this  before it would have included the meat with potatoes or rice plus dressing and a starchy vegetable like corn. Now we choose "just one".  Just one kind of carb is all that is needed for satisfying appetitite, maintaining the daily carb goal and reducing calories without sacrificing nutrition.    Tonight this dish was served with Sesame Beans and a tossed salad like   Salad with Fruit and Nuts. That's it.  Full and satisfied. . . and a great reason to get in and out of the kitchen more quickly!   I have a theory that preparing a meal should not take longer than eating a meal!
Monitoring servings and serving sizes is a second little change that has made a big difference.  The dressing I used is 22 carbs per serving.  A box makes 6 servings.  It will be all gone at the end of dinner.  With three people eating, that means we will each have consumed 2 servings of dressing.  It is important to know this.  If we ignore that fact and pretend we only each had 1 serving — well, you know what that will do to the carb counts for the day.   Not to mention the difficult conversation with yourself in the mirror (or worse, the doctor or weight loss coach)  that begins:  "I don't know why my numbers haven't changed ".  (Oh yeah, so guilty!)
Last winter I took a nutrition class, a refresher, offered by one of the grocery chains.  The
newly minted dietician was excited to introduce a new way of limiting carbs and moderating servings.  It is the plate method, a guide from the United States Department of Agriculture.    If you look at the plate, it provides a quick and easy visual.   Half your plate should have  fruit and/or vegetables.   Slightly less than one quarter of the plate is for  protein and the other slightly larger quarter is for grains.  In the example above, the Sesame Beans and Fruit and Nut Salad would fill half the plate.  The chicken fills the quarter designated for protein and the dressing is the quarter designated for grains.  The grain foods and fruits are the ones that contribute most to your daily carb count.   The plate method is another great tool for keeping yourself healthy and provides a quick check for carb counting.
To save this recipe to your ZipList Recipe Box, click the blue button.  To find out about ZipList and how it can help with your grocery list and more, click here.
Crockpot Chicken N Dressing
Ingredients
4 boneless, skinless chicken breast halves, frozen
Pepper to your family's taste, none, little, lot
1 medium onion, diced
2 medium ribs of celery, sliced thinly
1 (10.75 ounce) can condensed low sodium cream of chicken soup with herbs, undiluted
1¼ cup chicken broth
1 (6 ounce) package low sodium stuffing mix
Instructions
Spray slow cooker pot with cooking spray.
Lay chicken breasts in bottom, overlapping as needed and add pepper.
Add sliced celery and onions on top of chicken.
Pour chicken soup over chicken, celery and onions.
Mix together chicken broth and package of stuffing, then spread over top of chicken.
Cook on low for four hours. Dressing will still be moist.
I'm so glad you stopped by today!   Be sure to follow A Pinch of Joy so you don't miss a thing! 
Subscribe by email  on the sidebar or follow on Facebook, RSS feed, bloglovin' or twitter   using the links here or the blue buttons on the header!   Follow  my pinterest boards here.    If you found this helpful, please share on your favorite network by clicking one of the buttons on the bottom of this post.

Related posts: