Pin It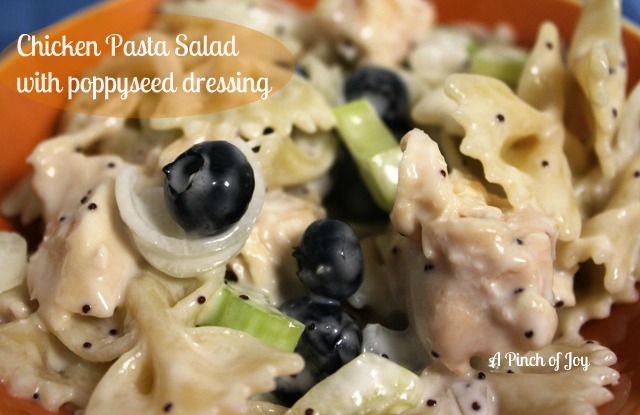 Someone brought this flavorful and addicting pasta salad to a potluck and everyone raved over it.  I was lucky enough to get the recipe – and then promptly tweaked it.
I cut the pasta in half, but kept the amount of chicken the same so the carb count was reduced somewhat.  They used dried cranberries which I switched out for fresh fruit for the same reason.  Halved grapes, sliced strawberries and mandarin oranges work nicely.  This was the first time I used blueberries and we  liked those as well.  I prefer the Brianna's dressing and look for it when I start yearning for this dish.  I've poached the chicken before by bringing water to boil in a shallow pan and slipping in a couple of thawed chicken breasts and cooking until done.  This time I decided to use the Foreman grill. I spritzed the cooking surface with cooking oil and laid thawed two chicken breasts on the grill which had preheated a couple of minutes.    About five minutes and they were done.  Grilling the chicken added a bit of new dimension to the flavor of the salad.   I prefer to use farafelle (bowtie) pasta and leave it just barely undercooked.
This makes 6-8 servings.  If you want  to serve more, use 16 oz of uncooked pasta and prepare it according to package directions.  Use the entire bottle or two cups of poppyseed dressing.
Chicken Pasta Salad with poppyseed dressing
Ingredients
3 cups cooked pasta – about 8 oz uncooked
4 green onions, sliced thin
2 stalks celery, sliced (about ½ cup)
1 ½ cup cooked chicken, cut into bite sized pieces (approximately two chicken breasts)
1 cup poppyseed dressing (I use Brianna's)
½ – ¾ cup of your choice of fruit
Instructions
Cook pasta al dente according to package directions. Rigatoni, farafelle or penne work well.
Cook chicken until done – microwave, poach or grill — cool slightly and cut into small pieces.
Slice onions and celery.
Drain and rinse pasta when finished cooking. Rinse with cold water to stop cooking process.
Mix cooled chicken, pasta, vegetables and poppyseed dressing together.
Gently fold in fruit of your choice. Grapes, blueberries, strawberries, dried cranberries, mandarin oranges are suitable choices.
Chill two hours before serving. Will keep in refrigerator for 2-3 days.
Makes six to eight servings.
http://www.apinchofjoy.com/2012/08/chicken-pasta-salad-with-poppyseed-dressing/
Don't miss a thing –  subscribe by email or RSS feed, follow on facebook or twitter to catch the latest post!  If you found this post helpful, please  give it a Stumble, Tweet, Pin, or Facebook Like. Your support of A Pinch of Joy is greatly appreciated!

Linking up to these awesome parties here and   , Sundae Scoop, Linky Party Sunday, Nifty Thrifty Sunday,  Sunday's Best Party, Creative Blogger's Party and Hop, Sunday Showcase,  Mix It Up Monday, Make It Monday,  .Manic Monday,  .Make it Great,  ,  Market Yourself Monday,. Made By You Monday , Motivate Me Monday , Gunny Sack ,   More The Merrier, Polly Want a Crafter Inspire Me Monday, Show It Off, . . Tutorials and Tips    , Tasty Tuesday ,  Gathering Spot,  Totally Tasty Tuesday , Tuesday Talent Show,  Cowgirl Up, Wow Me Wednesday. . .  Cast Party Wednesday,  Anything Goes,  Wow Me Wednesday, We Did It!, Home Décor and Organizing  . .   Full Plate Thursday , Show Off Your Stuff, Hookin' Up, , Share Your Creation,  Thrifty Thursday,   Chic and Crafty,    Catch a Glimpse  , Crafty Blog Stalker . . . Flaunt It Friday,  Fridays Unfolded,    Inspiration Friday ,  Delicately Constructed , Simply Link Party,   Foodie Friday, Home and Family,  Weekend Wrap Up ,  Whatcha Got Weekend , Addicted2Decorating, Kitchen Fun,  The Grant Life , Shine on Fridays . . .. Strut Your Stuff Saturday , Serenity Saturday, Check Me Out,  Saturday Night Special,  Saturday Seven, Show and Tell Saturday,