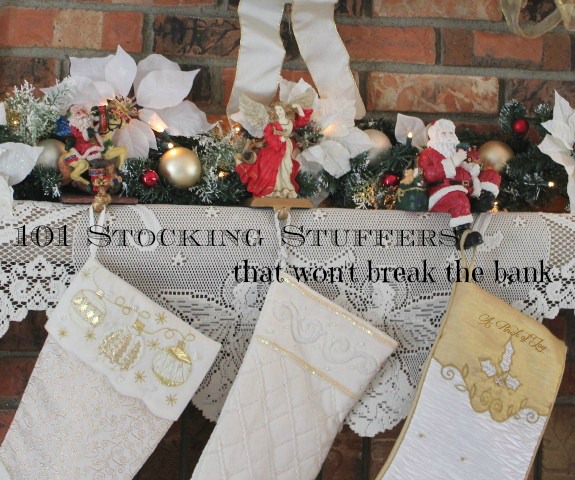 Food
1. Trail mix
2. Popcorn with seasoning or add ins
3. Already popped flavored popcorn
4. Fresh Fruits
5. Dried fruits
6. Hot chocolate mix or packets
7. Hot Cider mixes or packets
8. Tea infuser and loose teas
9. Flavored or herbal tea bags
10. Special coffees or creamers
11. Special cup or mug
12. Chewing gum – one or assortment
13. Favorite candy bars
14. Glazed or special flavored nuts
15. Coupon for favorite homemade treat
16. Small boxes of chocolate

For Kids
17. Temporary tattoos
18. Fun toothbrush and/or toothpaste
19. Hair accessories for girls
20. Small kits of legos or other toys
21. Play dough – make your own
22. Silly putty
23. Fun bandaids or owie ice pack
24. Card games like Old Maid, Uno
25. Stickers
26. Puzzles
27. Colored pencils and drawing paper
28. Special t-shirt
29. Action figures or vehicles for boys
30. Yo-yo
31. Silly straws
32. Kite
33. Sidewalk chalk
34. Travel games
35. Novelty shoe laces
36. Ball – softball, novelty
37. Bubble bath
For anyone
38. DVD – movie, tv show, exercise, etc
39. Cooking gadget –tongs, whisk
40. Handtool – screwdriver, pliers
41. Car accessories – air freshener, wax kit
42. Pedometer
43. Drink cozy
44. Sunglasses
45. Flashlight
46. Whistle
47. Gift cards
48. Water bottle
49. Travel coffee mug
50. CD with favorite music
51. Hat, gloves, scarf
52. Playing cards
53. Sudoku puzzles
54. Crossword puzzles or dictionary
55. Lip balm
56. Lotion or body wash
57. Speciality soap
58. Ornament — event or team
59. Travel packs of toiletries
60. Sports – golf balls, fishing lures
61. Garden markers
62. Garden hand tools
63. Bulbs for forced bloom
64. Tickets to special event
65. Eco friendly reusable shopping bag
66. Wallet
67. USB drive
68. Fun socks
69. Art and craft supplies
70. Postage stamps
71. Note pad and pen
72. Note cards
73. Personalized stationary
74. Journal or diary
75. Book about recipient's special interest
76. Tire gauge
77. Batteries
78. Favorite Magazine
79. Calendar
80. Lottery ticket or scratch off
81. Magnifying glass
82. Key Chain
83. Mouse pad
84. Kaleidoscope
85. Thermal lunchbag
86. Calculator
87. Exercise bands or hand weights
88. Coasters
89. Unusual pen or pencil
90. Novelty wooden puzzles
91. Manicure kit
92. Nail file or emery boards
93. Nail clippers
94. Sewing kit for quick repairs
95. Fast food or coffee gift cards
96. Compass
97. Gloves – work, garden, kitchen
98. Hand sanitizer
99. Letter listing good qualities of recipient
100. Ear buds or headphones
101. Office supplies – plain or fancied up

For a printable list — Click Stocking stuffers
I'm so glad you stopped by today!   Be sure to follow A Pinch of Joy so you don't miss a thing!  I'd love to have your company on this ride!

Subscribe by email  on the sidebar  or follow on Facebook, RSS feed, bloglovin'  twitter  and check out my  pinterest boards.   If you found this helpful or inspiring please share below!  Your support of A Pinch of Joy is appreciated!


Related posts: