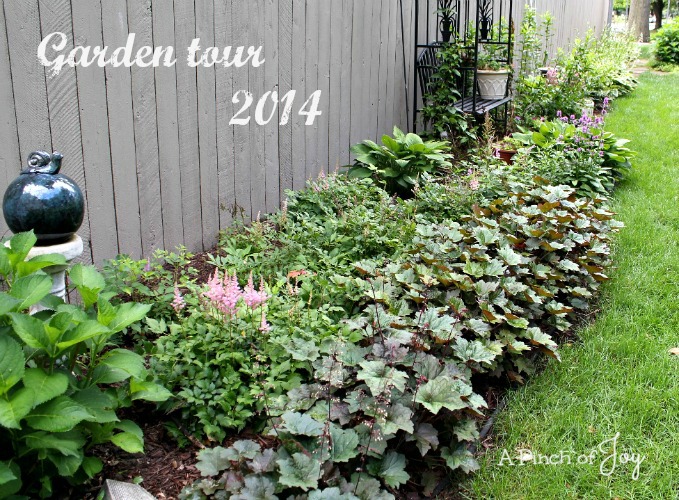 Welcome to our garden!  When the cold of winter and rain of spring finally gave up and allowed us to actually BE in the garden, we took the opportunity to rework everything!  I'd love to show you the results!  Our yard is very shady so you'll see lots of hosta, coral bells and astilbe!  This collection stretches along the neighbor's fence to the east.  Clematis are growing up the arch in the middle.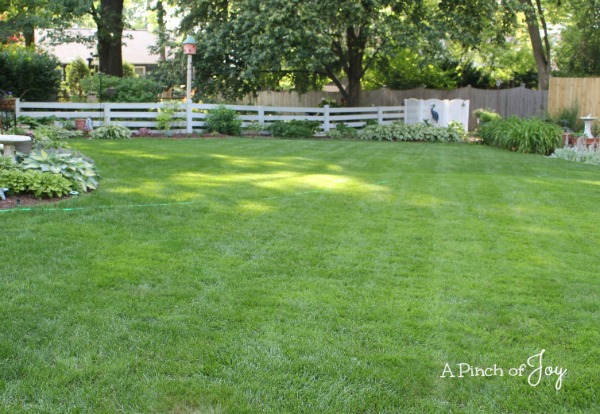 This is looking the opposite way.  The white lattice behind the blue heron figure hides the big electrical box that started this project.  Last year the power company dug up and replaced the lines all through the neighborhood.  We painted the fence gray to match the house — a big improvement from the dark brown it has always been!    Lots of pictures coming. . . .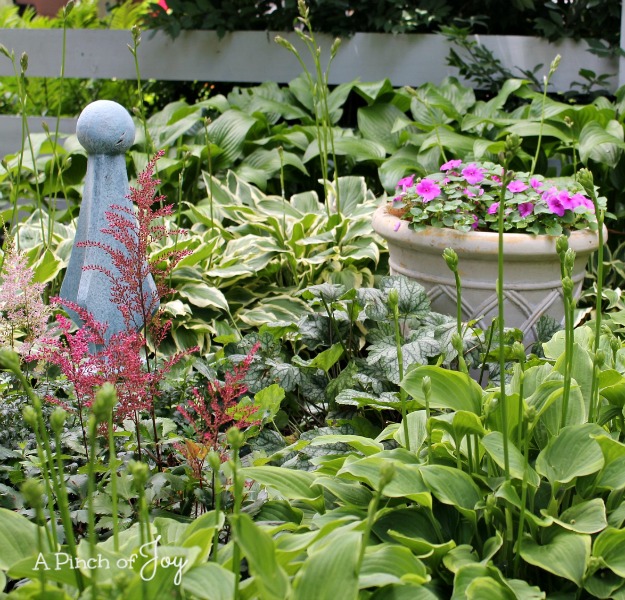 I like to tuck little surprises in here and there.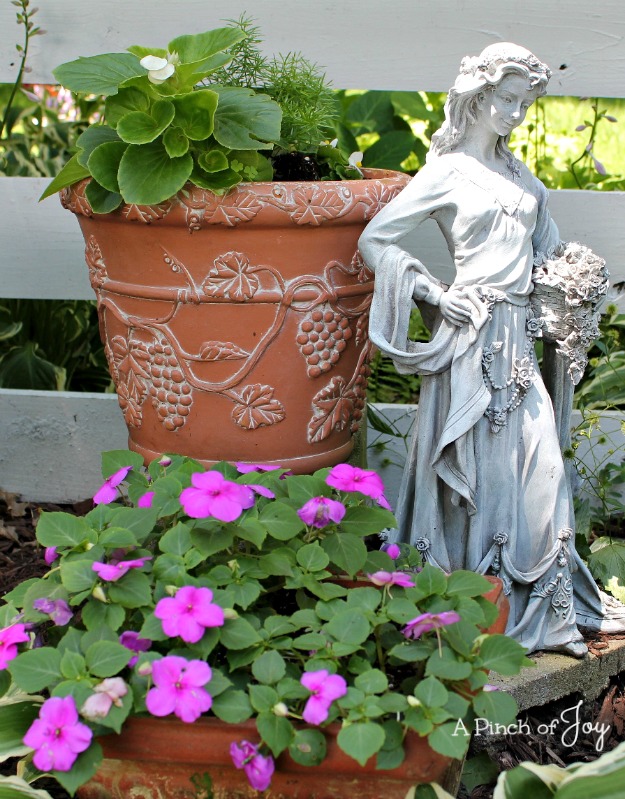 Another surprise.   I like the detail on the Garden Lady.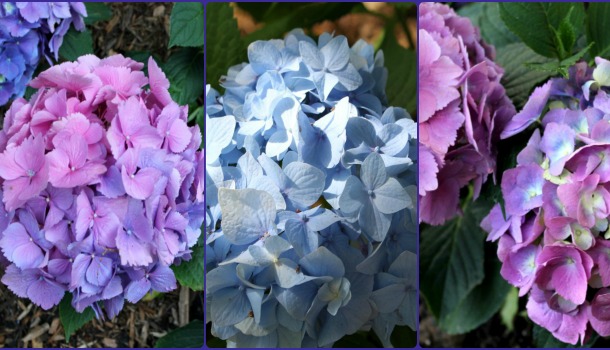 I planted seven hydrangeas last year — plus the five we already had.  They all made it through the winter.  I am delighted to see the variations in color!  There are six of these planted in front of the heron.  They are still too short to be seen over the hosta, but they are doing great!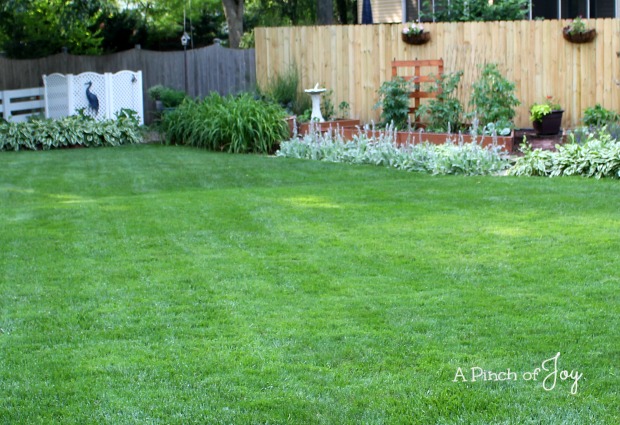 We added the privacy fence across the north.  It blocks the view of the cul de sac behind us and the busy street beyond that.  Just makes the whole garden look better!    This photo was taken right after the fence was installed.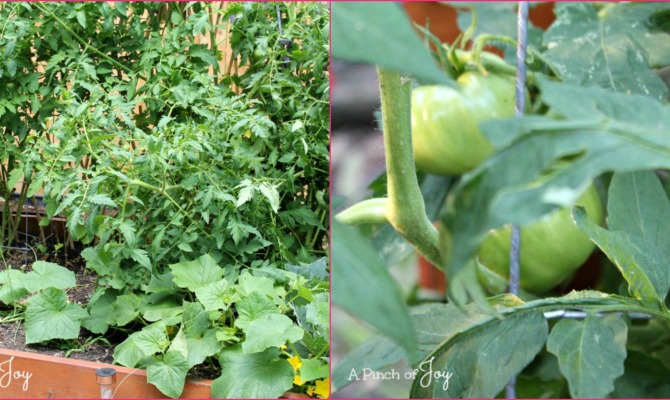 This is what the raised garden bed looks like today — full of tomatoes and cucumber vine!   Looks like we will have BLT's on the menu soon!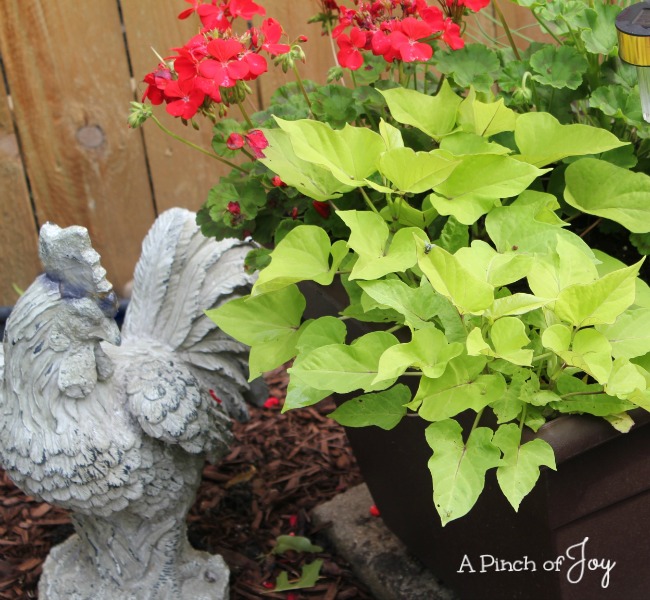 Container garden with red geraniums and sweet potato vine.  This is the first year  I've used sweet potato vine — love it!  The chartreuse color makes a magnificent contrasty foreground for almost anything you put with it!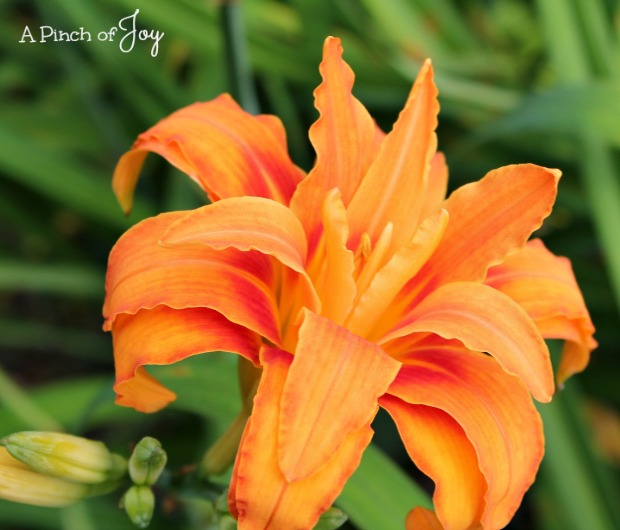 Double lilies from my mother's garden.  Starts have moved all around the country with us. 

Looking toward the house.  The baskets and planters seem to have a hard time filling out this year — between cold, rain and more rain alternating with 90 degree days!   There are steps behind the tree to the lower level of the deck, which stretches almost the full length of the house.  There is also a pergola over the raised portion of the deck.  We spend a lot of time working, eating and relaxing there in good weather!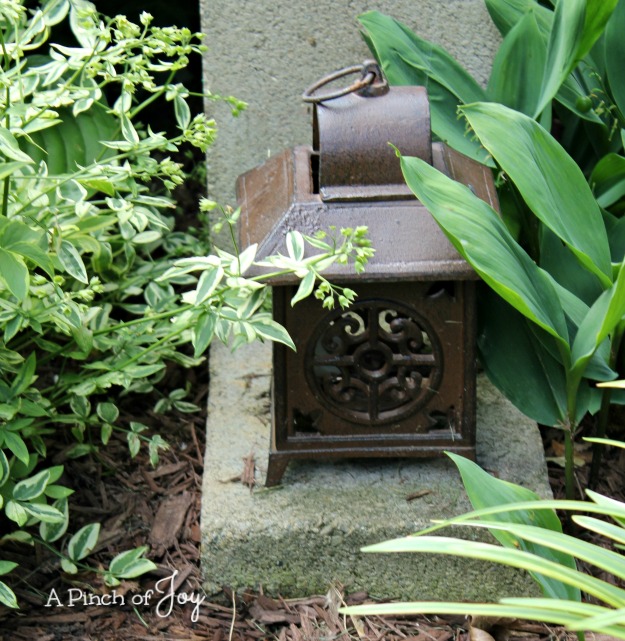 An old iron lantern just beyond the deck.  That's jacob's ladder to the left and liriope to the right.  This area gets some morning sun.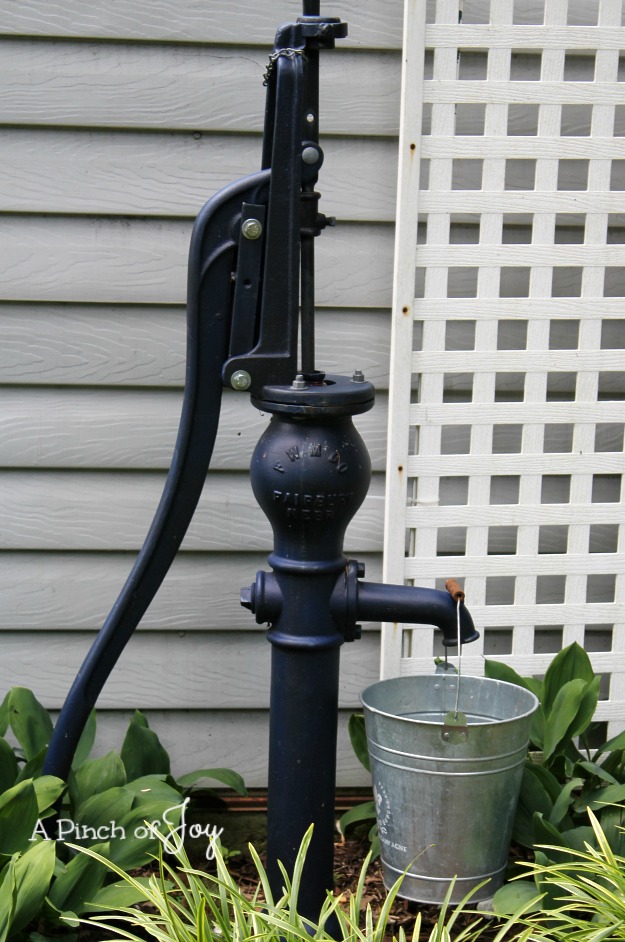 A pump from Wheel's family farm.  It works!  But not here — no water supply 🙂     I hope you enjoyed your look around!  We'll see what's out front of the house another time! 
I'm so glad you stopped by today!   Be sure to follow A Pinch of Joy so you don't miss a thing! 
Subscribe by email  on the sidebar  or follow on Facebook, RSS feed, bloglovin'  twitter  and check out my  pinterest boards.   If you found this helpful or inspiring please share below!  Your support of A Pinch of Joy is  appreciated!
""""""""""""""

Linking up to these awesome parties here and, ,Nifty Thrifty Sunday  /   Share Your Creativity  /    Sunday Showcase  / Let's Get Social /  Bewitch Me and Titi  /  Monday Funday / Sunday Pinterest /  . . . / Inspiration Monday /  Motivate Me Block Party   / /  Marvelous Mondays / CraftoManiac Monday / Sew Darn Crafty / / Sweet Sharing Monday / Melt in Your Mouth Monday / More The Merrier /Made By You Monday / Pincentive /  Time to Sparkle / Give Me the Goods / The DIY'ers / Manic Monday  / Tuesday at Our Home  / . .Twirl and Take a Bow Tuesdays Treasures  / /  Create Link Inspire  / Tutorials and Tips  / You're Gonna Love It / Mommy club Linky / /  Titus 2 Tuesday  / Totally Tasty Tuesday  /  Tuesday Talent Show, / Wake Up Wednesday / Wow Me Wednesday. . . Hit Me with Your Best Shot  / Homework Wednesday / The Inspiration Exchange /  Cast Party Wednesday  /What's It Wednesday /  Pretty Wednesday /  Wow Me Wednesday   /Wine'd Down Wednesday  /Wednesday Project Stash /  Wonderful Wednesdays / We Did It!/   It's A Party  / Whimsy Wednesday / Wildly Original  / Brag About It Linky  / Delish Desserts /Project Pin It /  . .  . Full Plate Thursday  / Showcase Your Talent / Krafty Inspiriation  / All Things Pretty /  Throwback Thursday / Crafty Blog Stalker/ Fantastic Thursday /   Tasty Thursday  /      / Catch a Glimpse ,   Grace at Home,  Kitchen Fun,   Thrifty Thursday. .  Feathered Nest Friday  /  I'm Lovin' It /  Flaunt It Friday /  What's Shakin /  Link Party Palooza  / Foodie Friday / Anything Goes./ Freedom Friday / Remodelaholic Anonymous /  Simple and Sweet Fridays  / Craft Frenzy Friday  / Be Inspired Friday / Friday Link Party  / Best of the Weekend / Weekend Winddown  /  . . . .   /A Bouquet of Talent   / Party Junk /  Saturday Dishes / Saturday Show and Tell / Strut Your Stuff Saturday /  Favorite Things Saturday /   Serenity Saturday, / Pin It Saturday /  Saturday Spotlight /  Saturday Showilicious     / Show Stopper Saturday /   Saturday Night Fever  /

Related posts: