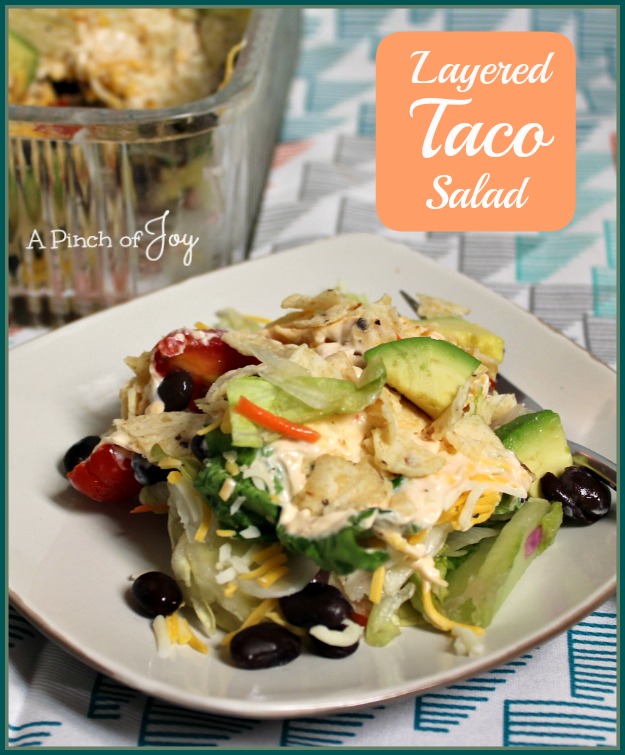 Most layered salads recipes are aimed at groups and served in large glass bowls.  Yet layered salads are an easy make ahead for the evening meal  — in a smaller quantity.  This one makes four servings of about 1 and ¼ cups for a meal.  Or if you serve it with a meat dish it will serve 6 with ¾ cup sized portions.  For this size salad, a glass 8×8 pan is the perfect size.  I have a vintage covered refrigerator dish that works great! 
Use any sturdy lettuce or lettuce mix as the base – iceberg, romaine,etc. A 12 ounce package seems to be the norm, but a 16 ounce package will also work with the proportions above.  Feel free to up the amount of taco seasoning for more kick.  1 teaspoon is very mild, 2 teaspoons is medium and 1 tablespoon (3 teaspoons) makes the flavor pop!   Wait till the last minute to add the tortilla chips so they stay crunchy.  Wheels and Bytes like to have extra chips to moosh on their plates as a foundation to top with the salad.  Avacado is optional, but if you choose to use it, add it at the last minute as well so it doesn't turn brown.  My personal feeling is that anything that smooth and silky should have a superb chocolate flavor so why bother just to end up with  the disappointing avocado non-flavor.  🙂
Layered Taco Salad
Ingredients
½ cup mayonnaise
½ cup sour cream
1 tsp taco seasoning mix
1 15 ounce can black beans, drained and rinsed
12 ounce package lettuce
½ cup sliced onion
1 cup Mexican style shredded cheese
½ cup grape tomatoes, cut in half
1 cup broken tortilla chips
Optional: avocado
Instructions
Mix mayo, sour cream and taco seasoning mix and set aside
Layer lettuce, onion, beans, tomatoes and cheese in 8x8 glass container
Spread dressing mixture over salad.
Cover and refrigerate at least two hours or overnight.
Crush tortilla chips and sprinkle over the top of the salad just before serving.
Optional, dice avocado and add to top of salad before serving.
I'm so glad you stopped by today!   Be sure to follow A Pinch of Joy so you don't miss a thing! 
Subscribe by email  on the sidebar  or follow on Facebook, RSS feed, bloglovin'  twitter  and check out my  pinterest boards.   If you found this helpful or inspiring please share below!  Your support of A Pinch of Joy is  appreciated!
Linking up to these awesome parties here and, ,Nifty Thrifty Sunday  /   Share Your Creativity  /    Sunday Showcase  / Let's Get Social /  Bewitch Me and Titi  /  Monday Funday / Sunday Pinterest /  . . . / Inspiration Monday /  Motivate Me Block Party   / /  Marvelous Mondays / CraftoManiac Monday / Sew Darn Crafty / / Sweet Sharing Monday / Melt in Your Mouth Monday / More The Merrier /Made By You Monday / Pincentive /  Time to Sparkle / Give Me the Goods / The DIY'ers / Manic Monday  / Tuesday at Our Home  / . .Twirl and Take a Bow Tuesdays Treasures  / Show Me What Ya Got /  Create Link Inspire  / Tutorials and Tips  / You're Gonna Love It / Mommy club Linky / /  Titus 2 Tuesday  / Totally Tasty Tuesday  /  Tuesday Talent Show, / Wake Up Wednesday / Wow Me Wednesday. . . Hit Me with Your Best Shot  / Homework Wednesday / The Inspiration Exchange /  Cast Party Wednesday  /What's It Wednesday /  Pretty Wednesday /  Wow Me Wednesday   /Wine'd Down Wednesday  /Wednesday Project Stash /  Wonderful Wednesdays / We Did It!/   It's A Party  / Whimsy Wednesday / Wildly Original  / Brag About It Linky  / Delish Desserts /Project Pin It /  . .  . Full Plate Thursday  / Showcase Your Talent / Krafty Inspiriation  / All Things Pretty /  Throwback Thursday / Crafty Blog Stalker/ Fantastic Thursday /   Tasty Thursday  /      / Catch a Glimpse ,   Grace at Home,  Kitchen Fun,   Thrifty Thursday. .  Feathered Nest Friday  /  I'm Lovin' It /  Flaunt It Friday /  What's Shakin /  Link Party Palooza  / Foodie Friday / Anything Goes./ Freedom Friday / Remodelaholic Anonymous /  Simple and Sweet Fridays  / Craft Frenzy Friday  / Be Inspired Friday / Friday Link Party  / Best of the Weekend / Weekend Winddown  /  . . . .   /A Bouquet of Talent   / Party Junk /  Saturday Dishes / Saturday Show and Tell / Strut Your Stuff Saturday /  Favorite Things Saturday /   Serenity Saturday, / Pin It Saturday /  Saturday Spotlight /  Saturday Showilicious     / Show Stopper Saturday /   Saturday Night Fever  /

Related posts: