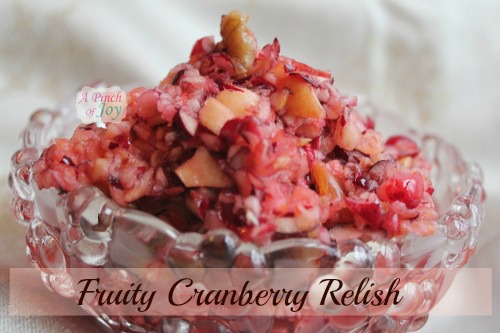 Mom's Cranberry Relish with apples, oranges and nuts is different from most relish recipes.  I think it was actually my grandmother's recipe, but that's not noted anywhere.  It's mostly fresh fruit and nuts so not a lot of sweetener needed.  A little bit tangy  and a whole lot refreshing.  The bit of sugar used also brings out the fruit juices so it provides that extra bit of moisture to accompany the turkey.   I don't peel the apples because I like the added texture and flavor (and it's quick and easy!).  But you can peel them if you prefer.  Use a sweet apple to contrast with the zingy cranberry — Gala, Fuji, Honeycrisp or Delicious. Golden Delicious provides a bit of color contrast.   This was one of my  favorite dishes as a child and I was always a bit sad when the holidays were over and it was gone from the refrigerator.
I had an internal debate as I gathered the ingredients for this recipe.  Do I use the food processor or the food grinder?  I have the food grinder that belonged to Wheel's mother – maybe even HIS grandmother – since his mother gave it to me as an "extra" from her kitchen.  Here's my debate: 
Set up required – Grinder – two small squares of wood, one on top of the counter and one on the bottom to keep the vise from cutting into the counter top and tightening the set screw for the grinder.  Versus get the food processor from the storage cupboard not in the kitchen, plug it in, twist on the bowl, find the right blade, set the lid.   Score:  even up.
Time for use: Grinder – just keep cranking and putting in fruit until done.  5 minutes tops.  Versus food processor which requires the fruit be divided and processed in two batches under threat of puree.  8 minutes – three of them diassembling the processor and scraping chopped food into bowl so I can repeat the process.   Okay – maybe seven minutes.     Score:  food grinder
Clean up required: Grinder —  Disassemble and put in the dishwasher. Remove from dishwasher.  Reassamble three parts and put away.  Processor:  Dissassemble bowl, blade, top and put in the dishwasher.  Wipe down base and cord and let set on counter until the dishwasher runs.  Reassemble and carry to storage cupboard.  Score: food grinder.
Clearly I have a bias toward the food grinder.  You use whatever you want now that I have so succinctly defined the arguments for and against.  If you only own one of these tools – no contest!  So which did I use?  The food processor.
Also on our menu will be Sunny Broccoli Salad and Wheel's favorite, Blushing Peach Pie.  (Homemade pie, twice in three months — he's a lucky man!)    Wheels will be working Thanksgiving Day.  He's required to work one holiday each year  and somehow he has drawn that one  several years consecutively.  We will have a special breakfast before he leaves for 12 hour holiday duty and then have our celebration on Friday!   Can't wait!  See you Thursday for holiday greetings!

Fruity Cranberry Relish
Sweet - tart Craberry Relish with apples, oranges and nuts. A required accompaniment for turkey, ham or just Thanksgiving.
Author:
Charlene - A Pinch of Joy
Ingredients
2 cups fresh cranberries
1 apple, medium to large, diced (I used unpeeled, but you can peel if desired)
1 orange (I used 2 clementines)
¾ cup sugar
½ cup walnut pieces
Instructions
Grind fruit using food grinder
OR use food processor as follows:
In food processor, process only one half at a time. Pour one cup of cranberries into processor bowl and pulse two or three times in 2 second bursts. Add half the orange and pulse three or four times in bursts, until chopped. Pour chopped fruit into bowl and repeat process with remaining half of fruit.
Add diced apple, sugar and walnuts.
Refrigerate overnight.
I'm so glad you stopped by today!
Follow A Pinch of Joy using the icons on the teal bar at the top of the page so you don't miss a thing!   I'd love to have your company on this venture!!  Share: if you found this helpful or inspiring please click one of the buttons below!  Your support of A Pinch of Joy is appreciated!
Shared with these awesome link parties here