Organize Your Financial Paper Series:    Use the documents gathered for filing your income tax return in Part 1 to prepare for emergency in Part 2, to set financial goals and plan ahead in Part 3.   Part 4  helps you  build a budget.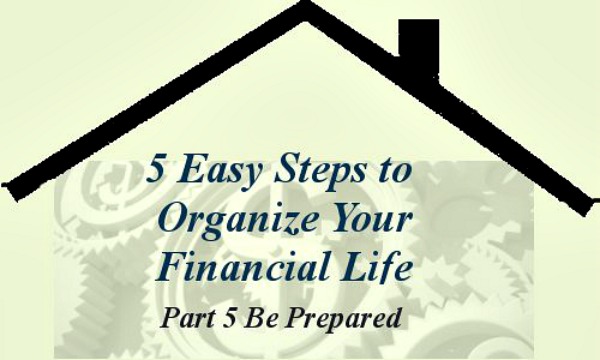 What happens if you find yourself without any of the paper work that proves you are who you say you are?  That proves you own your car, house and furniture?  That gives you access to  money and financial resources?  That connects you to medical care?  Lack of documentation was one of the biggest obstacles in managing life for survivors of  Hurricane Katrina.  Wildfires, floods, hurricanes, mud slides are only some of the causes of quick evacuation with very little warning.  What would you grab if you had fifteen minutes to leave and did not know if there would be anything left of your belongings if and when you return?
I do not want to be an alarmist by any means – no worrying, obsessing over possibles, potentials and what ifs and how comes.  The goal is to have already put together a compact, easily transportable set of documents for you to grab quickly that will help you regain your life and deal with circumstances in the best way possible in case of disaster.  Just in case. . .   .  and just because it is smart to be prepared.   It is so easy because you've already done most of the work.
Scan and print or copy everything needed for your Go Packet.  Use electronic or phone storage as backup, but do not count on them being your first source of information.  You may not have access to computers or even electricity.  If there is no electricity to recharge phones, you will want to save them for communication only.
Go Packet papers will have only one use. Remove papers from it only to replace with a more up to date copy when there are significant changes and you will never have to wonder "is it all there" at a most inconvenient time.   Keep originals of difficult or costly to replace legal papers in a safe deposit box or other very safe place. If you haven't taken care of that, plan to do so now.   Keep a binder and/or file for copies of all your documents, including those in your safe deposit box, so they are convenient when needed for reference.  If you've been following along in this series you've completed this task and can use copies of those to start your Go Packet.
The advantage of the Go Packet  is that everything is in one compact lightweight bundle, that can be stuffed in a backpack, purse or pocket.   You want to have it with you at all times during an evacuation.  Store the papers for your Go Packet in watertight bags or small container.  I used gallon zipper freezer bags.  Put the papers folded in half in one bag, zip it shut and put the whole thing in a second bag which is also zipped closed.   Think carefully about where you will store it. Where will it be most convenient to grab quickly?  In a "go bag" in the coat closet along with such emergency items as flashlights. . . taped under the kitchen drawer next to the garage door. . . in a brightly colored well marked file in a drawer. . . . in an emergency kit in the lowest level
A Checklist for your Go Packet is here.  Add any other critical information that applies to your family.  Some additional tips:
When you create a list of extended family and friends, include anybody you want to contact for help or to let know you are okay. Here you will find  Contacts list in Excel  to type and print.  Or here  is a Contacts list in Word to print and fill out. (See bottom of post for more options.)  Full name, phone number and address.  Don't count on being able to remember something you know well, when you are under stress.     (Bonus tip:  put a copy in your glove box. You know how you drive to someone's house by turning left at the big church and right at the first pizza place?  You'll have the address when the pizza place becomes a golf specialty shop overnight and you get lost some fine day. Just sayin' !)
Forms filled out in   previous installments of this series can just be copied and added to your Go Packet to save time.  You could instead compile a collection of any recent statements or bills that include your current address, the contact information for the institution and the number of your account.  However, using the forms condenses that information to keep it easier to transport and to manage in a disaster.  They include, with links to blank forms from this series:
Personal Information Manager (from Part 1)
Financial Information Manager (from Part 2).
Insurance Information Manager  (from Part 2)
Legal Information Manager  (from Part 2)
Plan Ahead –Debt  (from Part 3)
A Go Packet is something you hope you will never have to use.  However, even if you do nothing else, this one step toward preparing for possible disaster is a positive thing.  It can save a great deal of emotional distress and hours of frustration, should you ever have to use it.  In the meantime, the peace of mind the Go Packet provides is worth the investment of time and energy.
July 5, 2012 – Added these editable tables in Microsoft Word for your convenience.  Right click and choose "Open Link in New Tab".
Family Information with Contacts
EMERGENCY CONTACT INFORMATION Editable
Follow A Pinch of Joy by email, facebook, RSS or twitter!  If you found this post helpful, please give it a stumble, a pin, a like or a tweet.